There are many places to explore and discover in Istanbul. Sultanahmet neighborhood is surely one of them with the many awesome places to see in here. Along with places to see in this city, there are also many awesome things to do in Istanbul. Because of this we can say that Istanbul is definitely among the top cities for tourists.
If you are planning to visit Istanbul, you may want to make a plan first, in order to avoid making your trip turn into mess. While you can still have some enjoyable experiences in this city without a plan, things may become chaotic, as there are many activities in Istanbul to do. Visiting Sultanahmet and spending some time here can be one of the things that you can do while you are here. So here we have brought together five amazing things that you can do in this neighborhood.
1. Exploring Historical Places and Museums Can Be an Awesome Activity in Sultanahmet
If you are in Istanbul for just a couple of days, visiting Sultanahmet can be a great idea. Because here many incredible places are located closely together. As it is a neighborhood in Fatih, which is where the Old City was, many historical places can be found in this neighborhood and around it.
Firstly, you can check out the Sultan Ahmed Mosque, which is truly a spectacular place. Then, in an around the neighborhood you can check out places such as Basilica Cistern, Hagia Sophia, Topkapi Palace, Hagia Irene and more. Also, you can visit museums here as well, such as the Museum of Turkish and Islamic Arts.
2. Don't Forget to Get Some Souvenirs While You Are in Sultanahmet
Seeing the awesome places in Istanbul and exploring them is a fairly popular touristic activity in Istanbul. As there are many places to discover in this city, you can spend a lot of time enjoying this activity. Another popular activity for tourists that you can try is shopping and buying some souvenirs.
In Sultanahmet you can find many places where you can get some souvenirs to later remind you of your wonderful experience in Istanbul. For example, Arasta Bazaar is among these places. There are also some smaller shops in this neighborhood and the Grand Bazaar is fairly close to here.
3. Have Some Fresh Air in a Park in Sultanahmet
After spending lots of time in this crowded city, visiting historical places, museums and shops, you might find yourself needing to get some fresh air. Contrary to what some may believe, there are many green spaces and parks in Istanbul.
If you want to stay in Sultanahmet and visit some parks in here, you can check out the Sultan Ahmet Park as well as Mehmet Akif Ersoy Park. Then you can visit Gülhane Park, which is not in this neighborhood but quite close to it. Moreover, another park that is close to this neighborhood is Kadirga Park.
4. Enjoy Some Local Food in One of the Restaurants or Cafes in Sultanahmet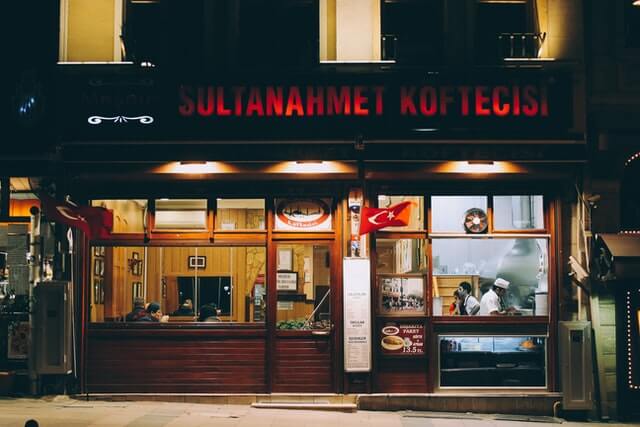 When it comes to visiting Istanbul, one of the things that you may want to do can be tasting the local food in this city. Here in this city you can find a beautiful mix of the local cuisines in Turkey and tasty local dishes. Also, you can find food from the cuisines of other countries as well.
As it is a pretty popular neighborhood, there are many restaurants and cafes in Sultanahmet where you can find delicious local food. For example, you can check out "Sultanahmet Köftecisi" as well as many other awesome places.
5. You Can Also Have Some Relaxing Time in Turkish Baths / Hamams
As you can see with all the activities that we have talked about, there are many things to do in Sultanahmet. You can spend your time exploring historical places, shopping for some cool souvenirs, enjoying some relaxing time in parks and eating some delicious local food.
However, after doing so many activities, you may get tired and just need to rest and relax. In order to have some relaxing time, you may choose to go to a Turkish bath where you can get a massage. There are many Istanbul hamams in this neighborhood where you can do this.