Hagia Irene is an Orthodox church which is surprisingly close to Topkapi Palace, being in its courtyard. The name of the church means "Holy Peace" and it is a popular place to visit for tourists in Istanbul. If you have been thinking about visiting Istanbul, you should add this church to your list of places to see for sure. In this post, we are going to learn about the great history of this church. In turn, what you will get to learn here will surely make your visit much interesting.
History And Structure Of Hagia Irene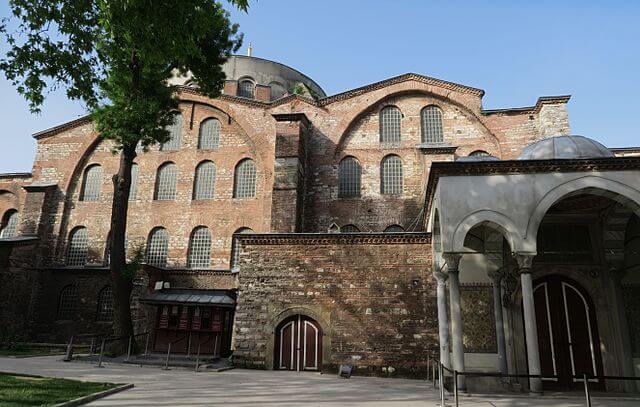 Hagia Irene, which some people also refer to as Saint Irene, is an Orthodox church built around the same time as Hagia Sophia. According to some sources, Eastern Romans built this church over an area where there had been a pagan temple before. Some say that these were temples of Artemis, Apollo and Aphrodite. Romans built this church during the reign of Constantine I in the early 4th century.
In 532, riots broke out in the city against Justinian I, who was the emperor at the time. Because a huge hostility was growing among the locals against the emperor. Reason behind that was mostly Justinian I's stern tax policy. As a result of the riots, rebels burned down almost half of the city, including Hagia Irene. In 548, Justinian I ordered the rebuilding of the church.
As you can see, the church has gone through a lot of things throughout its history. But the riots weren't the only time it took damage. A huge earthquake happened in the city in late 8th century, which caused some serious damage to the church. Then, Constantine V ordered the restoration of the church. Some of the structures from these restorations still remain today. Later on Ottomans used the church as a military museum and an armory for some time. Today, Hagia Irene is a museum that is open for tourists to visit.
In terms of the structure of the church, you can clearly see the effects of Eastern Orthodox architecture. Also, as far as the aesthetics go, there are pieces of art from Byzantine times in the church. If you want to take a closer look at the beautiful architecture of the church, you should definitely visit this place.
Importance Of Hagia Irene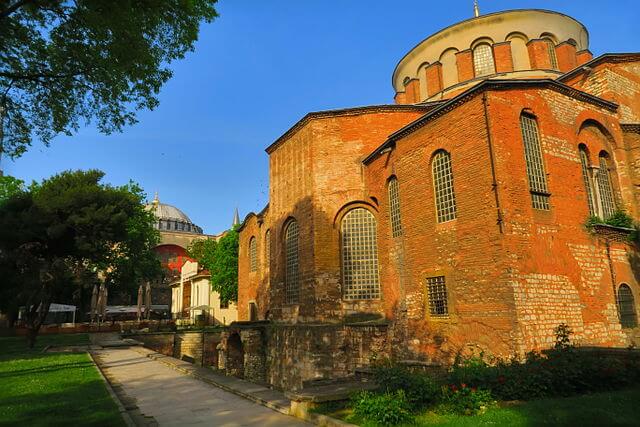 Before the Ottomans took the city, it belonged to the Byzantine Empire. So Christian culture was dominant in the city for hundreds of years. As a result, this culture has produced many incredible things in areas such as architecture and art. After the conquest of Istanbul by Mehmed II, Ottomans started converting churches into mosques. Some of them are very important mosques and museums right now, such as Hagia Sophia and the Blue Mosque.
However Ottomans did not convert Hagia Irene into a mosque, respecting its place in the hearts of their Christian subjects. In fact, this place is the biggest church in Istanbul that they did not convert into a mosque amongst some others. So, this church is very important because it carries a more ancient history of Istanbul within itself.
There is more to talk about the importance of this place aside from it staying as it is for a long time. Eastern Romans finished its construction before any other church in the city, including Hagia Sophia. As we have noted before, Constantine I ordered the construction of the church. And he was the first Roman emperor to convert to Christianity.
Constantine I was one of the co-authors of the Edict of Milan along with Licinius, who was another Roman emperor. The edict gave Christians a legal status in the Eastern Roman Empire. It was a massive milestone in the history of Christianity. Therefore, Hagia Irene is very important because it is a spiritual and historical symbol for Christianity.
How To Visit There
The church is in Fatih district of Istanbul. As we have mentioned so far, it is very close to Topkapi Palace. There are many ways of transportation in Istanbul which you can use to get to Hagia Irene.
The entrance fee to visit the church is currently 80 TL. So, you can visit this place for a quite small fee. But make sure to be there during open hours which is from 9 AM to 6 PM. The museum is open every day of the week except for Tuesdays, on which the place is not available to visit.
Featured Image Attribution
Alexxx1979, Istanbul Hagia Irene IMG 8067 1920, CC BY-SA 4.0