Istanbul is a city of beautiful attractions and many incredible activities that can give you an unforgettable experience. For example, you can enjoy the tasty food of Istanbul here, or have fun in the amusement parks of Istanbul. Moreover, you can visit many famous historical places such as Hagia Sophia and Galata Tower. However, arguably the most attractive place in Istanbul for many is the Bosphorus, with its majestic view. Many people prefer Istanbul restaurants that have a view of the Bosphorus for its splendor. Whether you are enjoying your dinner or chatting with friends, watching the Bosphorus' view is a welcome addition. Here on this post we will talk about the Bosphorus sunset cruise, a great way to experience this sight. Firstly, we will check out what you can get from such an experience. Then, we will mention a great deal you can get while you are here.
What Is a Sunset Cruise?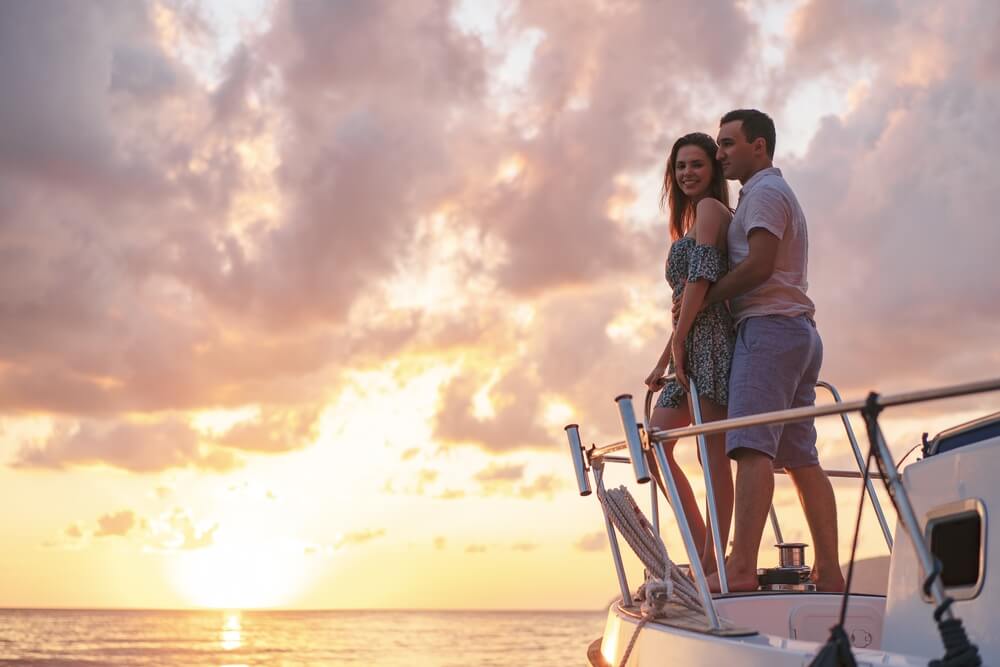 When you first hear about Bosphorus sunset cruise, you might start wondering what even a sunset cruise is. If you love exciting experiences, you must already know about cruises. A cruise is basically sailing in a yacht, boat or a ship for pleasure, usually without a destination. Although cruise services usually lack a destination, they often provide great additions such as food service and more. When you pick a good cruise service, it is possibly a sure thing that you will have great fun. So, cruises are incredible experiences that you can get in many places in the world. As for the sunset cruise, it is basically a cruise you take during the time of the day when the sun sets.
During a sunset cruise you get to watch the setting sun with all its grace. Moreover, if the cruise provider offers such services, you can enjoy some delicious food as well. Also, in some sunset cruises, you can get guided tours or exciting shows, too. While all of these depend on the specific cruise, a sunset cruise is surely a worthwhile experience. Besides, it is suitable to go on a sunset cruise for many different occasions. For example, you can experience it with family, friends, or with your significant other. However, due to the setting it is best for romantic occasions such as marriage proposals or Valentine's Day. Regardless of why or with whom you take on this adventure, a sunset cruise can be an experience to remember for a lifetime.
Why Go on a Sunset Cruise on the Bosphorus?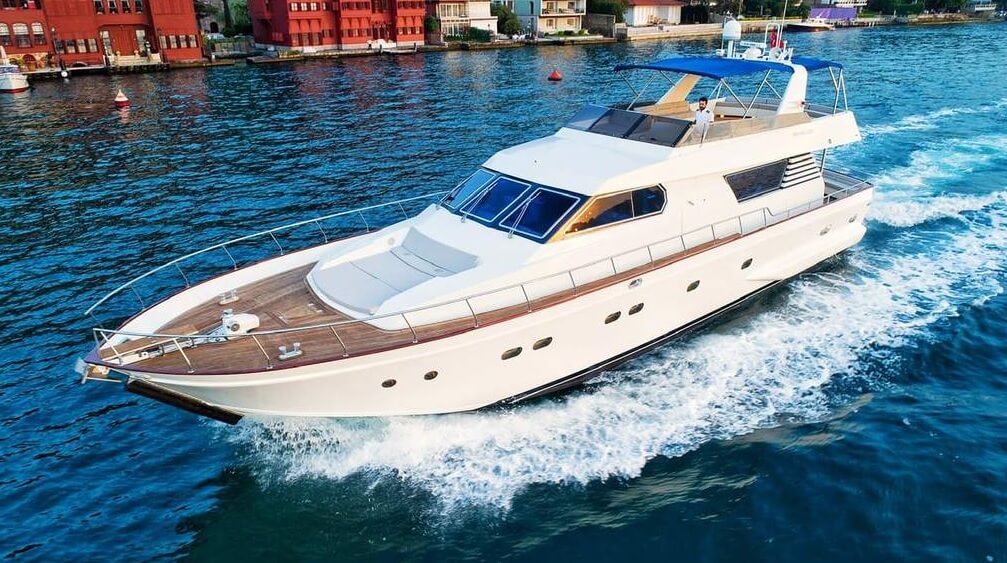 As we have mentioned it before, sunset cruises are absolutely worthwhile activities to do. Because they offer you a chance to relax and enjoy yourself while watching the elegance of the setting sun. While they can be a relaxing experience, they can also be quite fun or even educational. Also you can go on a sunset cruise with a large group or few people. So they are suitable for many different events and can offer everyone involved something to enjoy. But a sunset cruise is especially enjoyable when you take it on the beautiful Bosphorus.
While Istanbul is full of pretty sights, one of those sights gets the most attention, the Bosphorus. Whether it is just watching its incredible view on its own or while having your dinner, it offers a great experience. In the morning it is blue and lively, during evenings it looks fierce yet graceful. Therefore many people seek to find a Bosphorus view when they go to a restaurant in Istanbul. But you can get to experience this sight even better on a Bosphorus sunset cruise. Also, if you pick your cruise provider right, you can get access to many extra services that will improve the whole experience.
Enjoy the Beauty of the Bosphorus on a Luxury Yacht During Sunset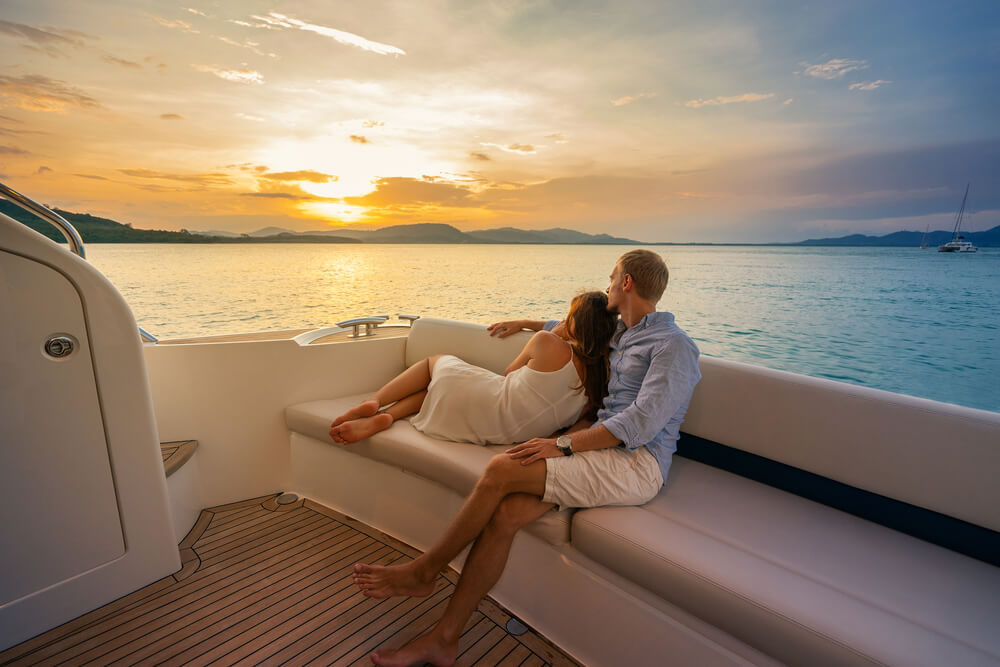 The famous Bosphorus scene is enough to mesmerize viewers on its own. When you couple that with a good sunset cruise, you get an experience of a lifetime. Here in Istanbul there are many sunset cruise options that you might want to take. However there are actually few who can offer the service that SU Yachts provides. So what is SU Yachts and why do we consider their services the best?
Basically, this company has been offering services regarding yachting that are top notch since 2010. Due to the great service SU Yachts offers to its customers, it is a popular yachting and travel company in Istanbul. The services of the company combine luxury with convenience and ease. So, if you are looking for a Bosphorus sunset cruise, SU Yacths is the way to go.
On your next visit to Istanbul, you might take on this adventure if you are looking for a fun and relaxing experience. During this excellent tour that this popular company provides, you can get the experience that you deserve. In short, you can experience the beauty of Bosphorus on a luxury yacht with the perfect service. But first, let's talk about the details of this trip and see what you can expect from it.
How Long is the Bosphorus Sunset Cruise?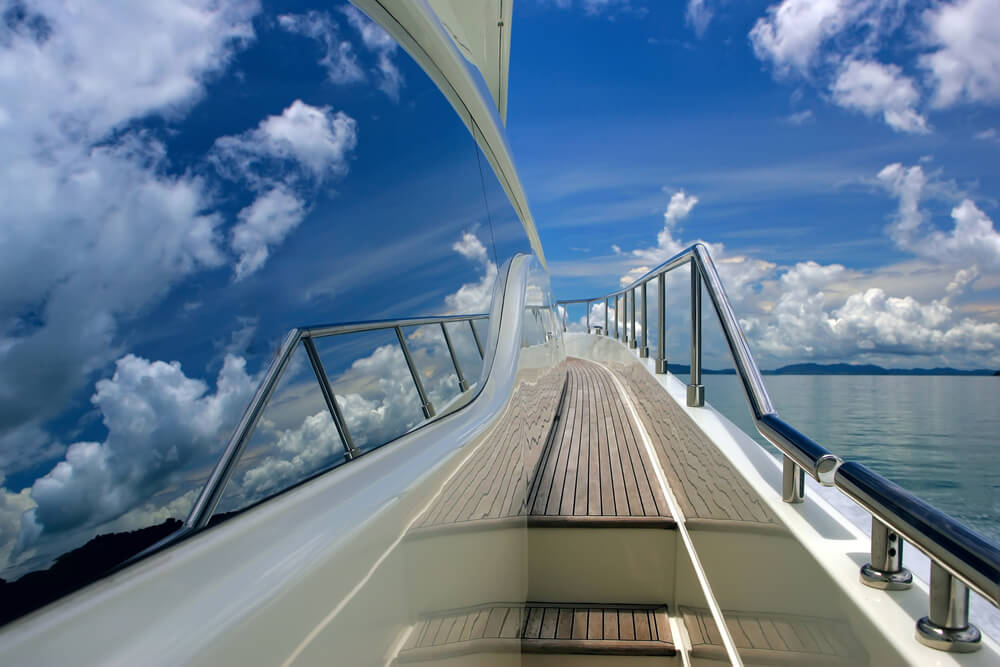 When we are talking about cruises, we are talking about activities that are usually quite lengthy. In fact, there are cruises in the world that last for months. During these cruises you can often expect to have extra services and exciting activities. All in all, cruises offer an incredible experience that you can remember for a lifetime. A yacht cruise at sunset can be especially relaxing and enjoyable, mainly due to its setting. So, you might be wondering how long the Bosphorus sunset cruise lasts. After all, you will want this great experience to last a good while while enjoying it.
This great tour is going to give you a great experience of the Bosphorus during sunset. Moreover, when you get it from SU Yacths, you will get a 2-hour long trip. So, the trip is not rushed at all and you won't feel like you don't have enough time. Therefore you can get to enjoy this relaxing experience the way you should be enjoying it.
How Much Does Bosphorus Sunset Cruise Cost?
One common question about the Bosphorus sunset cruise is how much it costs. Since cruises are activities that offer a luxury experience, they are usually not cheap. This is also true for sunset cruises that provide a unique experience that you can remember for a lifetime. So, when picking a sunset cruise provider, it would be smart to pick one that will make the whole thing worth the price you paid for it. With SU Yachts' sunset cruise, you can get exactly this, a great experience that you won't regret.
When you want to make your reservation with SU Yachts, you can check out the prices they have. By checking out their Istanbul private yacht tour prices page, you can see how much each cruise costs. Moreover, if you have any additional requests, you can learn about their prices while making the reservation. What SU Yachts offers is a premium experience, and this is true for the prices they offer as well. Because you won't be dealing with additional costs and know exactly how much you need to pay.
Places You Can See During The Tour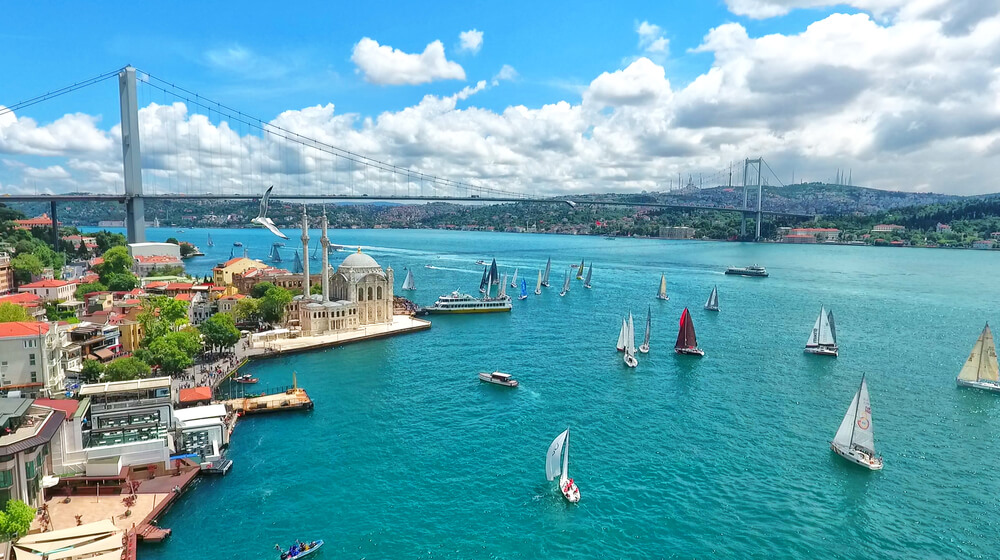 What is really great about cruises is that they can be both entertaining and educational. With the Bosphorus sunset cruise you can get to see many historical places of Istanbul. While enjoying yourself on a luxury yacht, you can be learning about history. If you choose SU Yachts' sunset cruise, a licensed local guide will accompany you during the tour. And your local guide will be telling you interesting stories about places you will see during the cruise. So, what are these places?
Firstly you will get to see Dolmabahce Palace as well as Ciragan Palace, which are both iconic places. Then, Sultan Ahmed Mosque and Ortaköy Mosque are other two places you will see. Also during the trip, you will take a look at Galata Tower and Maiden's Tower, which have a beautiful story to tell. Moreover, you will get a glimpse of the famous waterfront mansions of the Bosphorus. After this you will pass beneath the Bosphorus Bridge, which connect two continents together. Finally you will experience the beautiful silhouette of Istanbul at its best.
Private Dinner Cruises in Istanbul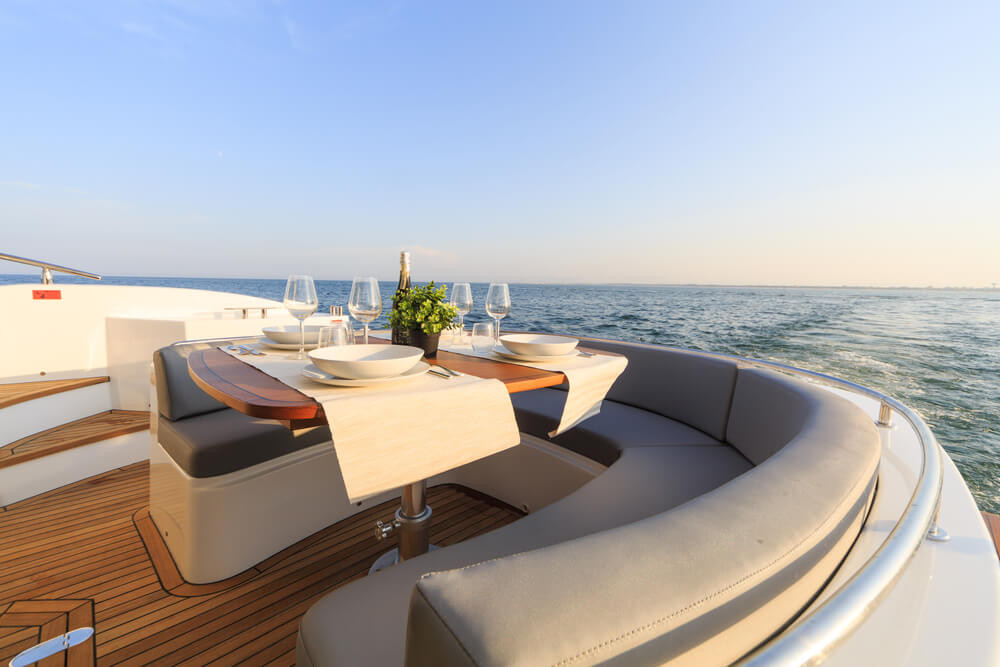 Going on a cruise is a great opportunity to relax and let go while enjoying yourself. Cruises are luxury experiences which usually offer many customization options. This is also true for the private cruises that SU Yachts provides to its customers. So, with SU Yachts you can get the opportunity to experience many different types of cruises.
One type of cruise you can get is private dinner cruise in Istanbul, which SU Yachts provides. With this cruise you can get together with your guests and have a nice dinner on a yacht. Besides, you won't be getting some subpar food cooked on the yacht, you will be getting real restaurant food that is delicious. So, this is a great way to get away from the crowd and enjoy a great dinner with your loved ones with a luxury experience.
Marriage Proposal on a Luxury Yacht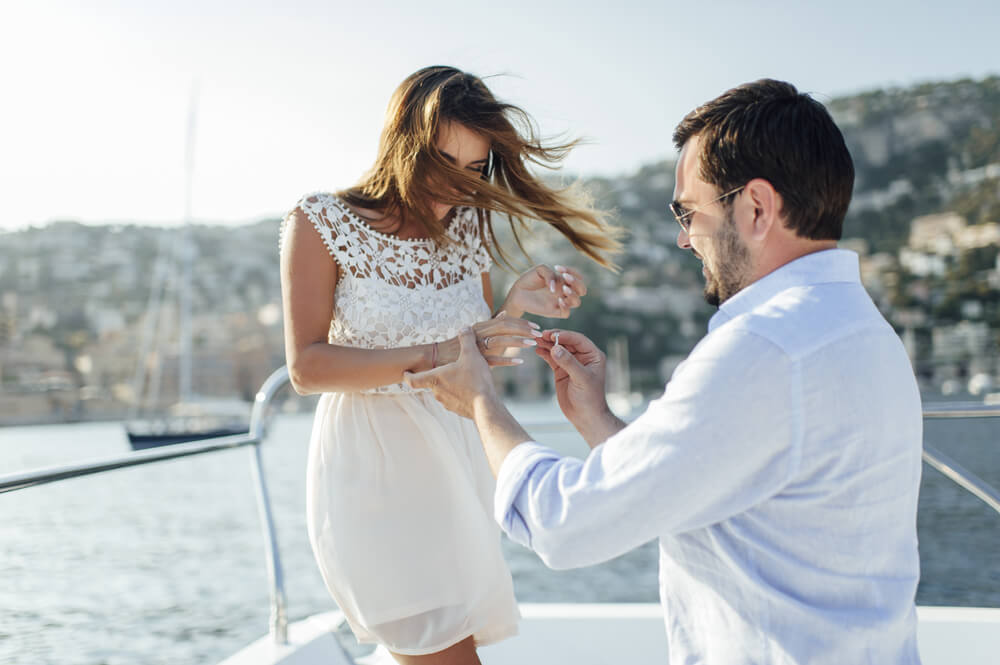 Do you want to make your marriage proposal unique and unforgettable? Then, marriage proposal cruises by SU Yachts is what you are looking for. Instead of proposing to your future spouse in an ordinary and forgettable way, you can give this life-changing moment the due diligence. As a result, you can make your significant other feel valued and more special.
Also with this service that SU Yachts provides, you can make your marriage proposal easier for you. Because they organize everything for you and make this whole process a breeze. Considering that organizing a marriage proposal is quite hard, this is great news. Moreover, you can pick romantic locations such as the Maiden's Tower for the proposal. Besides you can choose to get extra services like a laser show, which can be quite impressive.
Private Yacht Tours with SU Yachts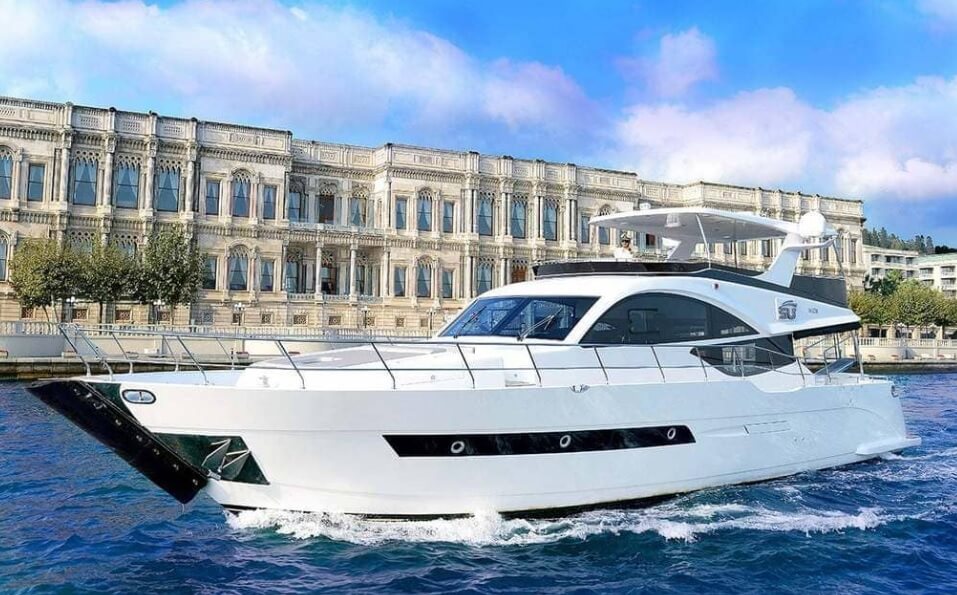 Cruising on a luxury yacht is a very popular and fun activity that you can do in many places in the world. If you are in Istanbul, there are many options here to enjoy this great activity. However, if you want incredible service and many different options, few companies can give you what SU Yachts does. Aside from the Bosphorus sunset cruise, SU Yachts offers other types of cruises, too.
One of these options is private yacht cruises, which can get you to experience Bosphorus in a very unique way. Unlike sunset cruises, these cruises are available every hour of the day. So, if you want to see the beautiful waters of the Bosphorus shine under the bright sunlight, this option is just the right one for you. Also, you can customize these cruises in many different ways and get a more personalized experience.
More Than Just the Bosphorus: Prince Island Cruises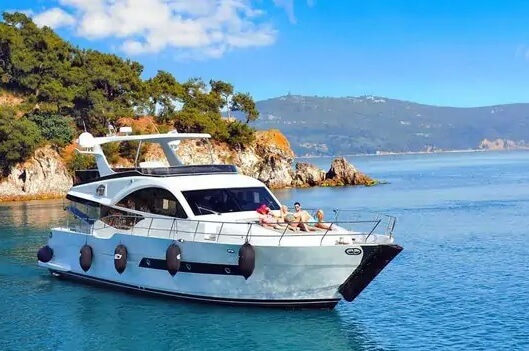 Istanbul has many incredible places that visitors love to see. While Bosphorus is among these places, it is surely not all that Istanbul has to offer. Aside from the Bosphorus, Princes' Islands is another great option that attracts numerous tourists. These islands offer an great escape from the chaos of the city with their relaxing atmosphere.
With Prince Islands cruise, you can go to these islands on a luxury yacht. You can choose to spend your day swimming in the clear blue sea away from the crowds. Or you can prefer visiting the islands to see the many attractions they have. All in all, you can have an incredible experience that you won't be forgetting anytime soon.
Make Your Reservation for Bosphorus Sunset Cruise by SU Yachts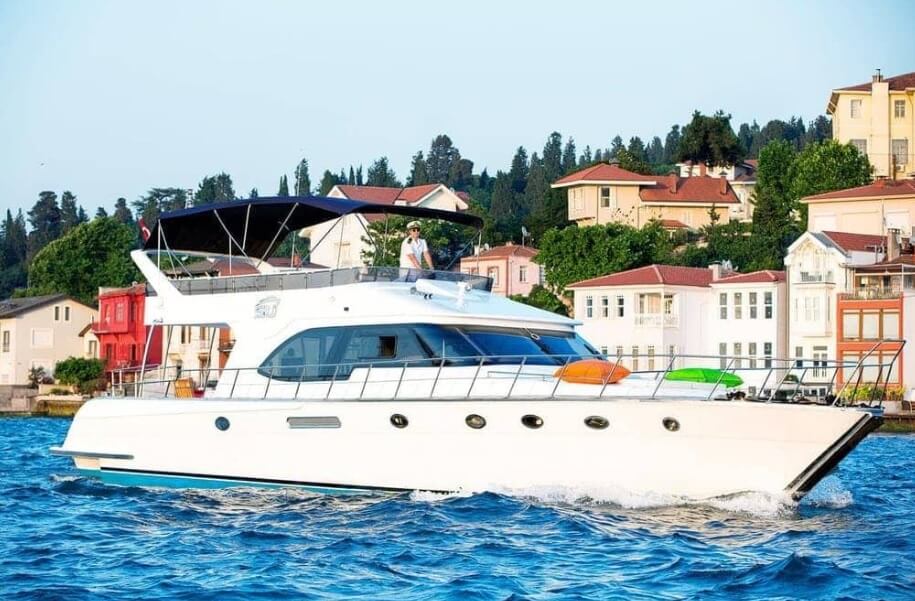 Do you want to experience the beauty of the Bosphorus in a magical journey? Are you looking to spend a great evening with your friends and loved ones in Istanbul? Then, the Bosphorus sunset cruise is just the right pick for you.
In this great trip that you will be taking in a beautiful atmosphere, you will get to enjoy your time on a luxury yacht. You will be sipping your wine and relaxing while watching the sun set. Also, you will get to see the many iconic places of Istanbul and learn about them in detail. Moreover SU Yachts will organize this whole experience for you and you will get to enjoy this cruise effortlessly.
If you are ready for this experience, you can quickly make your reservation now. On your next visit to Istanbul, you can contact SU Yachts or make your reservation online. Then you can enjoy this great Bosphorus sunset cruise experience on a luxury yacht of your choosing.