1. Visit Hagia Sophia.
2. Check out Topkapi Palace.
3. Enjoy your time on the beaches of Istanbul.
4. Go to the Princes' Islands and ride a bicycle there.
5. One of the top 100 Istanbul activities is visiting the Blue Mosque (Sultan Ahmed Mosque).
6. Enjoy a picnic at the Belgrad Forest.
7. Visit Kilyos and have a chill day there.
8. Meet the people of Istanbul and make new friends.
9. Take a look at Gulhane Park and have some fresh air there.
10. Watch or visit the Maiden's Tower.
11. Enjoy the urban and natural parks of Istanbul.
12. Go on a Bosphorus sunset cruise.
13. Go to Kadikoy and taste some street food there.
14. Visit the Suleymaniye Mosque and experience its beauty.
15. Feeling like you want to explore history? Visit museums in Istanbul.
16. If you truly want to explore this city you can walk on its beautiful streets.
17. Try out local food such as borek and kokorec.
18. While trying local food don't forget to check out some fancy restaurants.
19. If you are ready to go shopping, visit the Grand Bazaar.
20. Hagia Irene in Istanbul can be worth visiting, too.
21. Visit fascinating aquariums in Istanbul.
22. If you want to shop more, visit shopping malls in Sisli.
23. Going to amusement parks can be another fun option.
24. Explore zoos in Istanbul.
Top 100 Istanbul Activities: 25 – 50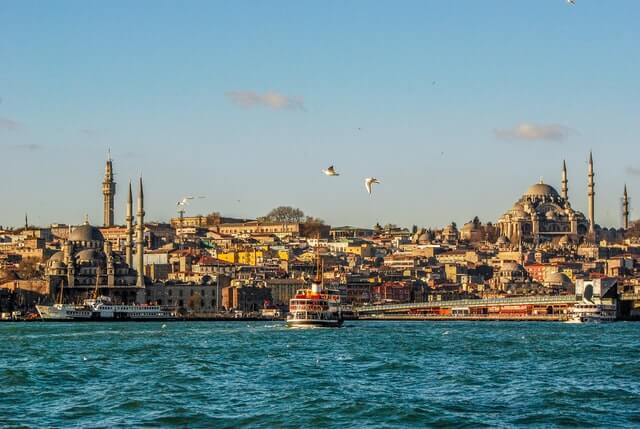 25. Go to a gym and get some exercise.
26. In case you want to keep it thrifty, you can get some exercise outdoors as well.
27. Have a nice cup of Turkish coffee in a cafe in Istanbul.
28. Another one of the top 100 Istanbul activities is hiking.
29. Explore Dolmabahce Palace.
30. If you want to see more palaces, check out the Yildiz Palace, too.
31. Walk on the Istiklal Avenue.
32. Visit a Turkish bath or a spa to relax.
33. Enjoy the nightlife of Istanbul to meet new people and have some drinks.
34. Enjoy some Turkish tea and snacks.
35. Ever tried baklava? How about tasting this delicious dessert in Istanbul?
36. Go to the Spice Bazaar for some more shopping.
37. Taste kumpir in Ortakoy.
38. Check out the wax sculptures of many celebrities at Madame Tussaud Museum.
39. Take a ferry ride.
40. Visit the Galata Tower and take some pictures there.
41. Go to the Balat neighborhood and see the colorful houses there.
42. Enjoy more local drinks like salep and boza.
43. Don't forget to visit Miniaturk.
44. Another one of the top 100 Istanbul activities is visiting Basilica Cistern.
45. Visit the Taksim Square.
46. Check out the Rumeli Fortress.
47. Discover the Golden Horn and the area surrounding it.
48. Visit some of the churches in Istanbul.
49. Don't forget to visit Anatolian Fortress.
Top 100 Istanbul Activities 50 – 75
50. See the Walls of Constantinople.
51. Seeing the Obelish of Theodosius is another one of the top 100 Istanbul activities.
52. You can also visit Yavuz Selim Mosque, too.
53. Go see the whirling dervishes show.
54. Enjoy some seafood while watching the Bosphorus.
55. Have fun at Istanbul bars and clubs with your friends.
56. Rent a car and drive around the city.
57. Watch a theater show.
58. Visit a winery and taste some delicious wine.
59. Try out a vegan restaurant in Istanbul.
60. Celebrate the New Year's Eve in Istanbul.
61. Go to the art galleries in the city.
62. Watch a dance show in Istanbul.
63. Try out gluten-free restaurants in the city.
64. Visit Ortakoy Mosque.
65. Enjoy a luxury limo experience.
66. Join a group tour of the city.
67. Take a free walking tour of Istanbul.
68. Feed the stray cats in the city.
69. Try out bungee jumping.
70. Don't forget to visit Eyup Sultan Mosque.
71. Check out the Yoros Castle.
72. Visiting Sile can be another one of the top 100 Istanbul activities.
73. Visit Polonezkoy to enjoy some fresh air.
74. Check out the movies at the cinema.
Top 100 Istanbul Activities 75 – 100
75. Go fishing.
76. Try out water sports.
77. Have a day trip to Bursa or Edirne.
78. Go to the Istanbul Jazz Festival.
79. Enjoy a concert in Istanbul.
80. Go to Cihangir and enjoy the vibe of this place.
81. Check out the Waterfront Mansions of Istanbul and take some photos.
82. Enjoy a day trip to Troy or Ephesus.
83. Go to the vintage cars museum in Istanbul.
84. Make sure to discover Uskudar while you are in Istanbul.
85. Exploring the Anatolian side of the city can be one of the top 100 Istanbul activities.
86. Are you here with your friends? Try paintball.
87. Remember to get some souvenirs.
88. Try a kebab.
89. Don't forget to try out the local alcoholic beverage, raki.
90. Enjoy the view of and take photos from Camlica Hill.
91. Try windsurfing in Istanbul.
92. Check out the Sultanahmet Square.
93. Another one of the top 100 Istanbul activities is trying out paragliding.
94. Take part in the Sahaf Festival if you like books.
95. Another festival you may want to try out in Istanbul can be the Cocktail Festival.
96. Have a day trip to Pamukkale or Cappadocia.
97. Visit the historical sights in the "Old City".
98. Join one of the free walking tours in Istanbul.
99. Take part in the International Istanbul Tulip Festival.
100. Explore the city to your heart's content.