If you are planning to visit this city, you should not forget that there are many things you can do in Istanbul. For one thing, the city has a lot of historical places to explore. There are so many of these places that one trip would probably not be enough to see them all. But when we talk about the history of Istanbul, many people tend to think about the Ottomans only. However, there were various civilizations that have shaped the culture of the city. So you can also explore these cultures and see ancient remains as well. Obelisk of Theodosius is one of these places that show us the interesting past of this city. Here on this blog post we are going to explore the history and importance of this place. Then, we are going to see how you can visit the place and see it for yourself.
History Of The Obelisk Of Theodosius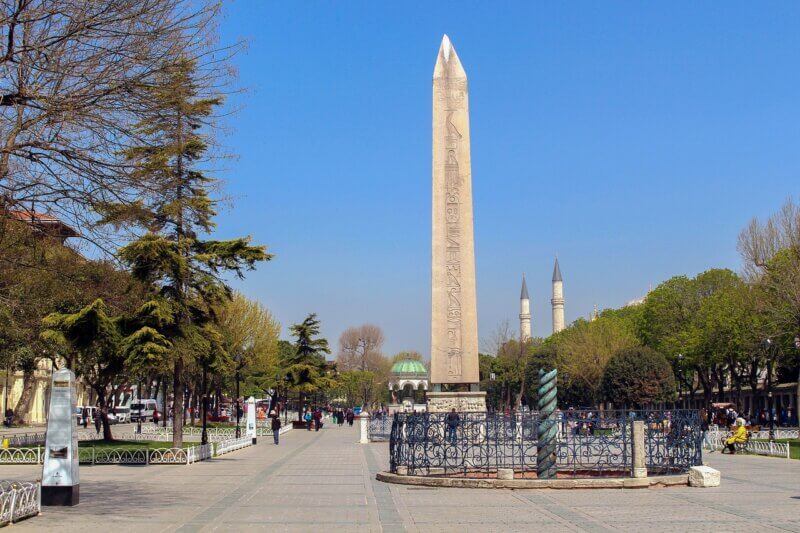 There are many places in Istanbul that are older than they seem to be. However, the Obelisk of Theodosius is on another level when it comes to this. Because the obelisk is around 3400 years old, as Ancient Egyptians have built it around 15th century BC. For hundreds of years, the monument had stayed in Ancient Egypt until Romans took it to Istanbul.
Just like we feel today, Romans felt some level of fascination towards Egypt. So they held this ancient civilization in very high regard. During the 4th century, Romans took the obelisk from its previous place to Istanbul. This was under the orders of two different Roman emperors, Constantius II first and then Theodosius I. And ever since then, it has stayed in its place as a monument that people respect and cherish.
Cultural Importance Of The Obelisk Of Theodosius
When many people think about Istanbul, they think about the Ottoman Empire and Turkish culture. Because Ottomans were the last historical civilization that has influenced the culture of the city. They have spread their own culture, which was a mixture of the Islamic and Turkish cultures, over many centuries. For example they transformed many churches into mosques and built their own structures as well. Hagia Sophia is the most popular example of a church turned into a mosque by Ottomans. And places like Suleymaniye Mosque and Topkapi Palace are good examples of buildings that reflect Ottoman architecture and culture.
Although Ottomans had a huge role in shaping the culture of the city, there were many that came before them. For instance Ancient Greek and Roman cultures are two of the most prominent examples of this. Throughout the history of Istanbul, the city has been an central location for many empires. So, we can see many historical places that reflect this ancient history. And Obelisk of Theodosius is one of these places that show us the long and rich history of Istanbul. However, this monument is not only important for reflecting the city's more ancient history. It also gives us a glimpse into the history of Ancient Egypt. All in all, this place holds notable historical and cultural importance, both for the city and the whole world's history.
What The Monument Looks Like
Although the obelisk was taller originally, it took damage over time and is now around 25 meters (~82ft.) high. Over each side of the obelisk, we can see Egyptian writings. These writings talk about the Thutmose III's battle with the Mitanni, another ancient state. Also, at the base of the structure there are carvings that Romans have made. Moreover, there are also writings in Latin and Greek that talk about the re-erection of the obelisk.
How To Visit The Obelisk Of Theodosius
If you are curious about the Obelisk of Theodosius and want to see it for yourself, you can visit it in Istanbul. Since it is in the Sultanahmet Square, you can easily go there and see the obelisk. You can use many of the ways of transport in Istanbul such as bus, metro and tram for this. Then, you can see the structure any time you want without any fees.
Other Attractions Around The Area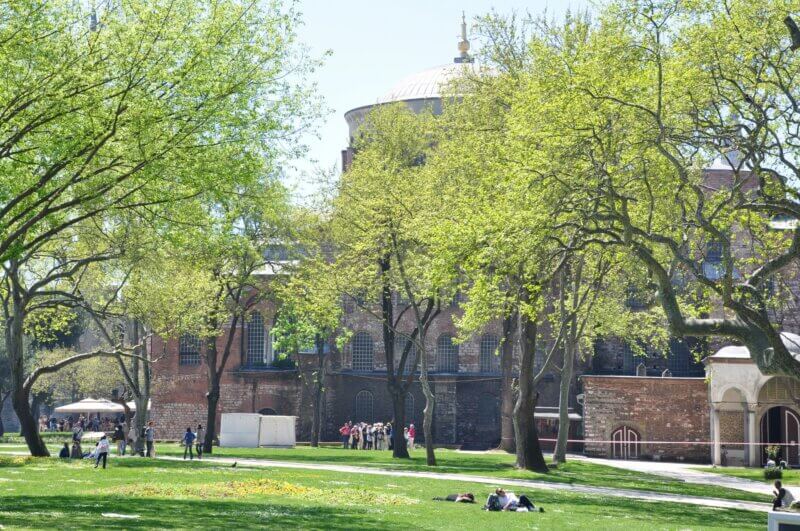 Since the Obelisk of Theodosius is in a very central place, there are many other attractions around it. For example, Hagia Irene, the Grand Bazaar and Gülhane Park are some of these places. After your visit to the monument, you can also see these places if you want.
Featured Image Attribution
Esther Lee, Obelisk of Theodosius, CC BY 2.0