Welcome to the world of dwarfs with Istanbul Miniaturk Museum, the world's largest miniature museum!
As we all know, Istanbul, one of the world's favorite cities, is a city where different civilizations and ethnic origins live together.
Countless churches, historical buildings, remarkable architectural examples, the Bosphorus, cultural dishes and many different elements have made Istanbul one of the favorite cities.
There are various activities that can be done as a tourist in this city where there are many museums.
We, as the Istanbuljoy team, talked about Istanbul Miniaturk Museum for you, our dear readers, in today's article. If you're ready, then let's get started!
If you are ready, let's start!
You may be interested: Istiklal Avenue Guide: Things To See And More
Gorgeous structures in one place!
You can't come to a city like Istanbul and not visit Miniaturk!
Miniaturk, located on the Golden Horn shore of the Sutluce district of Istanbul, is actually a kind of park.
Located in the province of Istanbul in Turkey, this park actually displays the important works of the country, as it is found in some countries of the world.
The miniature versions of important works and structures of Turkey are exhibited in this park.
Thus, it enables visitors to see all the magnificent structures and values ​​in Istanbul together.
Let's take a closer look at Miniaturk, which attracted the attention of both Istanbul, Turkey and the world in a short time after it was built.
You may be interested: Dolmabahce Palace: History, Importance And Guide
The world's largest miniature museum!
Located on the shores of the Golden Horn in Istanbul, the Miniaturk Museum is located in the Sutluce district.
Established on an area of ​​60,000 square meters, Miniaturk has the feature of a miniature park established on the largest area in the world.
In other words, visitors to Istanbul will see the world's largest miniature museum as well as the beauty of the city.
You may be interested: Rumeli Fortress: History, Significance And How To Visit
What's in the Miniaturk Museum?
Miniaturk Museum is home to important works of Istanbul and Turkey's history.
Many works from the Glorious War of Independence to the Crystal Istanbul Museum can be easily visited in this park.
Miniaturk, which is established on a very large area, contains various structures such as Çanakkale Victory Monument, Amasya Safranbolu Houses, Selimiye Mosque, Mevlana Tomb, Mostar Bridge, Sultanahmet, Hagia Sophia, Bosphorus Bridge, Ataturk Airport.
In addition to the museums, Miniaturk also has open-air exhibition areas.
In addition, there are various opportunities such as various cafes and restaurants, souvenir shops and children's playgrounds for visitors to spend time.
You may be interested: Istanbul Hamams (Turkish Baths) To Visit
There is a museum within a museum!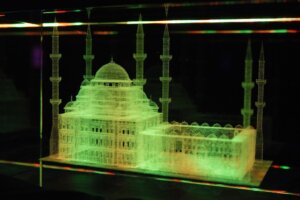 Since the area where the Miniaturk Museum is located is quite large, there are actually several different museums inside.
Crystal Istanbul Museum and Panorama Victory Museum are among the most sought-after museums in Miniaturk.
Crystal Istanbul Museum; It is one of the most impressive areas in Miniaturk.
Crystal Istanbul Museum in Miniaturk, which is frequently visited by tourists, hosts 3D artifacts.
In this museum, which was built using crystal glass, light and high laser technology, artifacts are presented in 3D.
Lasers are engraved into the crystal glass in this museum, which displays the 16 most important historical artifacts of Istanbul.
In this way, the works are exhibited by obtaining the exact same image.
Panorama Victory Museum; Turkey hosts the biggest wars in its history.
However, these battles are presented with sound and light effects. In other words, visitors can see Turkey's great wars as real as possible with sound and light effects.
In addition, photographs of Mustafa Kemal Ataturk, known as Turkey's commander-in-chief, are also exhibited.
You may be interested: Topkapi Palace History, Importance And More
A pleasant journey with Ferry Trip …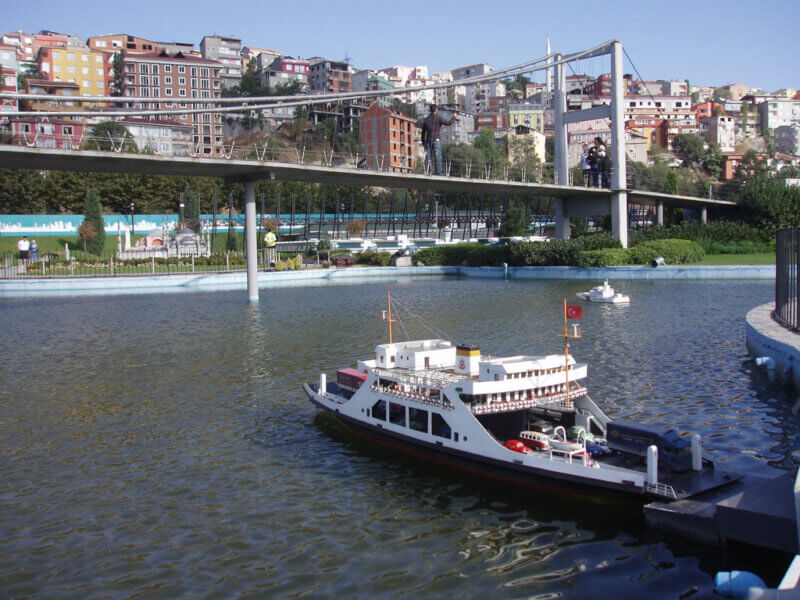 In addition to museums and important works, Miniaturk also offers ferry tours.
Visitors can explore Miniaturk by taking the ferry or by boat.
In addition, the sightseeing train, which children will love very much, is also located in Miniaturk.
On the other hand, this museum, which is one of the common points of chess lovers, provides the opportunity to play chess.
In addition to playing chess in a pleasant way, the labyrinth area is also very suitable for visiting.
In addition to all these, Miniaturk is a large complex that also hosts the Turkey-Istanbul Simulation Helicopter tour.
There is also a parking lot with a capacity of 300 vehicles.
There are 135 pieces of artifacts in total in the museum.
62 pieces of these works describe Istanbul. Piece 60 tells about Anatolia.
The remaining 13 pieces consist of foreign works of the Ottoman Empire.
The museum is visited in 3 main sections in total.
In addition, the works made are extremely realistic. For this reason, visitors feel like a giant in a dwarf land.
You may be interested: Seraglio Point (Sarayburnu): History and Activities
What hours and days is Miniaturk Museum open, how much is the ticket price?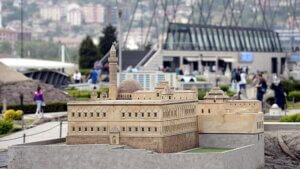 Miniaturk Museum is open every day of the week.
You can go to Miniaturk any day you want in the city of Istanbul, which hosts a lot of tourists from all over the world.
The entrance time of the museum starts at 09:00 in the morning.
Visitors continue to be received until 18:00 in the evening. It is closed to service on the first day of religious holiday.
Tickets are applied at the entrance to the museum.
Payment in currencies other than TL is not accepted at the entrance to the museum. The entrance fee is 20 TL per person.
How did you find the Miniaturk Museum, which we have told you above?
Would you like to visit this museum when you come to Istanbul?
See you in the comments….
You may be interested: Istanbul Beach Guide: Where To Swim In Istanbul?