Istanbul is a city that stands out with its many attractions with cultural and historical importance. Here you can visit many incredible places and learn about history a lot. It is almost impossible to visit Istanbul and not learn something new regarding history as a tourist. Also one of the most important types of places that preserve that history are the mosques of Istanbul. There are so many mosques to visit in Istanbul from Blue Mosque to Suleymaniye Mosque. These are places where you can witness history and see some amazing architecture. Eyup Sultan Mosque is one of those and we are going to talk about it in detail in this post.
History Of Eyup Sultan Mosque
As you may know, Mehmet II conquered Constantinople in 1453. 5 years after the conquest, Mehmed the Conqueror ordered the construction of this mosque in 1458. After its construction it became a very important mosque with many visitors. But the mosque was not always in a good condition as it is now. Actually it was in a quite bad condition in the 18th century. So Selim III ordered the renovation of the minarets to get the mosque out of this bad condition.
Also in 19th century Mahmud II ordered some renovation in one of the minarets. But these renovations was quite small in comparison to the ones Selim III ordered. Because the mosque was already in very good condition after Selim's renovations.
Currently, there is not a definitive information about the architect of the mosque. But some believe that this incredible structure has multiple architects. Since Ottomans renovated the mosque in different periods of time, you can see different kinds of architectural styles in it.
Cultural And Historical Significance Of This Mosque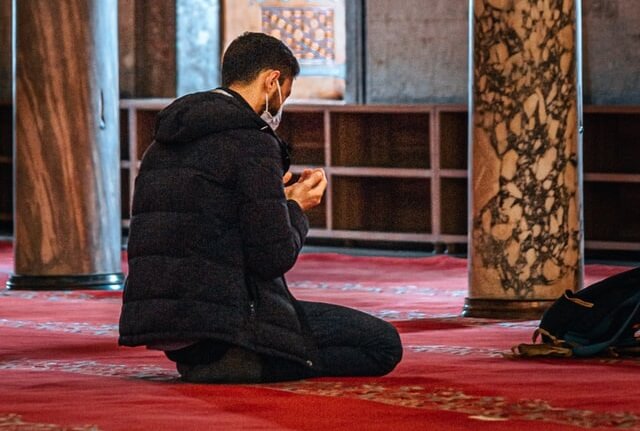 This place is very important for both Muslims in Turkey and Muslims in the world. It is the first mosque that was built after the conquest of Constantinople. Also the tomb of Eyup Sultan, a very important figure in Islam, is here in this mosque.
Due to the importance of this mosque, the enthronement ceremonies of many Ottoman sultans began here. The ceremony mainly involved praying and taking a ceremonial sword. Then along with Eyup Sultan, graves of many important historical figures are around this area.
Last but not least, an artifact that people believe to be the footprint of Prophet Muhammad is in here as well. For all these reasons, this mosque has a lot of cultural, religious and historical importance.
Whose Tomb Is In The Eyup Sultan Mosque?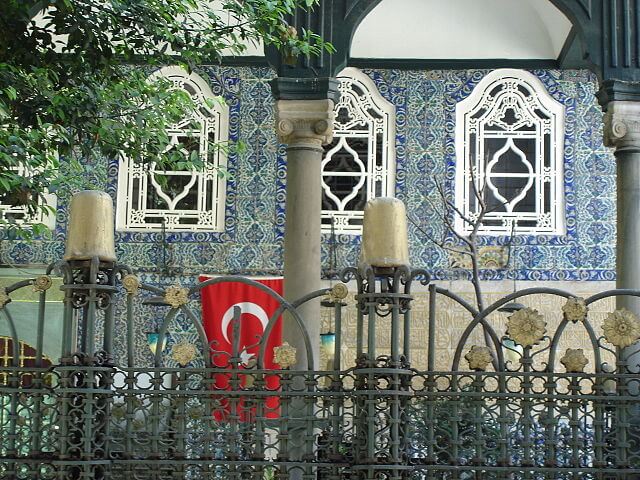 In the outer courtyard of the mosque, there is a tomb that belongs to Abu Ayyub al-Ansari (Eyup Sultan). Ayub al-Ansari is a very important person for the Islamic world. He knew Prophet Muhammad in person. Eyup Sultan was one of the few people who first converted to Islam. Actually, he became a Muslim with his wife after the Hijrah in 622. He believed in Muhammad and his cause at all costs and he wanted to protect him. In fact, Prophet Muhammad stayed with him when he came to Medina after the Hijrah. Morever, he used to be one of the scribes of Muhammad who helped to compile the revelations Muhammad recieved. He fought alongside Prophet Muhammad in many battles, most important ones being Battles of Badr and Uhud.
He believed that all healthy Muslims should fight in Muhammad's campaigs. So he fought alongside him till his death. He died in the wars between Byzantine Empire and Ummayyad Caliphate. In this war, Arabs tried to besiege Constantinople for the first time and failed to take it. So people believed that his grave was in Istanbul. When Mehmed II took the city, he wanted to build a mosque. Then his tutor Akshamsaddin advised him to do it on where he thought Eyup Sultan's grave was. Today, many Muslims visit this mosque and tomb to pay their respects.
Eyup Sultan Mosque And Tomb Opening Hours, Directions, How To Visit
You can visit the Eyup Sultan Mosque every day of the week, whenever you want. Because it is open 24/7 since it is an active mosque. If you want to visit the tomb, you can do it every day of the week from 9.30 AM to 4 PM. Eyup Sultan Mosque is in the Eyupsultan district of Istanbul.
You can go there using one of the many methods of transportation in Istanbul. For example, you can use different bus lines depending on where you currently are. Also you can use metrobus or minibus to get to this mosque.
Featured Image Attribution