When you come to Turkey, many are interested in Turkish cosmetics – what to look out for, what to try from skin care products and decorative cosmetics.
To date, there are brands of cosmetics in Turkey, which are not worse than analogues of European brands in their category.
To say that many Turkish brands are surprising – to say nothing. Some brands offer a whole line of effective products, the ingredients of which 10 years ago no one here even thought about.
In turn, decorative cosmetics are not inferior in quality and variety to the already familiar foreign popular brands.
Today, Turkish cosmetics is reaching a decent level, and its range is constantly expanding – it is cosmeceuticals, and care products, and, of course, decorative.
About what are the Turkish brands of cosmetics, which brands and lines to pay attention to, as well as the approximate cost of funds
Turkish cosmetics
Dermoskin
Cosmetics of this brand should definitely buy yourself when you visit Turkey, because it is the best therapeutic beauty products manufactured in the country. This can be seen based on the positive feedback from cosmetologists about Dermoskin.
The products of this brand can be found in pharmacies. The company has its own research center, and therefore each brand product is created by scientists and dermatology professionals who use the most accurate formulas and well-known active ingredients.
Dermoskin products are:
medicinal cosmetics against wrinkles and acne – Be Bright series: cream with AHA/BHA (250 liras), cream with vitamin C (240 liras), cream with peptides (300 liras)
Food supplements: pills and vitamins (from 100 LE)
Sunscreen (factor 30 to 97) – from 170 Liras
skin care cosmetics
Medical and caring hair products.
Creams cost from 120 liras and tonics/serums from 250 liras.
Atelier Rebul
This company has received well-deserved respect in Turkey, because it produces a charming perfume and organic skin care cosmetics. In 1895 the company was founded by a pharmaceutical family from Istanbul.
Atelier Rebul is currently headed by Fatih Mehmet Müderrisoğlu, a well-known professional. He is ready to one hundred percent guarantee the quality of any product of the brand, because he personally conducts their testing and verification of formulas. The brand carefully preserves the traditions of production, but also uses the achievements of modern cosmetology and science. The products are in high demand, because the company's marketing is very competent.
Atelier Rebul is a "premium" cosmetics in Turkey. Bestseller are the fragrances of The Istanbul Collection series. This perfume is the best that you can buy in the Turkish capital and for yourself, and as a gift to your family and friends. Read about what else you can buy as a souvenir in Istanbul here.
The cost of some products:
Perfumes – from 240 lira / 12ml, 600 lira / 50ml, 1300 lira / 125ml
Skin care products – from 380 liras
Hand cream (mini) – from 80 Lira
Body cream – from 280 lira /250 ml
Shower gels – from 130 liras /250ml
Cyrène Cosmetics
This is a fairly young company, which was founded in 2011. However, the brand has made a name for itself with products for acne- or hypersensitive skin. The founder of the brand is Sirin Koseoğlu, who has long worked for one of Turkey's leading cosmetics companies as a co-founding chemist. In order to improve her knowledge in the field of pharmacy, she returned to university, where she received a master's degree from De Montfort Faculty of Pharmacy in the United Kingdom.
The company's main goal and motto is to help people lead cruelty-free lifestyles and create products that provide great results. Unlike many other major cosmetic companies, Cyrene has never tested on animals.
The unique formulas of the cosmetics combine ingredients that produce a stunning effect: revitalizing and simultaneously healing your skin, protecting against harmful UV radiation, and significantly reducing redness. Half of the proceeds from each purchase of the brand's product goes to charity for children all over the world.
Cyrene Cosmetics products belong to the medium price segment. Many of the products are used by professionals in beauty salons, but can be used at home by yourself if you use them properly. Products of the brand Cyrene Cosmetics can be found in pharmacies in Turkey, as well as in online stores.
Of the interesting and noteworthy, we can highlight:
Mask (although the consistency is more like a liquid serum) with vitamin C, AHA, BHA and enzyme exfoliant, also contains plant extracts and prebiotic – from 330 Lira
Cleansing wipes with AHA/BHA (glycolic acid 5% and salicylic acid 1%) from 200 lira
Vitamin C 15% serum from 350 Lira
Serum with peptides and hylauronic acid – from 360 Lira
The Purest Solutions
This brand refers to cosmeceuticals. The Purest Solutions has been in the local market for 8 years and their products have proven to really work.
Keeping up with the times and current trends, the brand has emphasized products with acids, which have become especially popular in recent years, proving to be effective.
This brand doesn't have a lot of products, but all of the products are really effective. Those who have various skin problems and cannot find analogues of popular brands with acids, should try this cosmetics.
The main ingredients of cosmetic products:
Alpha Hydroxy Acid (AHA)
Beta-hydroxy acid (BHA)
Hyaluronic acid
Glycolic acid
Arbutin
Niacinamide
Agrirelin .
At the same time, the manufacturer does not include alcohol, parabens, dyes and does not test products on animals.
The cost of the products of this brand starts at 190 liras per item (creams, toners, cleansers), serums from 200 liras.
The products can be purchased at Watsons and Rossman stores, as well as online.
Proscin
This brand has its own laboratory, where it develops innovative cosmetic products combining various medicinal extracts and mineral molecules.
The natural components of the cosmetics include plant and herbal extracts, medicinal herbs and oils, different types of clay, thermal water.
All products are developed in accordance with the modern needs of the skin which faces such negative factors as increased air pollution, unfavorable environmental conditions – dry air, wind, sun, etc., stress conditions.
The company's arsenal includes a huge number of cosmetics: for face and body, for hair, as well as perfumes.
Among the interesting positions are such products as:
Vitamin C serum
Serum with Bacucciol (20 ml)
Serum with AHA and BHA acids.
Various Moisturizing Serums (20-30 ml volume)
Perfume (volumes of 30ml), identified by number.
Hair care products: shampoos, masks, oils and conditioners.The prices for our products are rather democratic; for instance, our prices for creams and serums (20ml volumes) start from 40-50 Liras.
Rosece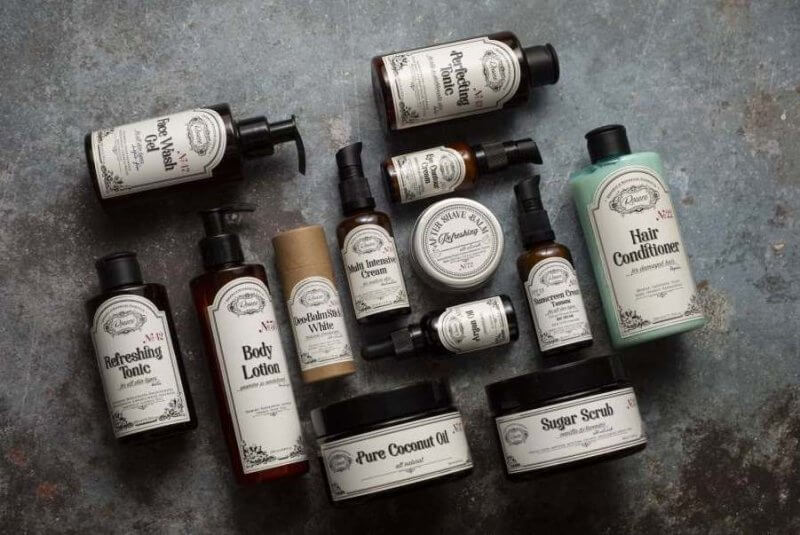 The brand was started by Nurgul Dirlik, who could not find a product with natural ingredients for her daughter with atopic dermatitis. Since the woman was a botanist by profession, using scientific literature and her own knowledge, Nurgul derived her formulas. Over time it became her passion and hobby – Nurgul prepared herbal blends both for her children with skin problems and for the children of loved ones.
Under the motto "our future is not only our children, but also the world we leave them," the woman founded Rosece, a brand sensitive to water, soil, nature and all living things. The Rosece family believes that goodness comes to our skin only from nature, so they use ingredients approved by organic certification institutions, organic ingredients, minerals, vitamins, plant extracts, plant water and natural oils in their products.
These cosmetics will be of interest to those who like natural ingredients, herbal or neutral smells of care products, as well as to those who are close to the concept of respect for the world and nature.
You can buy the cosmetics in Canyon Shopping Center in Istanbul (Souq Dükkan store), in Bebek (Ruby Flowers & Gifts store), in Antalya – Bab-ı Şifa Naturel Market store, as well as, on online platforms.
Approximate prices:
Solid shampoo – from 150 liras.
Liquid shampoo – from 150 liras
Facial serums – from 200 Liras
Natural Oils – from 230 Lira
Sunscreens – from 250 Liras
Dalan
Back in 1941 in the Namazga sector of Izmir, Hamdi Dalan laid the foundation of the highest quality of this brand by producing the classic Dalan soap from 100% olive oil. Later (1976) the Dalan family turned this workshop into Dalan Kimya Endustri A.S. And 5 years later, in 1981, the company started the production of glycerin and soap in Izmir in Pinarbasi with the newest facilities. The production of Dalan cosmetics started in 2006.
Today customers can enjoy a wide range of products – both industrial products (granular soap, soap noodles, glycerin) and cosmetics for personal care of high quality and variety (shampoos for hair, creams for shaving and hands, body lotions, shower gels, liquid and bar soaps).
There are 7 brands under which Dalan sells its own products: Roxy, Adalya, Cindy, Nancy, Diana, Dalan.
Already in 2007 the products of the brand became popular on 5 continents in 132 countries. The share of Dalan in soap exports from Turkey is 20 percent, thanks to which the company became one of the five exporters in the soap sub-sector.
Most people may be familiar with the Dalan brand from its various types of soaps (you can find them in almost every store), and, from its olive oil body product line (sold in various stores, websites).
Average prices:
Shampoos, shower gels – from 30 liras
Hair conditioners – from 35 liras
Hand cream – mini from 10 liras, 75ml from 30 liras
Body lotions – from 125 Lira
Body lotions – from 80 Lira
Thalia

This natural Turkish cosmetics is known all over the world, it has excellent reviews, and its products can be found even in European stores. In the beginning, Thaliia produced only organic soap, and even today it is the most frequently purchased brand product in the country and a hit of sales. At the moment the brand produces all kinds of organic skin care products for face, body and hair. The most popular are products with natural oils. These cosmetics can be attributed to the above average price niche.
We recommend buying: cream and foam with aloe; anti-aging serums; masks with coconut and organ for hair and face.
You can buy cosmetics of this brand in the network of stores Boyner in different cities of Turkey, as well as on the expanses of the Internet.
Examples of some positions of the brand:
Hyaluronic acid serum (2%) – from 150 Lira
Serum with 10%AHA, 2% BHA – from 140 Lira
Face cream with aloe vera (50%) – from 150 Lira
Anti-Aging night and day cream with oil extract – from 190 Liras
Shampoos, conditioners – from 100 LR
Rosense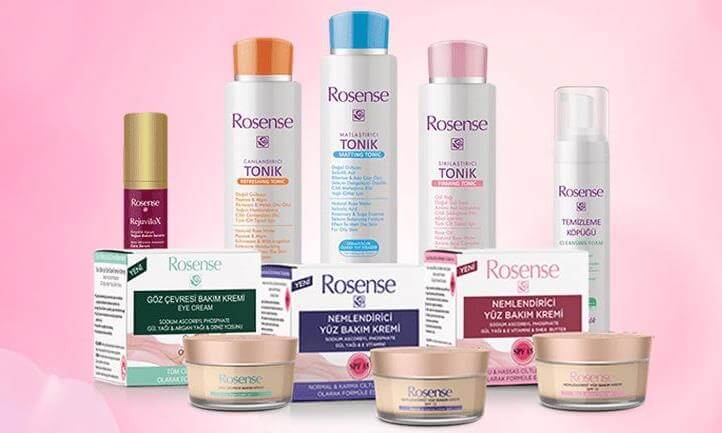 Turkish organic cosmetics, which enjoys the greatest prevalence and popularity, is the rose water of this brand. This brand belongs to Gulbirilik, the largest Turkish producer of rose oil and the world's leading exporter. We recommend this company if you want to buy rose water of the highest quality.
We also advise to pay attention to the other products of the company. One of the ingredients is natural rose oil of the highest quality. The feedback from customers of Rosense cosmetics is excellent. At the same time, the prices are reasonable (the cost of rose water in Turkish stores is 20-30 lira), and the quality is excellent. The cleansing gel, masks, tonic, day and night creams received customer praise.
Cosmetics of this brand are available at Gratis and Watsons stores, as well as online.
Approximate prices:
Rose oil – from 290 liras
Body butter (butters) – from 120 Liras
Face cream – from 150 Liras
Body spray – from 90 Lira
Roll-on deodorant – from 50 liars
Perfume – from 250 liras