As its title indicates, this article is intended for those who want to go shopping in Istanbul. You should already know that there are an indecent number of shopping Centers in Istanbul! And shopping is quite a common activity among the population which is a great consumer.
As a result, it can be difficult to choose the best shopping malls to spend money in Istanbul. So we decided to pick 4 on the Asian side of Istanbul, and 4 on the European side of Istanbul. These are the ones that we think are really worth a look.
What can be found in Turkish shopping malls?
In Turkish shopping malls, you will find exactly the same brands that you have in European malls, in addition to all the local brands.
The markets and bazaars of Istanbul
In this list, we are of course excluding places like the Grand Bazaar, which are not shopping centers, but rather bazaars or neighborhood markets. By the way, you can check the article on Istanbul bazaars and markets for more details on this side. These are much more suitable for buying souvenirs, sweets or typical Turkish decorative items.
When are the sales in Istanbul and Turkey?
Turkish sales last 2 to 3 months and are also built in the form of markdowns with 3 markdowns every 2 weeks. The length of these really depends on the sales of each store. It is one of the most popular Shopping Centers in Istanbul.
END OF THE YEAR: You should know that there are very big end of the year sales of – 50% in all the shopping centers from December 15th to 31st, then there are the "normal" sales, twice a year:
Winter sales in Turkey: early January to late March
Summer sales in Turkey: end of June until the end of summer…
4 best shopping malls in Istanbul on the European side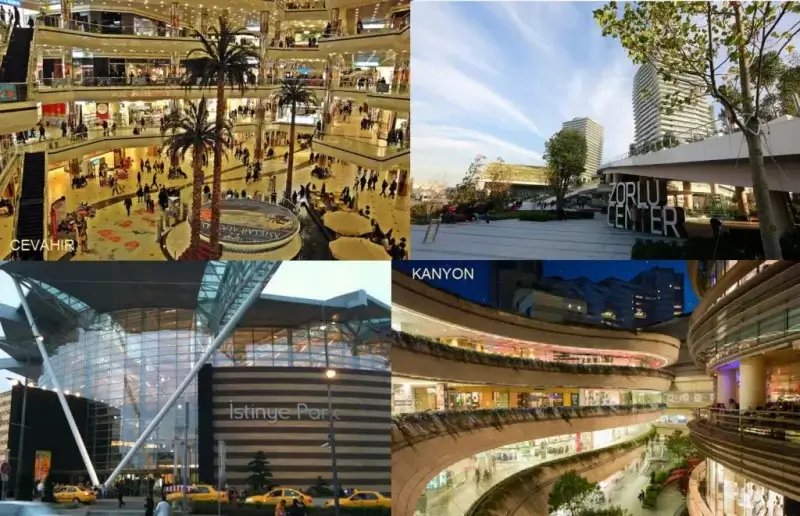 1. CEVAHIR in Sisli
One of the most famous and most visited shopping malls in Istanbul. It is considered one of the largest in Europe with its 330,000 square meters of space.
In Cevahir, you will find everything, but mostly mid and high end brands, in relatively large and tidy stores. The décor of the mall is very luxurious and spacious. At Christmas, they go to great lengths to pay tribute to the winter wonderland.
Access: Metro and Metrobus, Mecidiyekoy stop or Sisli Centre by bus.
Official website: www.istanbulcevahir.com
2. ZORLU CENTER in Besiktas
This is a very modern and well done shopping mall. If you like beautiful malls, this one will be perfect although you can get lost quite easily. Inside, you will find all the mid-range stores and outside, at the top, you will find the restaurants as well as the very big luxury brands.
Tip: Go to Eataly for a coffee, this place is wonderful.
Access: Metro and Metrobus, stop Zincirlikuyu or Gayrettepe.
Official website: www.zorlucenter.com.tr
3. ISTINYE PARK in Istinye
If you want to meet Turkish stars, this is the one to go to. Other than that, there is a great selection of stores, but the focus is on luxury brands.
Access: Get there by car, cab, it's easier.
Official website: www.istinyepark.com.tr 
4. KANYON in Levent
This mall is very nice, well laid out, and outdoors. Avoid it in winter if you are cold, but choose it for a good shopping session. You can find almost all brands.
You should know that this shopping mall is one of the favorites of the Istanbu people of Europe especially to go there to eat, to drink the evening or to enjoy the cinema.
Many Turkish TV series shoot scenes in the open air space of this shopping mall in Istanbul.
Access : Levent metro
Official website: www.kanyon.com.tr
Before moving on to the shopping malls of Istanbul Asia, you should know that The Istanbul Blog has prepared a large list of hotel recommendations in Istanbul. Do not hesitate to consult it when preparing your trip. You'll find nuggets at very affordable prices…! It is one of the most popular Shopping Centers in Istanbul.
4 best shopping malls in Istanbul on the Asian side
5. OPTIMUM à Yenisahra
Here is the good plan for all the fans of the outlet. You can find all the brands that exist in other shopping malls, but at low prices, which is not a luxury. It is one of the most popular Shopping Centers in Istanbul.
Access: By bus (all buses passing by the E5 highway on the Asian side) and by metro 4, at the Yenisahra stop.
Official website : www.optimumistanbul.com/tr
6. VIAPORT in Kurtkoy
Yet another outlet mall in Istanbul, this time in the open air, Viaport is well known for offering great prices. This huge shopping mall is close to the Asian airport, Sabiha Gökçen and offers many activities for children.
Access: The only drawback is that it is only accessible by car (for the moment). It is one of the most popular Shopping Centers in Istanbul.
Official website : www.viaport.com.tr
7. AKASYA in Acibadem
This is one of the malls I've been to the most in Istanbul. It's not that different from the others, but we like the orderliness and spaciousness of it and the terraces in the courtyard. It is also where the second Apple Store is located after the one in Zorlu Center.
Metro stop Unalan – Metrobus stop Uzunçayır
Official website: www.ak-asya.com.tr
8. NAUTILUS in Kadikoy
At the Ayrilik Cesmesi stop of Metro 4, you will find a large shopping center with a big Carrefour inside.
This mall is nothing special but it is well placed next to Kadikoy if you have a quick errand to do. We like it a lot because it is not too big and has nice little terraces. It is one of the most popular Shopping Centers in Istanbul.
Official website : www.tepenautilus.com