Shopping is another reason to visit Istanbul. The city's most popular shopping mall, Cevahir, is a great place to shop. The 620,000-square-meter area is home to several hundred stores selling local and international brands. What you can buy in the mall Cevahir, when it is better to go shopping, what other services are offered to visitors, we will tell in this article.
What can I buy?
There are more than 350 stores in the mall, where without exaggeration you can buy everything from household appliances to food. And the prices are not overpriced.
Pay attention! The best time for shopping is late August and early September, as well as after the New Year holidays. This is a time of discounts, when you can make a very profitable purchase.
Stores that sell certain types of goods are grouped and distributed by floor in Cevahir:
The 1st floor is occupied by stores selling household appliances and electronics, as well as the largest grocery supermarket;
on floors 2 and 3 sell clothes and cosmetics;
on the 4th floor, sports goods and clothes are offered;
Floor 5 is mostly a recreation area with numerous cafes;
on the 6th floor there are several restaurants.
1 floor:
Home appliances and electronics: Arçelik, Enplus, Fakir Hausgerate, Gürgençle Apple, Mi Store, Samsung, Siemens & Electrolux, Tefal, Vestel.
Home products: Bella Maison, Chakra, English Home, Home Sweet Home, Jumbo, Karaca, Koçtaş, Linens, Madame Coco, Özdilek, Porland, Tantitoni, Yataş – Enza Home.
Cosmetics and perfumes: Gratis, ROSSMANN, Sephora, Yves Rocher.
Jewelry and bijouterie: Zen Diamond.
Lingerie: Penti.
Cell phone shops: Turkcell, Türk Telekom, Vodafone.
Optics: Opal Optik, Sunglass Hut.
Sporting Goods: Finspor.
Supermarket, groceries, bakeries: Migros, Kafkas Şekerleme.
Watches: Mini Minti, Watch Maker.
Other stores: Anber Efşan (candles, fragrance oils) and Simurg Sanatevi (framing studio, goods for artists).
2nd floor:
Clothing: DeFacto, Faik Sönmez, Jack&Jones, Koton, LC Waikiki, LEVI'S, Marks&Spencer, Oxxo, Rock'N'Roll, U.S. Polo Assn.
Shoes, bags, accessories: Flo, Twigy.
Costume Jewelry, Jewelry: Delfino Silver, Ivon Accessory, LCW Home, Meliz Eşarp, Swarowski.
Cosmetics and perfumes: Kiko Milano, Lelas, Rosense, The body shop, Watsons.
Home stuff: LCW Home.
Children's products, toys: Armağan Oyuncak, Baby D, İlmek Bebek, Panço.
Lingerie: LCW Dream.
Optics: Göz Grup Optik.
Sporting Goods: Boyner sports.
Watches: Saat&Saat, Swatch.
Food: Hasira Bal (honey), Pasta Sanatı (cakes, oriental sweets), Supplementler (sports nutrition).
Other stores: D&R (books and CDs).
3rd floor:
Clothing: AdL, Brandroom, Çift Geyik Karaca, Damat TWN, GAP, İpekyol, Kiğılı, KİPLoft, Mango, Massimo Dutti, Network, Oleg Cassini, Oleg Cassini Atölye, Polo Garage, Ramsey, Sarar, Triko Mısırlı, Twist, W Collection, W Collection Woman, Ysf Giyim.
Cosmetics and perfumes: Bargello, Flormar, L'occitane, MAC Cosmetics.
Home stuff: Zara Home.
Children's products, toys: Ebebek.
Lingerie: Calzedonia, G Lingerie, Intimissimi, Oysho, Victoria's Secret.
Shoes, Handbags & Accessories: Aldo.
Other stores: The Art of Soap (handmade soap), Naturals Stone (natural stone products).
4th floor:
Clothing: Altınyıldız Classics, Bershka, Boyner, Colin's, Derimod, Desa, D'S Damat, Fenerium, İkiler, LTB,
Mavi, Mudo, Pull&Bear, Stradivarius, Tiffany & Tomato, Tommy Hilfiger, Vakko Boutique.
Sporting goods: Adidas, Columbia, Fenerium, GS Store, Kartal Yuvası, Puma, Reebok, Skechers, Sport in Street.
Shoes, bags: Ayakkabı Dünyası, Bambi, Birkenstock, Ceyo, Deriden, Elle, Flower, Hotiç, Kemal Tanca, LA Scada, Marka Park, Samsonite, Shoes & More, Superstep.
Costume jewelry and jewelry: Altınbaş, Ariş Pırlanta, Atasay, Chapka, Ence Takı, Luna, So Chic.
Cosmetics and perfumes: Atelier Rebul, Golden Rose.
Household Appliances and Electronics: Teknosa.
Optics: Atasun Optik, Opmar Optik.
Children products, toys: Toys On.
Watches: Özgür Saat.
Other stores: Case Yard (accessories for smartphones, tablets), Cella (accessories for smartphones, tablets).
5th floor:
Clothing: Boyner.
Children's goods, toys: Toyzz Shop.
Tobacco, cigarettes: Tobacco Shop.
Other services and entertainment
Cevahir is not only a shopping center, but also an entertainment center. On the second floor of the complex is a Cinemaximum cinema with 12 halls, which can accommodate 2,412 spectators.
The underground floor is occupied by the Atlantis Luna Park. It has more than two dozen attractions for different ages, including 3D-format, carousels, playgrounds, bowling, slot machines.
You can also grab a bite to eat at Cevahir. The food court, pizzerias, and eateries are concentrated on the 5th floor. Here you can find world-famous chains such as Burger King, KFC, Mc Donald's as well as local ones: Arby's, Doyuyo!, Kasap Döner, Otantik Kumpir and others. On the 6th floor are high level restaurants such as HD Iskender, Kahve Dünyası and Mado.
In addition, Jevahir has:
On the 1st floor:
pharmacy;
dry cleaning,
hairdresser's,
exchange office;
shoe repair;
Cevahir is planned in such a way that visitors are as comfortable as possible. There are toilets on each floor. For women with small children there are rooms where they can feed or swaddle their babies. You can rent a stroller for your baby during your visit to the mall. The mall has ramps and spacious elevators for easy wheelchair access to ensure that people with disabilities can move freely around the mall.
Opening Hours
The mall begins its work at 10.00. It closes at 22.00. You can come here any day, Cevahir works without days off.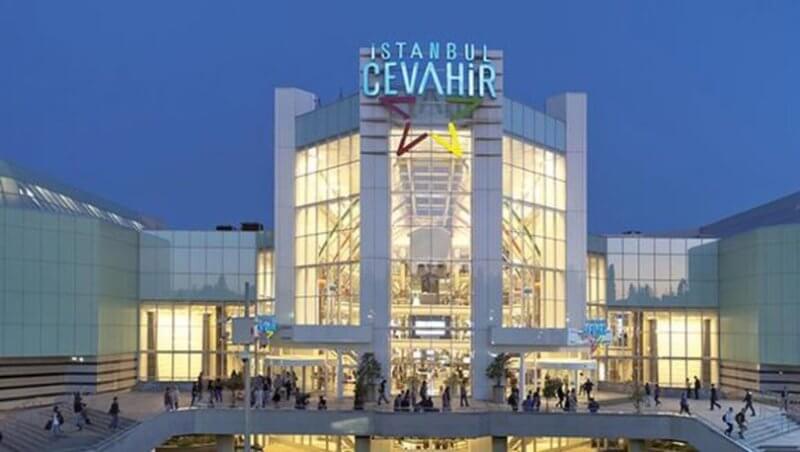 How to get to the shopping center Cevahir?
Cevahir is located in the Şişli district, which is considered the business and commercial center of Istanbul. It is easily accessible from any corner of the city. There is a bus stop nearby and the Şişli metro station (the M2 branch, which is marked green on the metro plan), the exit from which leads directly to the building of the shopping center.
Consider how to get to the mall from popular areas of Istanbul:
From the Sultanahmed neighborhood. First take the T1 streetcar to the stop "Laleli University", then take the subway and go to the shopping center.
From the Eminenyu neighborhood, from Sirkeci Station. From Eminenyu Square walk to the Metromost or take the T1 streetcar to the Laleli University stop, go down to the metro and get off at the Shishli station.
From Taksim Square. Take bus 69A to the Shishli stop. You can also take the M2 metro to the shopping mall.
From Aksaray Square. Go to the shopping center by buses 77, 46H, 69A or subway M2.
From Kadikoy area. Take a ferry to the European side to the pier Karakey or Eminenu or you can take the T1 express streetcar. Then go down to the subway and get off at the Mecidiyekoy-Sisli station.
From the Besiktas area. Walk or take a cab to Taksim Square. From there take the M2 metro to Şişli station.
From Istanbul New Airport. Take the Havaist bus to Taksim Square and from there take the metro to the shopping center.
Spending time in Cevahir shopping center will be interesting for the whole family. The day will fly by unnoticed. You will visit stores, popular cafes and restaurants with a view of Istanbul. Children have fun at the playgrounds and amusement park. A spectacular photo areas will help to make bright pictures that will remind about the visit of the largest shopping center in Turkey.