Istanbul is one of the most popular cities globally, where, it would seem, everyone has already seen everything. But the city still has many hidden vacation spots that will steal your heart about such locations in our material.
Balcony Cafe Bar (Beyoglu)
Do you want to spend the evening on a beautiful terrace, in good company, with delicious dishes and drinks on the table? Be sure to check out the Balkon Cafe Bar. A place where a mostly young local audience gathers in the evenings, plays pleasant music and offers an incredible view of the Bosphorus Strait!
The menu at Balkon Cafe Bar is classic: there are salads, light snacks, hot and meat dishes, and, of course, the treasures of the national Turkish cuisine. The assortment also includes a lot of desserts, in addition to which there are always fruits.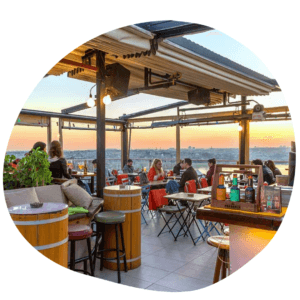 There are hundreds of souvenir shops, antique salons, and shops with oriental sweets in various guides to Istanbul, but bookstores are rarely mentioned and very wrongly.
Nail Bookstore is a quiet, cozy bookstore where you can buy a couple of worthwhile publications and stay to read and even try to write something of your own. The atmosphere here is charming, homely, with many soft corners, chairs; sitting here with a book and a cup of tea in your hands is a real pleasure.
There is also a cafe area that serves hot and refreshing drinks, as well as desserts.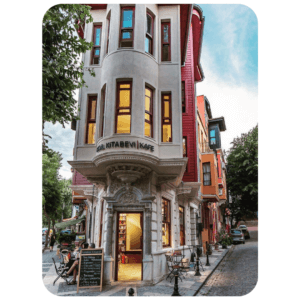 Cicek Isleri (Tophane/Beyoglu)
And this place is for those who bring magnets and sugar bags from their travels and something original for their home. Cicek Isleri is a store of modern furniture and decorative items that surprises with the variety and imagination of the designers who created all this.
Chairs, pillows, coasters, dishes, wood products, mirrors, watches, jewelry boxes, and many more unusual decorations for the interior. All are made of natural materials and made by hand. If you are looking for something original, you are here!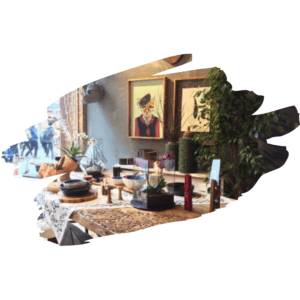 If you get tired of Turkish cuisine, be sure to stop by La Mancha is a place where you can order Italian, Spanish, and Moroccan cuisine and enjoy a beautiful view of Istanbul and the Bosphorus.
Visitors note that the restaurant's quality is almost one of the best in the city. Especially praise the pasta with truffle oil and parmesan and the signature dish from the institution – The Black Plate, where various tapas are collected.
The alcohol list here is rich in wines from different European countries. Do you like something more unusual? Try a melon and pineapple martini; your taste buds will be happy.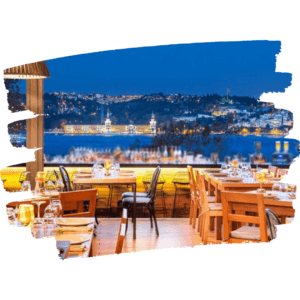 Museum of Photography (Fatih)
Istanbul is a pretty city, and it just looks great in the pictures. Fill your phone's memory with wonderful landscapes and visit the Museum of Photography. You will learn how the history of photography in Turkey developed and see everything from the very first, worn-out photos, photos of wartime to modern photos in all its types, colors, and genres.
The museum is modern and somewhat contrasts with the more popular old museums, and therefore there are usually not so many people here.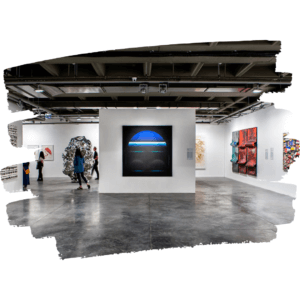 Only some tourists know about this place because it is for true connoisseurs of national traditions and lovers of everything unusual. Vefa Bozacisi is probably one of the oldest establishments in the city, which opened back in 1876. There is an unusually delicious ancient traditional base. This is a wheat drink with semolina, sugar, fried nuts. We must try!
In addition to the boza, a dozen drinks and treats are prepared here: grape must, a cocktail of disemboweled orchid leaves, milk, and sugar, Ottoman sherbet, Tamarind sherbet… In Vefa Bozacisi, you can also buy ideal sauces, such as pomegranate or lemon, and various types of vinegar.
The restaurant is located in the old part of the city and retains its interior in this style. Inside, it is very calm, spiritual, and atmospheric. Vefa Bozacisi is owned by one dynasty, and the recipe of the dishes here is passed down to the sons from generation to generation.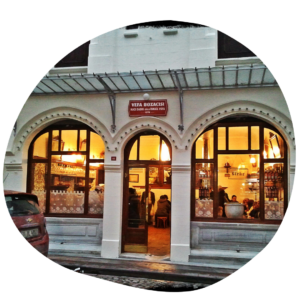 Museum of Innocence (Beyoglu)
It is also called the Museum of One Book because it was created by the author of the work "The Museum of Innocence" Orhan Pamuk, winner of the 2006 Nobel Prize.
The museum is located in a small building in the old quarter of Cihangir. Like the work itself, the museum is full of melancholy, a sense of longing and nostalgia for a bygone love, a bygone youth, and the overwhelming grief of loneliness.
The exhibition presents the personal belongings of the main characters of the book Kemal and Fusun, whose images the author has long collected at flea markets and bazaars in the city. Here you can also find 1000 cigarette butts that the main character smoked and items of clothing, antique dishes, toys, receipts, costume jewelry. This is a great place for anyone who likes unusual, interesting places and, of course, literature.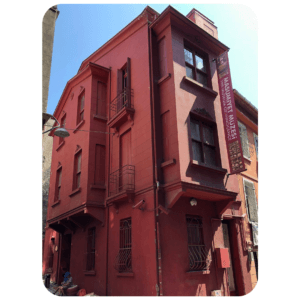 Madam Despina's tavern, which has witnessed history, became the first "female tavern manager" and is one of the special places that visitors keep to themselves. Located at the last stop of Kurtuluş, Despina is both a restaurant and a museum. Directing Istanbul's nightlife since 1946, Despina's menu includes approximately 25-30 types of appetizers. Prepared in the Greek style in the tavern, the "pilaki" is still made according to Madam's recipe.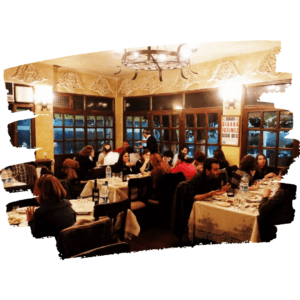 The only secret bar of Istanbul, hidden in the refrigerator of a pizzeria in Emirgan, is waiting for us. Few people know about Gizli Kalsin, a top-secret entertainment venue where visitors always take their friends in whispers. A concept bar on Emirgan beach, where you can enter the fridge of a cute three-table pizzeria with its decor until the morning hours and explore it as much as having fun there.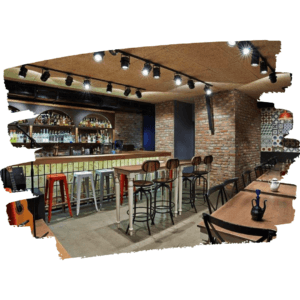 Mola Aski Terrace (Fatih)
One of the shabby places that have remained hidden is the Mola Aski Terrace. If you look around carefully, we recommend you to drink special teas at Mola Aski, one of the rare places where you will have the chance to see many historical places from above. You won't be able to get enough of the tea made with 40 different ingredients.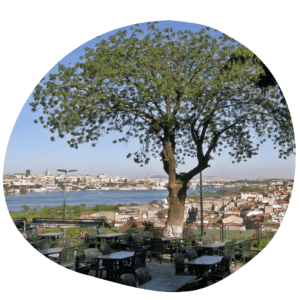 With its concept that evokes sincerity and comfort, Bi Nevi Deli is Besiktas's small but enjoyable place. The coffee and cake of the animal-friendly place, decorated with photos of dogs, horses, and cats, are quite delicious, and breakfast hours are quite long for those who like to have brunch on weekends.
The owners of the place, who showed the differences with the names of the dessert menus, came up with fun and creative names. We strongly recommend you to try their cakes called Bi Nevi Deli Nonsense and Bi Nevi Mozaik. By the way, the bonus of the place is the Vegan menus and Petra Roasting Co coffees.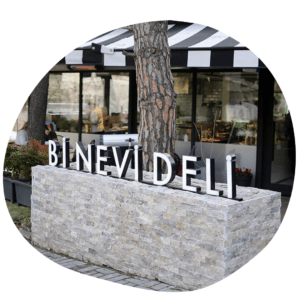 Bonus: Avam Coffeehouse (Beyoglu)

Tucked away in Taksim's side street, waiting for you to discover, Avam Coffeehouse is "what kind of place is this place?" at first sight. It gives you a glimpse. What influences your decision to enter is the old-style decorated tables and walls. Everything here is ancient and smells of nostalgia. It has a wall full of paintings that were hung on the walls of houses in the old days. After falling in love with its decoration, the second thing you'll fall in love with will be their sodas. This is the soda heaven, you know. There are nearly 20 soda varieties in Avam Coffeehouse.