Istanbul is an original, soulful, unparalleled city. You can talk about its bustling bazaars, fascinating mosques, extraordinary museums, beautiful streets for hours, and about Turkish cuisine in general endlessly.
Crispy baklava, aromatic lahmacun, baked mushrooms, and divine kebabs; ​this food is a real festival for the receptors.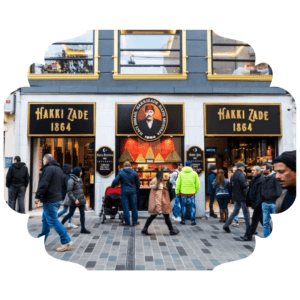 If you, like us, adore Turkish cuisine, take flights to Istanbul and go on a food tour. Here is a list of the capital's restaurants, bars, and cafes, where you will be treated as your family.
1. Saltanat Barbecue House (Fatih)
Do you eat meat and are very demanding about its aging, marbling, richness of taste? Saltanat Barbecue House is, without a doubt, your place. Here you can cook a magical grilled veal, lamb, or chicken, which is perfectly combined with pomegranate, "haydari," or any hot sauce.
Also on the menu is hummus, grape leaves stuffed with rice, onions, mint, and pine nuts. Do you like seafood? Order garlic shrimp with pepper and mushrooms, fried squid, or grilled fish. Saltanat Barbecue House is a great place for the whole family. In the menu, you will find items that your kids will definitely like.
2. Buhara Ocakbası Restaurant (Fatih)
For more than 20 years, this 3-story restaurant has been pleasing locals and guests of the capital. The terrace of the restaurant offers a magnificent view of the Sultanahmet Mosque and the Sea of Marmara. On the menu, everything that your tourist soul wants. Chicken and lamb skewers, kebab with yogurt sauce, kebab without yogurt sauce, kebab with tomatoes or eggplant, baklava, kunefe. Forget about dieting and enjoy. You deserve it! Celebrate your journey with a glass of red wine or a cup of classic Turkish tea.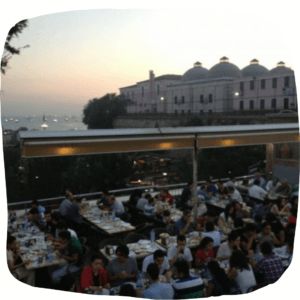 3. El Amed Terrace Restaurant (Fatih)
Better than a delicious dinner in a restaurant can only be a delicious dinner in a restaurant with a breathtaking view. At El Amed Terrace Restaurant, you can sit on the cozy terrace, eat juicy sea bass, and enjoy the Bosporus. This cafe is incredibly soulful, and the cuisine is chic. European and Oriental cuisine is perfectly prepared here, and baklava and tea are served for dessert. What to order, of course, is up to you, but we strongly advise you to try the lamb kebab with pistachio sauce.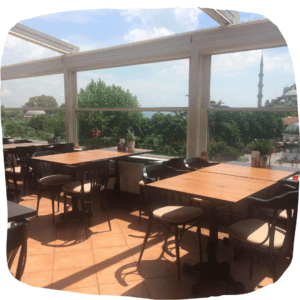 4. Old Istanbul Cuisine (Fatih)
Friendly waiters, a comfortable terrace, and, of course, real Turkish cuisine are the main trumps of this place. Old Istanbul Cuisine serves traditional Turkish stew and excellent veal stewed with tomatoes, eggplant, and pepper. Among the top dishes is lamb casserole cooked at low temperature with garlic and cheese and beef tacos in tomato sauce with mashed eggplant and cheese.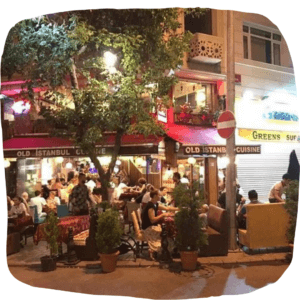 5. Vogue (Besiktas)
You can come here just for the view of the Bosporus. But the panorama is not the only pride of this luxury establishment. Vogue is famous for its rich wine list (200 items – this is no joke) and a wide selection of cigars. The cuisine here is international, but even ordinary sushi is served so that the hand itself reaches for the phone, or rather to its camera. In the evenings with children in Vogue, you are unlikely to be comfortable, but you can arrange family dinners in the afternoon. The bar is open from 12:00 to 02:00 on Friday and Saturday.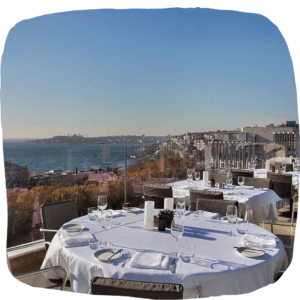 6. Mandabatmaz (Beyoglu)
Being in Turkey and not tasting real Turkish coffee is a crime. So be sure to check out Mandabatmaz. This tiny family-run cafe is all charm.
You will drink many cups of Americano and doppio in your life, but the taste of coffee from Mandabatmaz will be remembered forever. Although it is one of the most recommended places for Turkish coffee in Istanbul, the prices here are very reasonable.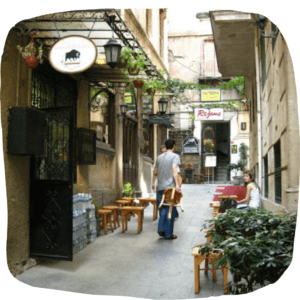 7. Roof Mezze 360 (Fatih)
The 360-degree panorama from the Mezze roof is, of course, space! But not a single species. The restaurant's menu offers fantastic Turkish delicacies and various dishes based on fresh seafood, such as sea bass with salt, grilled salmon, octopus with garlic oil, lobster, swordfish kebab. Impressive? There are also plenty of international dishes here.
Try chicken curry or soy sauce, filet mignon, beef ribs with asparagus and grilled vegetables, or lamb medallions with eggplant puree. We can bet that you will be satisfied. Are you planning a vacation with children? In the Roof Mate 360 restaurant, you can easily choose dishes for kids.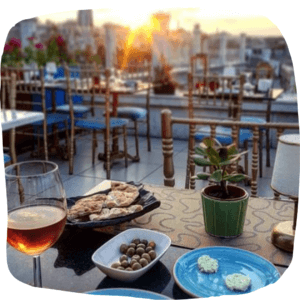 8. Fazil Bey'in Turk Kahvesi (Kadıkoy)
This is one of the oldest coffee shops in Istanbul, which you will definitely remember the atmosphere. Fazil Bey'in Turk Kahvesi opened this place in memory of his father, who sold roasted and ground coffee for more than 50 years.
Fazil Bey'in Turk Kahvesi has its own long tradition. Strong coffee is served here with onions and a glass of water. A cup of refreshing drink can be enjoyed at a table on the street, making a travel plan for the day and watching the brightly dressed passers-by.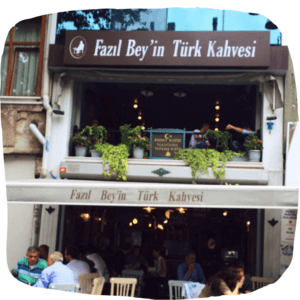 9. Hafiz Mustafa 1864 (Eminonu/Fatih)
Sweetness in joy! If this is your motto, then do not pass by the old Hafiz Mustafa pastry shop. Just be careful, in this place you want to try everything. Pistachio pudding, baklava, sponge cake in milk, and delicious Turkish coffee will definitely make your day. The prices in the pastry shop are not super low, but it is simply necessary to pamper yourself and your loved ones.
The cafe is located on the second floor, on the first floor there is a shop where you can stock up on desserts for later.