Istanbul is among the best cities in the world when it comes to the quality of health care. We have created private and public hospitals for foreigners in Istanbul article to help you find the best private and public hospitals in Istanbul for foreigners.
If you are planning to come to Istanbul or if you are already in the city and need medical advice, we have compiled for you a list of the best private hospitals for foreigners as well as an informative list of the best public hospitals in Istanbul.
Below you will also find useful information and answers to common questions about hospitals in Istanbul, Turkey.
Let's start with the private hospitals!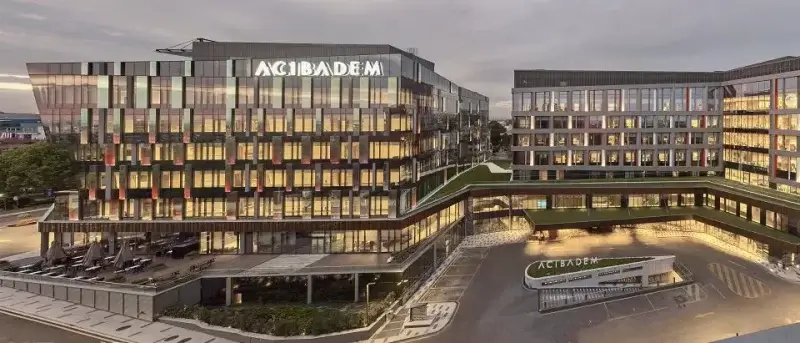 Private hospitals in Istanbul, Turkey
Due to the higher standards, we recommend private hospitals in Istanbul in case of medical treatment.
Public and private hospitals differ mainly in terms of comfort and cost. While private hospitals pay special attention to the highest possible comfort for patients and sometimes even resemble 5-star hotels, public hospitals give less importance to this aspect due to cost and capacity reasons.
Another important factor to consider when choosing a hospital is that you may encounter communication problems with the medical staff of public hospitals.
Below, you will learn more about these and other reasons to choose a private clinic in Istanbul.
What you should know about private hospitals in Istanbul
Private hospitals in Istanbul are among the best in the world, offering world-class service. One of the main reasons for this is that, the government encouraged the private sector to build a number of new hospitals with state-of-the-art equipment to improve the healthcare system.
Due to the following increase in medical treatments and competition between health care providers, the prices of health care services have decreased considerably. Therefore, high quality treatment is available in Istanbul at an affordable cost, and most of the time cheaper than in Europe or the US. However, keep in mind that private hospitals in Istanbul are more expensive than public hospitals.
Private clinics in Istanbul often resemble a 5-star hotel and have modern facilities, state-of-the-art technology and top equipment from major international brands. Many of them offer interpretation services, gourmet facilities and even spa packages.
Private health services generally offer better quality services than public health services because they have more material and human resources.
Hospitals in Turkey provide appointments within 3 days. In private hospitals, you can even get an appointment the same day.
With a population of over 16 million in Istanbul and many foreign patients, doctors in Istanbul are faced with a high volume of patients, resulting in increased experience in a shorter practice time.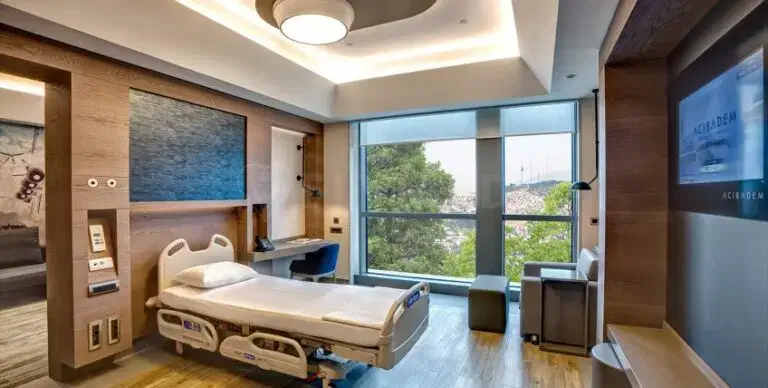 List of top 10 private hospitals in Istanbul
Of the more than 140 private hospitals in Istanbul, we recommend the following 10, as they provide world-class doctors and services, excellent health service and patient care, and a convenient location with easy access.
1. American Hospital in Istanbul
Located in the Nişantaşı district, the American Hospital of Istanbul is undoubtedly one of the leaders in the healthcare sector in Turkey. It covers an area of 60,500 square meters and is part of the famous "Koç" healthcare group.
The 200-bed international hospital is known for meeting the highest expectations in healthcare by providing quality-oriented services and innovative state-of-the-art technology. It is distinguished by the quality of services it provides in the field of oncology and cancer treatment.
2. Acibadem Group of Hospitals
Some of the best private hospitals in Istanbul and Turkey in general are from the Acıbadem Group, one of the leading private healthcare providers. There are several Acibadem hospitals in the city. The hospital chain is committed to providing consistent quality care and services in all its hospitals.
Acıbadem Maslak Hospital in Sarıyer is often considered the ultimate hospital. Acıbadem Taksim Hospital, located only a 9-minute walk from Taksim Square, is popular with tourists and foreigners alike due to its location.
3. Memorial Hospital Group
Memorial Hospital Istanbul Group is one of the best known healthcare groups in the industry. Designed with the support of the American ECRI Consulting Institute, it offers world-class service and pioneering work in areas such as cardiovascular surgery, In Vitro Fertilization and Oncology. Istanbul Memorial Hospital is particularly preferred by foreigners.
There are many branches of Memorial Hospital in Istanbul. Due to its location, Sisli Memorial Hospital which provides services in 84 different fields of medicine is recommended. It has 252 beds, 13 Operating Rooms, 4 Intensive Care Units, 3 Laboratories and various health centers.
4. Medical Park Group
With a capacity of 5600 beds, Medical Park Group operates some of the best hospitals in Istanbul. The Healthcare Group is one of the largest in the country and offers some of the best healthcare services and facilities in the city.
Located in the Bahçelievler district of Istanbul, Medical Park Bahçelievler Hospital is a renowned hospital for national and international patients. Covering an area of 30,000 square meters, it has 246 beds, 89 polyclinics and 10 operating rooms.
5. Hospital Medicana Camlica
Medicana Camlica Hospital, which is part of the Medicana Group, is one of the best known private hospitals in Istanbul. Medicana Camlica with a capacity of 150 beds and a medical tourism section is located on the Asian side of Istanbul, in the seaside district of Üsküdar. A few steps away from the hospital is the M5 "Ümraniye" metro station.
An alternative on the European side is Medicana Bahçelievler with 89 beds and 6 operating rooms.
6. Florence Nightingale Group
Since 1989, the Florence Nightingale Group has built a reputation for quality healthcare services. The healthcare group has partnerships with renowned medical institutions in the United States and other countries. A total of 5 hospitals and 3 medical centers take care of the medical needs of patients.
With their convenient locations, Gayrettepe Florence Nightingale Hospital in Beşiktaş District or Sisli Florence Nightingale Hospital in Şişli District might be the best choice for tourists.
7. Kolan International Hospital
Kolan International Hospital is one of the best private hospitals in Istanbul for foreigners. It is located in the Şişli district, just 5 kilometers from Taksim. With public transportation, it can be reached in 20 minutes from Taksim Square.
Foreign patients appreciate the hospital's translation services, including English, Russian, Arabic, Azerbaijani and many other languages. The hospital is particularly renowned for its work in the departments of pediatric surgery, neurosurgery, plastic surgery, cardiology and vascular surgery.
8. Liv Ulus Hospital
Since 2013, the hospital has made a name for itself with its high quality health services in all branches with modern and state-of-the-art equipment. Liv Hotel Ulus is ideally located in the lively Beşiktaş district of Istanbul, offering easy access to many parts of Istanbul.
The modern building houses 154 patient beds, 8 operating rooms and 50 wards. Liv Ulus Hospital provides health services in all areas using modern and state-of-the-art equipment.
9. Emsey Hospital
Another private hospital that is popular with foreign patients and visitors is Emsey Hospital. One of the reasons for this is its very advanced location near Sabiha Gökcen Airport. The hospital is located in the Pendik district on the Asian side of Istanbul, just a 10-minute drive from the airport.
Since 2012, Emsey Hospital has been offering patients advanced medical technology and more than 50 modern medical units. A special feature is the hospital's representative offices, which are located in various countries and advise patients before their trip to Istanbul.
10. Avrasya Hospital
Eurasia Hospital has made a name for itself with its high-tech operating rooms and specialists, some of whom are even available at night. It has a branch in Gaziosmanpasa and another in Zeytinburnu.
As the "Akşemsettin Sanayi" streetcar stop is only a few minutes away from the hospital, Avrasya Zeytinburnu Hospital is easily accessible by streetcar line 1, which runs from Sultanahmet. Avrasya Gaziosmanpasa Hospital is 13 km away from Taksim.