One of the first things that come to mind when Istanbul is mentioned is the unique Bosphorus view.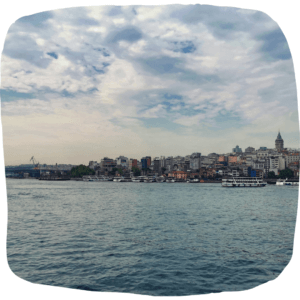 When you want to enjoy breakfast on the weekend in Istanbul, the first thing that comes to mind is the breakfast places on the Bosphorus. This article lists the best breakfast places that will appeal to every budget, from the most affordable to the most luxurious, from the Anatolian side to the European side, the Bosphorus coast, and Bosphorus views.
Enjoy the Bosphorus to the fullest!
Opened right next to Ortaköy Pier in 2005, The Housé Cafe is a very stylish restaurant with its entrance area, two large terraces, and a lounge. The House Cafe stands out among the breakfast places in Ortaköy with its product and service quality.
When we compare it with other House Cafe branches, it makes a difference in location and view. At The House Cafe, where you can enjoy a unique breakfast with the Bosphorus, breakfast varieties are optionally served as à la carte on weekdays or the weekends.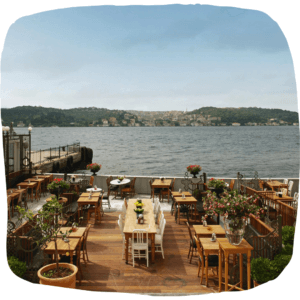 Feriye Palace offers a unique ambiance in summer and winter for those who want to enjoy breakfast on the Bosphorus, with its seafront location, magnificent view against the Bosphorus Bridge, Ortakoy Mosque, and Maiden's Tower. All the flavors in Feriye Palace bear the signature of Aydın Demir, who was selected as the best foreign chef in the world in Lyon in 2012.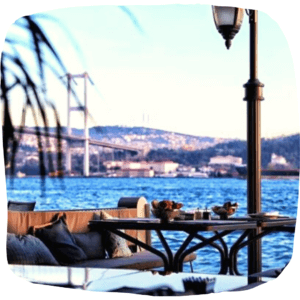 One of the most elegant fish restaurants of the Anatolian Side, Lacivert, an indispensable place for special occasions, serves an open buffet breakfast only on weekends. It offers an open buffet brunch service on Saturdays and Sundays, between 10:00 and 14:00, in the shadow of Fatih Sultan Mehmet Bridge, across the Bosphorus.
For those who want to come from the European side, free boats, which are constantly in the ring, provide transportation to the Lacivert Restaurant as of 10:00 in the morning from across the Rumeli Hisarı Lokma Cafe.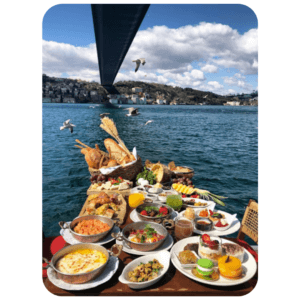 Kuleli Yakamoz (Cengelkoy)
Kuleli Yakamoz, named after Kuleli Military High School right next to it, and which comes to mind first when I think of breakfast with a Bosphorus view in Istanbul, is one of the breakfast places on the Bosphorus that makes you feel like you are inside the Bosphorus, not on the side of the Bosphorus, with its glass-front structure that surrounds the entire place. The place, which actually serves as a non-alcoholic fish restaurant, is more popular with its open buffet breakfast on weekends.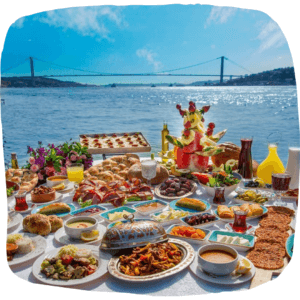 Cinaralti Family Tea Garden (Cengelkoy)
The first place that comes to mind when I think of an affordable and economical breakfast on the Bosphorus is, of course, the Historical Cinaralti Family Tea Garden with its location intertwined with the Bosphorus, its magnificent Bosphorus view its garden under the shade of historical plane trees.
​One of the most popular aspects of the historical Cinaralti Family Tea Garden for Istanbulites is that it is allowed to bring food from outside to feel at home.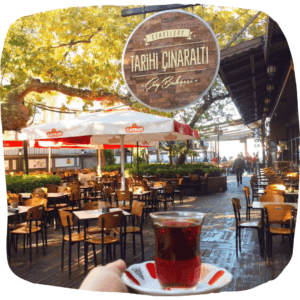 Big Chef's Tarabya (Sariyer)
Big Chef's host's warm meetings with its menu and its comfortable decoration evoke the feeling of family warmth in every square, with tastes prepared with the season's freshest products. The Tarabya branch of Big Chef's, which has more than 50 branches, is especially popular with its zero location to the Bosphorus.
Breakfast at Big Chef's continues until 12:00 on weekdays and until 15:00 on weekends. Big Chefs doesn't have a single breakfast option. You can choose breakfast from the menu according to your hunger and breakfast taste.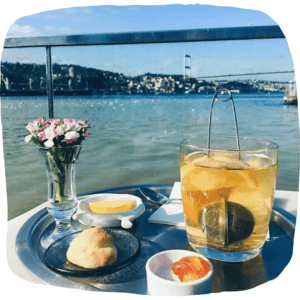 Aşşk Cafe (Kurucesme/Ortakoy)
On the Ortakoy Kurucesme line, on the Bosphorus shore, I can recommend Aşşk Cafe for those looking for a decent and pleasant breakfast place, such as fried halloumi, acuka, sausage, herb curd, homemade sour cherry, quince and cranberry jam, organic olive-olive oil-honey-cream from Datca.
It comes to the fore with home breakfast varieties, including flavors that make a difference. In Aşşk Cafe, which is decorated both stylishly, romantically, and like a fairy tale, intertwined with the Bosphorus, breakfast varieties are served as à la carte.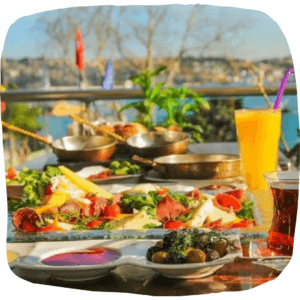 Vanikoy Kitchen (Uskudar)
Vaniköy Mutfak said to its guests, "For a happy morning and a pleasant day, we recommend you to take a look at our menu, which contains delicious recipes. We are waiting for you to have a nice time with your loved ones, whether for breakfast, dinner, or a coffee to relax in the evening." says. It joins us as a brand new 'Breakfast on the Bosphorus' option with its menu prepared under the consultancy of Chef Murat Bozok.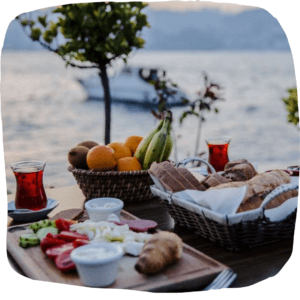 Cafe Swiss (Swissotel The Bosphorus)
Swissotel brunch, which I can answer without hesitation when asked which is the best quality brunch in Istanbul, is served at Café Swiss within Swissôtel The Bosphorus between 12:00 and 15:00 on Sundays.
As part of the brunch that takes place with a unique Bosphorus view, pampering details such as fresh seafood, lobster, oysters, caviar and champagne, sushi and sashimi prepared before your eyes, the best risotto and pasta from Italy, delicious appetizers from Turkish cuisine, various roasts from English cuisine, There is a selection of Swedish cheese and chocolate fondues and an extraordinary selection of desserts of quality and taste that I have not come across before.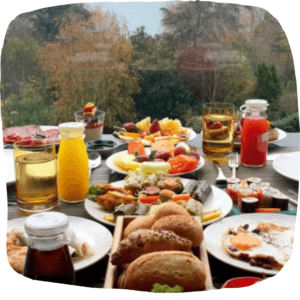 Located on the Uskudar-Beykoz coastal road, in the Cubuklu grove in Beykoz, the Hidiv Pavilion is one of the important historical structures of Istanbul. Both the historical texture of the pavilion and the beauty of the grove, rose gardens, squirrels and chirping birds make Sunday breakfasts attractive. In Hidiv Pavilion, as in other Beltur venues, mixed breakfast and open buffet breakfast were removed due to the pandemic. A breakfast plate is offered.
Yoros Castle Cafe (Beykoz)
Next to Anadolu Kavagı, on the slope of Yoros Castle, with a beautiful view of Istanbul's unique Bosphorus view, positioned as steps on the slope leading to the castle, a very charming and nature breakfast place with its red gingham covers, wooden tables, and chairs.
Since they sometimes have difficulty coping with the weekend intensity, it is useful to go early and visit Yoros Castle after breakfast.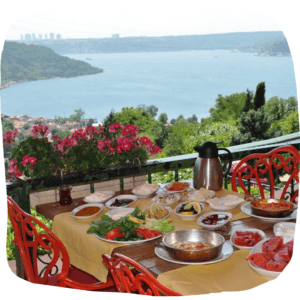 The Historical Moda Pier is right next to you, Kalamış Bay stretching out right behind it, the sailboats anchored in the marina and the peaceful sky with mingling tones of blue. Start your day with a delicious breakfast against the scenery full of all these beauties.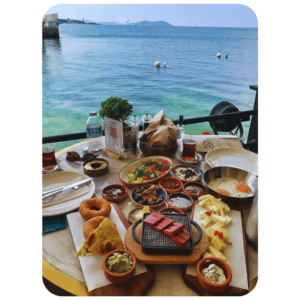 Six Senses Kocatas Mansions (Sariyer)
A new alternative to Swissotel Brunch is the first thing that comes to mind when enjoying a luxurious breakfast overlooking the Bosphorus. Six Senses Kocatas Mansions, a 5-star hotel located on the shores of the Bosphorus in Sarıyer, offers its guests a pleasant brunch experience on Saturday mornings with its rich late breakfast "Sparkling Saturday," consisting entirely of local and natural products.
Six Senses Kocatas Mansions, in the light of its world-renowned sustainability philosophy, makes its guests happy with its extensive breakfast menu, all of which are supplied by local and ethical producers. "Sparkling Saturday" late breakfast, which is served on Saturdays between 12:00-15:00, is served in the hotel's green courtyard.