Istanbul, one of the oldest cities in the world and the bridge between Asia and Europe, has hosted many empires in history, from Rome to Byzantium, from the Latin Empire to the Ottoman Empire. Istanbul also attracts a lot of attention to its food, dazzling its history, architecture, texture, spirit, and splendid beauty.
Let's look at the food culture and delicious tastes of Istanbul that date back to Ottoman cuisine.
---
While passing through Eminönü, one of the iconic districts of Istanbul, your appetite will whet your appetite with the smell of fish and bread. "Fish and bread, what's wrong with it?" don't say. You mustn't decide without trying. In the meantime, we recommend those who find the opportunity to eat fish and bread in Eminönü stop by the pickle shops in the same place.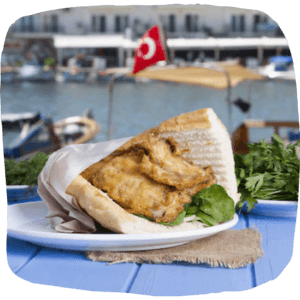 The most famous flavor of the Kanlıca district, which takes its name from a story in the Ottoman period, is yogurt. Do not forget to try this yogurt, which has an unforgettable taste when consumed with powdered sugar.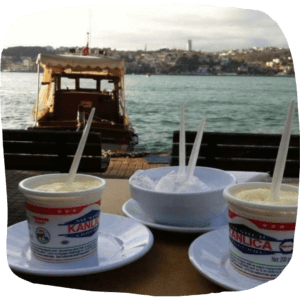 Wouldn't you like to sip your coffee while enjoying the magnificent view while Istanbul is at your feet? Then let's go to Pierre Loti. You can take the cable car to Pierre Loti, famous for its coffee houses, and enjoy your coffee while watching the Golden Horn.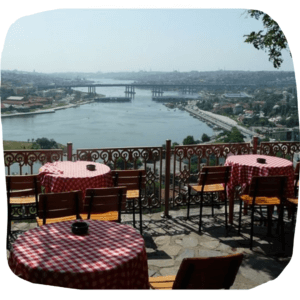 Beyoglu Chocolate (Beyoglu)
Beyoğlu chocolate turns its head with its magnificent scent that surrounds the streets of Beyoğlu. Beyoğlu chocolates, which have maintained their quality for years, are available in every corner of the district. We say definitely try this flavor, but be careful, don't get carried away too much.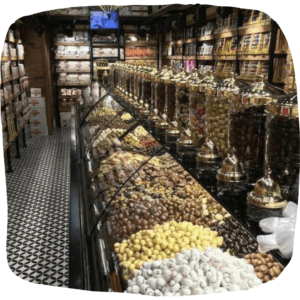 Kumpir, one of the most popular and well-known tastes of Ortakoy, is especially preferred by tourists. Do not forget to try this delicacy, which is enjoyed not only by tourists but also by Istanbulites who pass by Ortakoy.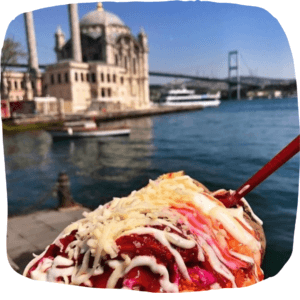 Maybe there are all kinds of pastries in our country. Let's put aside our pie varieties, which are beautiful in every region, but let's look at Istanbul's delicious Sariyer pastry today. This pastry, which magic the streets of Sariyer with its cheese, minced meat, spinach, and potato varieties, has a unique flavor.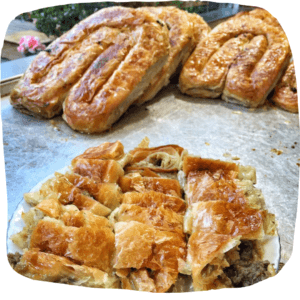 The taste of Sultanahmet Meatballs, which meatball lovers should definitely try, is something else. The oldest of the Sultanahmet meatball shops is Selim Usta, the Historical Sultanahmet Public Meatballs, opened in 1920. Still, it is also possible to come across this magnificent taste in every corner of the district.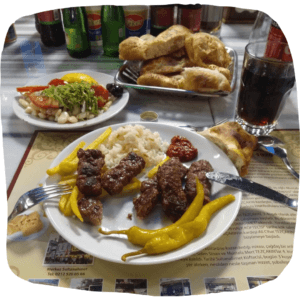 Stuffed mussels are one of the flavors we can often come across on the streets of Istanbul. However, it is inedible everywhere, but once you find the good one, you can't get enough of it. Our favorite street mussel shop is Pamuk's Grandmother on the beach of Büyükcekmece. For Beyoglu regulars, we can recommend the mobile counter at the entrance of the Fish Market.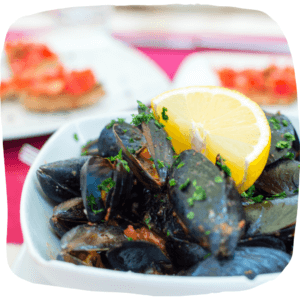 When Boza is mentioned, Istanbul's Vefa comes to mind. This beverage, which is consumed with pleasure in the winter months, has been made in the Vefa district since 1876. It should be noted that Boza, the oldest hot Turkish drink, is very beneficial for the immune system.