While Turkish cuisine offers an incredible variety of delicious dishes, there may be times when you're in the mood for something a bit different. If you're craving authentic Asian food, you might want to check out one of the many sushi restaurants in Istanbul.
The restaurants on our list are known for their high-quality food, excellent service, and use of fresh ingredients.
1. Ioki
If you're not sure which of the many sushi restaurants in Istanbul serves the best sushi, you might want to give Ioki a try. They have a wide range of creative and delicious sushi options, as well as other Japanese dishes. The atmosphere at Ioki is relaxing and clean, and they also offer private catering for special occasions, such as birthday celebrations, if you want a little extra privacy.
Some must-try dishes at Ioki include the spicy Tiger Roll with fried sweet potatoes, shrimp, crab stick, creamy avocado, and cream cheese, and the Sashimi Salad with orange oil sauce. They also offer two chef's selections – a sashimi combo and a Nigiri mix – that are sure to satisfy your sushi cravings. Other menu items include the tasty Yaki Ebi (shrimp in sweet and sour sauce) and the aromatic lemongrass soup. If you can't decide what to order, you can let the chef choose for you.
To wash down your food, you can try a Japanese beer or the spicy Kintaro cocktail. Either way, you're in for a treat at Ioki.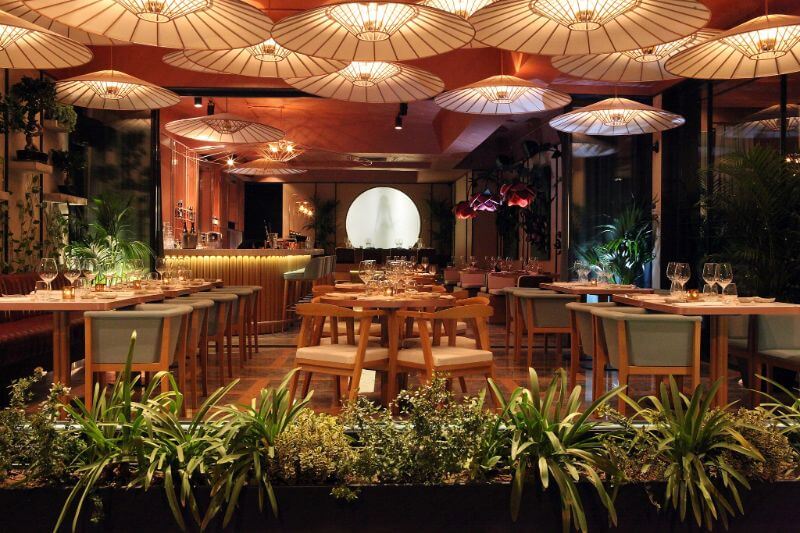 2. Inari Omakase
The chef and sushi artist at this restaurant, Barlas Günebak, aimed to create a crunchy, "fried popcorn" feel with his Haru Maki, black tiger shrimp tempura, and corn kakiage (sweetcorn tempura). While this sushi restaurant is a bit pricey, the tasty food served in a minimalistic decor makes it a good choice for business lunches.
The menu at this sushi restaurant features ingredients that aren't always available elsewhere, such as the Style Foie Gras Nigiri, topped with a flavorful caramel sauce, or the Style Suzuki Nigiri, a seabass version with a spicy caramel sauce. You can also opt for the Jou Sashimi Mori, which includes 15 pieces of fish.
This restaurant is one of the few luxury Asian food restaurants with an incredible desserts menu. Options include the walnut & maple mochi, Nutella mochi for chocoholics, and the Coco Houko, a coconutty chocolate ice cream. If none of those appeal to you, there are plenty of other options to choose from.
In addition to an extensive wine list, this restaurant also offers excellent cocktails, mocktails (the virgin Yuzuhana is a safe choice), and various alcohol-based drinks. All in all, this sushi restaurant has everything you could ask for.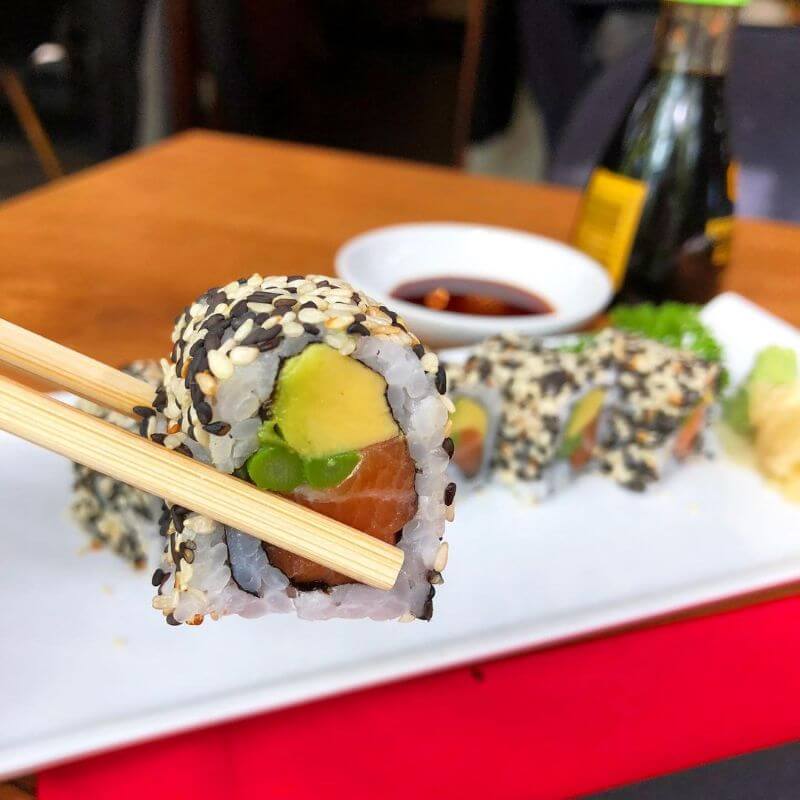 3. Miyabi Sushi
Out of all the Japanese restaurants in Istanbul, Miyabi serves the most visually appealing dishes. The food is not only delicious but also presented in a creative and colorful manner.
There is a wide selection of sushi options to choose from, and everything on the menu is exquisite. It's hard to decide what to order, but some standout dishes include the Moon Lover with shrimp, salmon, tempura, caviar, and creamy avocado, and the Nina with its paneled shrimp, fresh chili tuna, teriyaki and chili sauce, and sesame. The names of the dishes are also amusing, such as Samurai, Lobster Dynamite, Yummy Tummy, Monte Carlo, and Yakuza.
For a healthier option, try the rainbow salad with a variety of seafood and crunchy salad. If you're feeling indulgent, you might want to try the corn tempura, which is prepared in a way you've never tasted before.
The decor at Miyabi is simplistic and allows you to watch the Japanese chefs hard at work.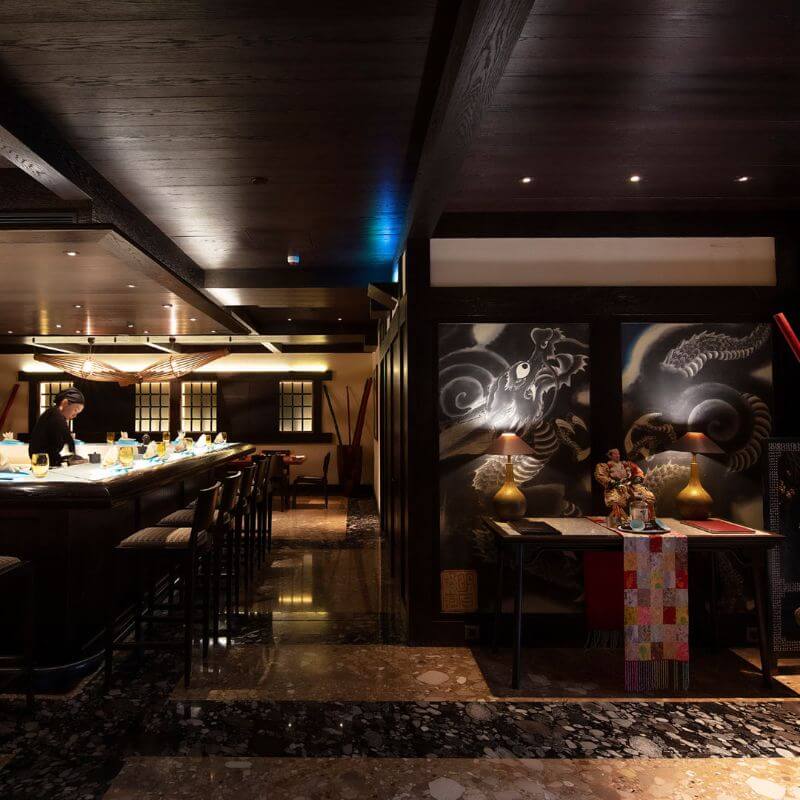 4. Maromi by Divan
Reservations are recommended at this restaurant, which serves bold sushi options. You might want to start your meal with a spicy miso or tempura udon soup to get your stomach rumbling. Then, you can move on to one of the classics, such as the Dragon roll with eel and avocado or the Boston roll with salmon and cream cheese.
For a well-rounded sushi experience, you might want to try a combo platter, which includes tried and tested options like the Californian, Rainbow, and Boston roll, as well as a little bit of the adventurous Dragon roll. This way, you can try a variety of flavors and discover a new favorite.
If you want to order from the Japanese or Kaiseki menu, be sure to let the restaurant know in advance when making your reservations.
5. Sunset Grill & Bar
This mixed restaurant, which serves "new Japanese cuisine," is run by two chefs: Hiroki Takemura, who specializes in Japanese cuisine, and Hüseyin Arslan, who specializes in international cuisine. While there are plenty of Mediterranean options on the menu, the Bosphorus dreaming platter is a must-try for those who prefer Japanese food. It includes 7 Norway Rolls, 7 Rainbow rolls, 6 Spicy Tuna, and 6 Shake Ikura Maki. If 32 pieces of sushi aren't enough, you can also try the Sunset Dreamin' box with 46 pieces. The lobster tempura is also incredibly delicious.
If Japanese cuisine isn't your thing, there are also other Asian options available, such as the Peking Style Duck, which allows you to create your own duck wrap with warm pancakes. The restaurant puts its own twist on the dish by adding a lime twist.
Established in 1994, this restaurant has stood the test of time and is still going strong today. The amazing food and spectacular views of the Bosphorus and the park where the restaurant is located may be part of its success. You can make a reservation at this restaurant.
Nobu is a sushi restaurant that caters to vegetarians, and it is known for serving some of the best Omakase in Istanbul. In addition to the various sushi options, the roasted crab legs with yuzu butter are a must-try.
If you do prefer sushi, the Beef Nigiri is a unique and flavorful option, or you can opt for the Cup Selection for a filling meal. Wash it all down with a Japanese beer, Turkish raki, or one of the delicious cocktails that are tailored to your taste.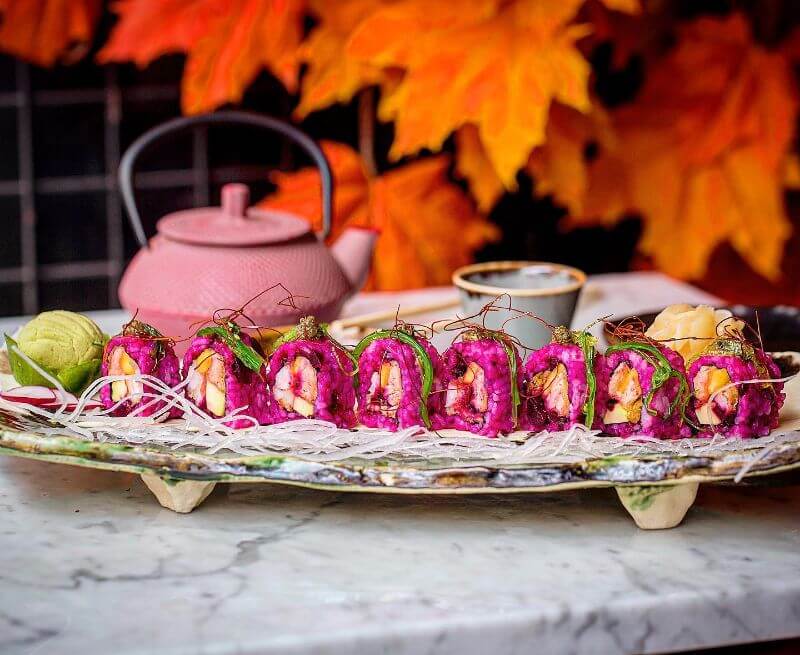 7. Naomi Sushi Bar
This concept restaurant is a must-try, and it's easy to see why! The Philadelphia roll with cucumbers, avocado, cream cheese, and salmon is a great option for those new to sushi, but there are many other delicious choices to try, such as the Crunch Roll, the Crispy Roll, and the Double Tuna. The standout dishes are the Chin Chin and the Star Roll. The Chin Chin is made with shrimp covered in sweet potato, cream cheese, crab, avocado, and a ginger sauce, while the Star Roll combines salmon with mango, avocado, and tempura pieces for a sweet and crunchy treat.
After trying these dishes, you might want to follow up with the Gyunuki Udon (noodles with veggies and meat), and don't forget to save room for the delicious fried ice cream.
Final Words
We hope you found our list of the best sushi restaurants in Istanbul helpful. If you're interested in trying more Turkish cuisine, be sure to check out our food tours. These tours allow you to experience what it's like to be a local and try a variety of tasty treats along the way.