There are many water activities in Istanbul. Visiting amusement centers and water parks in Istanbul is a favorite vacation for families, especially on weekends. They are located mostly outside the central part of the city, so they are often not listed in the mandatory program of tourists. And completely in vain. Spending a couple of hours on the way, you can spend an unforgettable day, get a lot of funny pictures and eternal gratitude of the child.
Marina Aquapark Waterland
The largest water park in Istanbul is built in the Tuzla district and is part of a shopping and entertainment complex. The complex is newly built and looks impressive. Nearby there is a park of cats of prey, an aquarium and a restaurant.
In addition to the mass of aquatic entertainment, the water park offers foam and soap parties, concerts by Turkish performers, and festive events. Daily animators work in the children's pool. A whole day is not enough to appreciate all the activities.
The 4 pools include 2 large ones, a children's pool and a wave pool. The children's set of slides stands among the shallows. It is designed for different age categories. 12 adult slides descend to the water in colorful snakes from dizzying heights. Among them:
Kamikaze with several jumps;
Space Hole – a space hole comes out in a bowl, pulling a person into a new hole after a few laps;
Black Hole – according to the name the hole is really black, but in some places it is replaced by a pipe made of colored tempered glass;
Rocket – the familiar attraction that starts at 24.5 m;
Multi Slide, Body Slide and others.
The location on the coast of the Sea of Marmara is used to its maximum. In addition to entertainment on the grounds of the water park you will be offered 15 kinds of extreme sports in the open water. Wear a lifejacket, ride a banana or a whirlpool, waterboard behind a boat or on a jet ski, take off on a parachute or a flyboard. Take a yacht on a diving trip to the bottom of the sea. You can access the dock directly from the park. You shoul visit this one of the most beatiful Istanbul Water Parks
Aqua Club Dolphin Water Park
The spacious Aqua Club Dolphin water park can accommodate up to 3,000 visitors at a time. It's not just for the water fun. In the park you can sit in the restaurant or have a bite to eat in the snack bar. On a local concert stage they often invite Turkish pop stars, DJs organize themed parties. There is also a beach volleyball court. In the park are periodically held weddings, anniversaries and other events.
As for the aqua club itself, except the compact complex of children's slides, there are 7 speed slides. You can catch a portion of adrenaline on the intricate rings "Cobra" and "Anakonda", speed up on "Rocket", fly on the jumps "Kamikaze". The structure called "Tsunami" will make you feel like you're on top of a giant wave.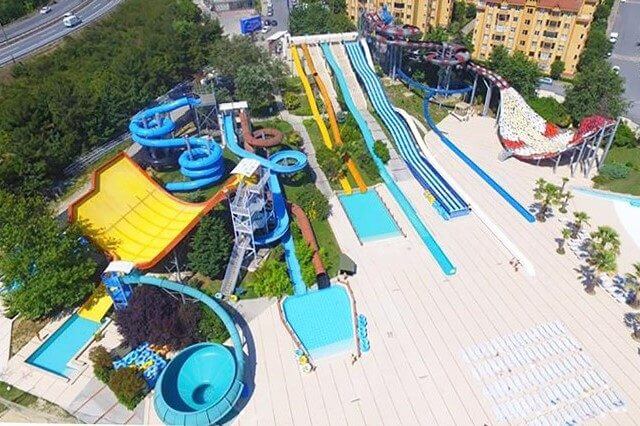 If the slides seem too steep for you, use one of the pools. The park has 2 large pools, 2 smaller ones for kids, a wave pool, a family pool, and a pool with shipboard gear attributes that teenagers are sure to love.
The green area of the complex has lounge chairs and sun protection. Surrounding palm trees provide additional shade. You can eat and drink at one of the bars, snack bar or restaurant.
Aqua Marine Water Park
Istanbul's oldest water park is located on the shores of the Marmara Sea in the European part of Fatih. It was put into operation back in 1998, but it is still in operation thanks to quality care and timely repairs.
The Aqua Marine area is not large, less than a square kilometer, but there are 12 slides for adults and children of varying degrees of difficulty. On the most extreme descent of the Cobra ride speeds of 40 km/h can be reached. On the rafting downhill on a rubber raft, spiral slides speed is much lower.
The pools are shallow, except for the swimming pool, which belongs to the Olympic class. There's also a wave pool and a wide adult bowl, which is filled with filtered seawater.
The park is very green. Every available piece of land is occupied by trees, shrubs and flower beds. There is room for a small cafe, but the offer is limited. You can eat a burger, a doner or a pizza.
To allow visitors to catch their breath between slides, rest areas are stocked with sun loungers and sun umbrellas. Their use is included in the ticket price, but towels are charged. The water in the shower is only cold. Adults and teenagers can bear it, but small children can hardly be rinsed.
The mini arena in the summer hosts entertainers. Young people enjoy dancing and singing along. The slides are only 200 meters from the city sandy beach, so you can combine a trip to the water park with swimming in the sea. You shoul visit this one of the most beatiful Istanbul Water Parks
Coliseum Waterpark
The water park at the Coliseum Center is part of a huge sports complex in the Baycoz neighborhood. The elite club includes tennis courts, fitness studios, jogging tracks, and swimming pools. The open-air water park is open only in summer from June to August.
There are 6 slides, a wave pool and a spacious 14+ pool for swimming in silence, as its name implies. Children can be left with the staff and relax at your leisure. Babysitting services are charged separately.
The slides are not steep and modest in size. The main thing that distinguishes Coliseum water park is comfort and tranquility. There is no rush of holidaymakers on weekends and holidays. The services are used mainly by the permanent members to relax after sports activities. The complex works 6 days a week from 10:00 till 20:00. Monday is the day off. You shoul visit this one of the most beatiful Istanbul Water Parks
Useful Tips for Tourists
Finally, we will give you some tips for visiting water parks in Istanbul:
Aquatic entertainment is very popular among urban families. Choose weekdays to visit so you don't have to wait in lines.
Bring your documents to prove your child's age. Otherwise, you may be charged the full price for the ticket.
Do not bypass security and strive to get on a steep slide, if your age does not allow to do so. This often ends with a painful injury.
Beware of taking pictures of others, especially women, so as not to provoke a conflict with the men. Muslims have their own mentality and their own rules of behavior.
It is forbidden to bring food and drinks into the water parks. When entering the swimming area this rule is strictly enforced. Leave all belongings, except toys and inflatable accessories, in a locker.