Tourists who are planning to have a vacation in Istanbul can find different ways to make the most of their time here. But one of the best ways to fully discover this city can be going on an Istanbul walking tour. Because on these type of tours, you can see some details that can catch your eye and make you fall in love with this great city.
Moreover, it can allow you to enjoy and appreciate beauties of Istanbul. You can choose to go on these walking trips with a tour company or you can make your own route. Either way, you can spend really good time with these walking trips. So, here are seven walking tours in Istanbul!
Gulhane Park, Topkapı Palace and Archaeology Museums Istanbul Walking Tour
The first Istanbul walking tour on our list includes Gulhane Park, Topkapi Palace and Archaeology Museums. All these places make the perfect combination for a walking trip. Because these locations are all very close to each other.
Firstly, you can start with having a little walk while enjoying the trees and flowers in Gulhane Park. Then, you can visit the Topkapı Palace museum which was the place where Ottoman Emperors lived in for more than 400 years. Finally, you can end your tour by discovering the Istanbul Archaeology Museums.
Fener & Balat Istanbul Walking Tour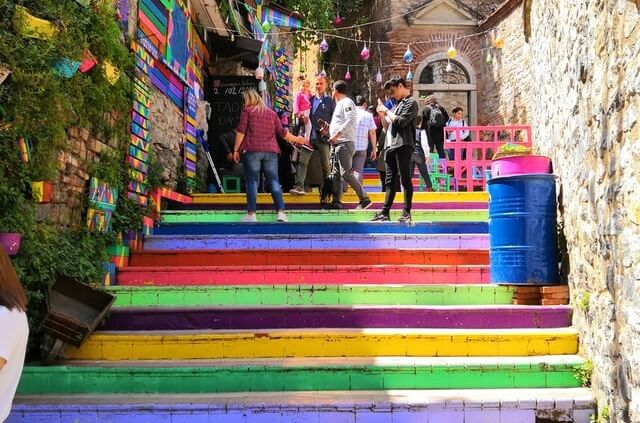 Photography enthusiasts will love this next walking tour on our list. Fener & Balat neighborhoods in the Fatih district of Istanbul can provide photographers an absolute visual feast with all the colorful structures they have. Even if you are not interested in taking professional photos, you can still take some really cute photos to save as a souvenir from your vacation.
While you are on your Fener & Balat walking trip, you should visit Yıldırım and Vodina streets. Because these are the two most colorful and cheerful spots in the area.
Istanbul Grand Bazaar Walking Tour
Every tourist should visit Grand Bazaar in Fatih district of Istanbul. This covered market is one of the most major ones among other examples in the whole world. In this bazaar, you can find Turkish rugs and carpets, accessories, ceramics and many more stuff.
Before you leave this wonderful covered market, you may want to buy some Turkish delight, especially if you haven't tried it before. You can find very delicious Turkish delights here. Moreover, it can be the perfect place to buy gifts for your friends and family.
Princes' Islands Heybeliada Walking Tour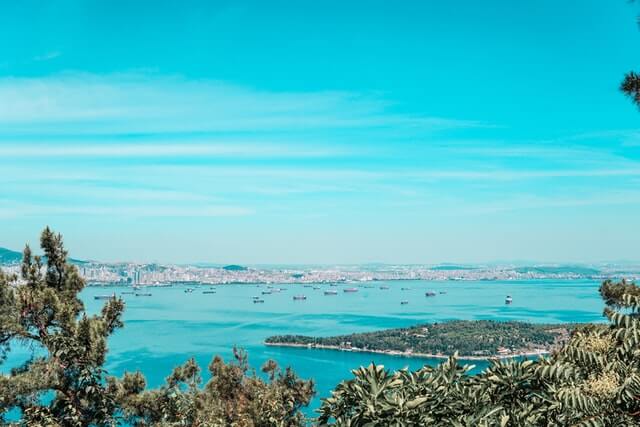 Heybeliada is a part of the Princes' Islands district of Istanbul. It is one of the largest islands of the Princes' Islands. In Heybeliada, there are many beaches that you may want to include on your Istanbul walking tour.
In addition, there are different museum houses of some of the historical figures and writers in Turkish history that can be added to your walking route. Museum house of Hüseyin Rahmi Gurpinar, who is a Turkish writer, is one of them.
Istanbul Belgrad Forest Nature Park Walking Tour
Even though Istanbul may give the impression of a very busy and crowded city. There are various places you can visit to spend some calm and relaxing time. Belgrad Forest in the Sarıyer district of Istanbul can be on your Istanbul walking tour route if you'd like to visit a place like that.
In Belgrad Forest, you can enjoy being in nature with so many trees. This forest is also a quite popular hiking spot for many locals in Istanbul. At the end of your walking trip, you can have a picnic in one of the areas that are specifically reserved for this purpose.
Beyoglu, Taksim Square and Istiklal Street Walking Tour
Taksim Square and Istiklal Street are another great combination for an Istanbul walking tour. These places are located right next to each other in the Beyoglu district of Istanbul. On your walking trip in here, you can discover amazing Istanbul cafes and restaurants and you can try out some street food such as wet burgers as well. You can also find cool stuff to buy since these places are wonderful spots for shopping.
Istanbul Besiktas Walking Tour
The last Istanbul walking tour location on our blog post is Besiktas. While you are there, don't forget to visit Dolmabahce Palace. In addition, you can get some fresh air on the Besiktas coast too.