When it comes to Top Restaurants in Kadikoy, it is time to explore the finest dining spots, beverage choices, and eateries in Istanbul's Kadikoy district. This encompasses the chic and artistic neighborhoods like Moda and Caddebostan, as well as the upscale dining establishments along Bagdat Street.
Local insights are included, along with top recommendations for vegetarians and vegans. Kadikoy, a captivating neighborhood on the Asian side of Istanbul, is renowned for its dynamic blend of culture, art, and, notably, culinary experiences. The bustling fish market, a labyrinth of streets adorned with a multitude of dining options, and a vibrant nightlife all contribute to making Kadikoy a haven for those who relish exceptional food.
Top Restaurants in Kadikoy: A Taste-Infused Expedition
Nestled at the heart of Kadikoy, a rich tapestry of culinary delights awaits your exploration. The district's central hub teems with a diverse array of gastronomic havens, encompassing traditional lokantas, inviting meyhanes, upscale gourmet establishments, and an eclectic mix of international eateries. Kadikoy's allure is further heightened by its vibrant fish market, where local merchants proudly showcase an array of freshly caught seafood that frequently graces the menus of neighboring restaurants.
Meander through the shaded avenues of Moda, and you'll be enveloped in a trendy and vibrant culinary landscape. This charming neighborhood is renowned for its collection of artisanal cafes, stylish bistros, and quaint patisseries, creating an ideal sanctuary for those who relish a laid-back dining affair. From Turkish culinary traditions to a global palate, the dining options here are boundless. Notably, the artfully presented dishes serve as both a visual delight and a delectable treat for the taste buds.
Top Restaurants in Kadikoy: Exploring Upscale Dining Destinations
Venturing towards the eastern precincts, the upscale enclaves of Caddebostan, Suadiye, Erenkoy, and particularly the renowned Bagdat Street present a more refined dining milieu. Bagdat Street, often likened to Istanbul's "Champs-Élysées," stands distinguished for its upscale eateries, sophisticated cafés, and elegant bars. Within this realm, patrons can relish the epitome of local and global fare within an elegant ambiance, frequently accompanied by impeccable service.
Whether your hankering is for a robust, time-honored Turkish feast, a contemporary reinterpretation of a beloved dish, or an exploration of newfound international delicacies, Kadikoy's multifaceted culinary panorama pledges an indelible journey of gastronomic marvels.
Undoubtedly, the allure of dining in Kadikoy extends beyond mere sustenance, intertwining with the district's lively ambience, encapsulating the essence of Istanbul's distinctive fusion of cultures and historical narrative.
Kadikoy's Culinary Gems: Best Restaurants, Cafes, and Bars
Presenting our selection of the finest cafes and restaurants in Kadikoy, Istanbul.
Are your taste buds ready for a symphony of flavors that will make your palate dance? Look no further, because we're about to take you on a gastronomic tour through Kadikoy's culinary wonderland. From the tantalizing depths of the Aegean to the charming corners of Italy, this district is a playground for food enthusiasts seeking a taste of the extraordinary.
Join us as we dive into the realm of Kadikoy's finest eateries, where every dish tells a story and every sip is a celebration.
Koço Restaurant: A Journey to the Aegean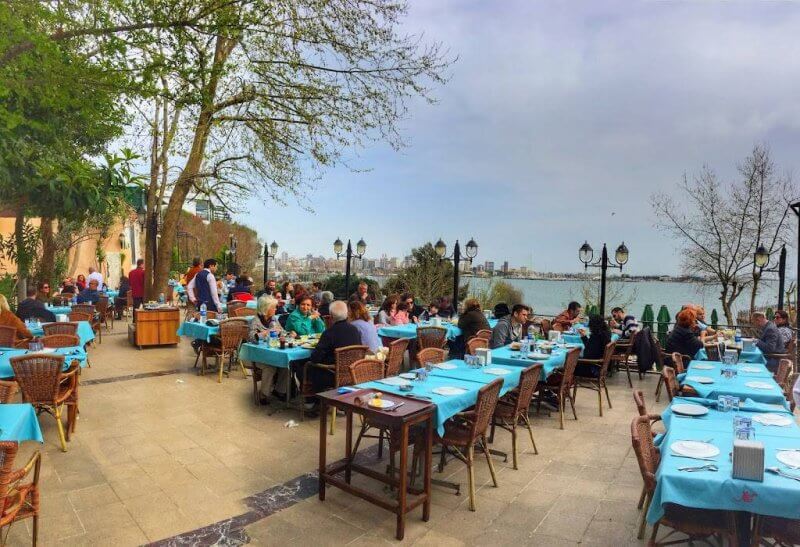 Number 1 Top Restaurants in Kadikoy – Set sail on a culinary voyage to the Aegean region without ever leaving Kadikoy. Koço Restaurant is a hidden gem that has been captivating the hearts and taste buds of both locals and wanderers. Nestled in the heart of the district, Koço is a haven for seafood aficionados. With a legacy that spans generations, this establishment has perfected the art of crafting seafood dishes that sing with the flavors of the Aegean.
Imagine savoring expertly prepared seafood while nestled in a cozy and inviting ambiance. Koço's dishes are a tribute to the ocean's bounty, each bite taking you deeper into the culinary heritage of the region. Whether you're a seafood connoisseur or a curious food explorer, Koço's offerings promise to transport your senses to the sun-kissed shores of the Aegean.
Cotto Gastro Suadiye: Italy Beckons
Number 2  – Top Restaurants in Kadikoy For those who yearn for the flavors of Italy, Cotto Gastro Suadiye is your passport to an Italian escapade right in the heart of Kadikoy. With an ambiance that effortlessly fuses elegance and vivacity, this classic Italian restaurant beckons you to indulge in the art of la dolce vita. Imagine dining in a garden bathed in sunlight, or watching skilled chefs craft culinary magic before your eyes.
The menu at Cotto Gastro Suadiye is a love letter to Italian cuisine, showcasing a symphony of pastas, pizzas, and main courses that pay homage to tradition while embracing innovation. Each dish is a masterpiece, a canvas painted with the vibrant colors and rich flavors of Italy. Don't forget to raise a toast with their signature cocktails, a perfect accompaniment to the lively atmosphere that makes every meal a celebration.
Il Boccalino: A Slice of Italy in Fenerbahce
Number 3 Top Restaurants in Kadikoy – If Italy had a secret hideaway in Kadikoy, it would be Il Boccalino. Tucked away in Fenerbahce, this charming Italian restaurant embodies the soul of an authentic Trattoria. The attention to detail is unmistakable, from the carefully adorned tables to the subtle decor that transports you to the heart of Italy. Managed by a couple with a passion for culinary excellence, Il Boccalino promises an experience that transcends mere dining.
Reservations are a must, as this intimate setting ensures that every guest receives the utmost care and attention. And oh, the flavors that await! Fresh pasta dances on your tongue, wines sing tales of vineyards far away, and the daily fresh Burrata whispers promises of indulgence. As the grand finale, the legendary Tiramisu graces your table, a testament to the artistry that defines Il Boccalino.
In Kadikoy, dining is more than just a meal – it's a journey. From the Aegean's embrace to the cobblestone streets of Italy, every bite carries a story, and every establishment weaves a tapestry of flavors. So, dear food enthusiasts, ready your appetites and let Kadikoy's culinary gems take you on a voyage you'll savor long after the last bite.