Cats are everywhere in Istanbul. You can see them in the streets, parks, restaurants, museums. They are as ancient landmarks of the city as palaces, mosques, parks. Turkish breeds of domestic cats are considered one of the oldest in the world. It is impossible to imagine Istanbul without these furry inhabitants. There are legends associated with them. The stories of the famous cats in Istanbul impress the whole world. How do street cats live in Istanbul. Let's tell you 10 interesting facts about cat life
A cat is "Kedi" in Turkish, which sounds like "kedi. In our country cats are called "ks-x", or "kitty-kitty", in Turkey "ps-ps". There are hundreds of thousands of street cats in Istanbul. They live in courtyards, squares, restaurants, mosques, museums. They are neither wild nor tame. They are independent by nature inhabitants of the city, who require attention and protection.
Cats are treated with special respect in Turkey. And there are two reasons for that. There have always been a lot of rodents in the port city since ancient times. Cats have been helping people to regulate the population of rats for centuries, so they have become real players in the city's eco-system. Even today, Istanbul's cats prevent an increase in the number of rodents. This is the first, practical reason for respecting these "little brothers". Another reason is told by legend.
Muizzah the cat was a favorite of the Prophet Muhammad. She was always by his side. She once saved the Prophet's life when she drove away a poisonous snake from him. To avoid disturbing the cat that was sleeping on his robe, the Prophet Muhammad simply cut off a part of his robe. After all, he had to go about his business. The Prophet was very appreciative and fond of cats. He washed his face with the water they drank. He considered them pure, peaceful animals. They were free to enter mosques. The Prophet was an example of respect for cats. These animals have been cherished in Islam ever since. Respect for them is a long tradition, part of the worldview and culture. And it's very interesting.
St. Sophia's Cat
A local celebrity is the cat Gli, who lived in the Hagia Sophia Cathedral. She was born in 2004 to a mother cat named Sophie. The kitten was cared for by archaeologists and museum restorers. At first they named her "Gri", from the word "grey". She conquered all by her inquisitive, slanting eyes. Later her name turned into a gentle and symbolic "Gli", which means "unity of love". The cat grew up in the Cathedral of St. Sophia and lived there for 16 years.
Gli is a real visitor's favorite. She has been "met" by world-famous personalities. Even former U.S. President Barack Obama stroked her when he visited St. Sophia Cathedral. The cat had her own habits. If she wanted to communicate with people she would sit near the muezzin's box. (We saw Gli on this very place, but could not stroke the cat). When the cat gets tired of human affection, it sits down in the middle of the omphalion. This is the place in the Cathedral where the Byzantine emperors were crowned. No tourists are allowed there. Interestingly, there is a separate page for Gli on the website of the Ayia Sophia Museum.
The cat has its own page on instagram: @hagiasophiacat.
In July 2020, the Hagia Sophia Museum was turned into a mosque. In October 2020, Gly the cat was gone… The employees of the former Hagia Sophia Museum reported this on her Instagram page. After transforming the museum into a mosque, Gly went through a lot of stress. She couldn't get used to the new living conditions and lack of personal space. She was overfed, it was difficult for the old lady to escape from intrusive visitors. Everyone tried to pet the cat. She stayed in the hospital for a week. After that, the museum staff decided not to return Gly to Ayia Sofia. Soon the famous Istanbul cat died…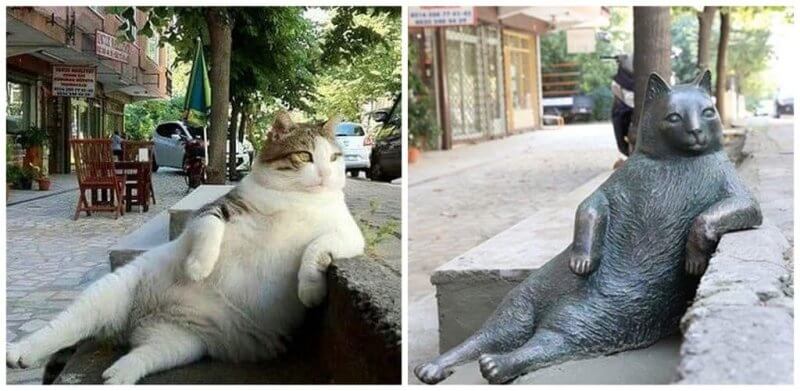 Monument to Tombili the Cat
In Istanbul's Kadıköy district (in the Asian part of the city), a sculpture of a cat was erected. It became famous for its lazy charisma and round belly. Tombili means "chubby," "fat." A picture of Tombili sitting on the sidewalk watching life around him quickly became popular on social media. Millions of views, many created "internet memes" made Tombili a star of the web and a world famous cat. He even had his own Facebook page.
Monument to Stray Animals
Located at the foot of the Galata Tower in Istanbul. A sculpture of a dog and a cat sleeping peacefully on the sidewalk. Istanbul has a special attitude toward street animals. They live next to people. Cats and dogs are fed. In the city you can always see bowls of food and water for street cats and dogs.
Kotokafe in Istanbul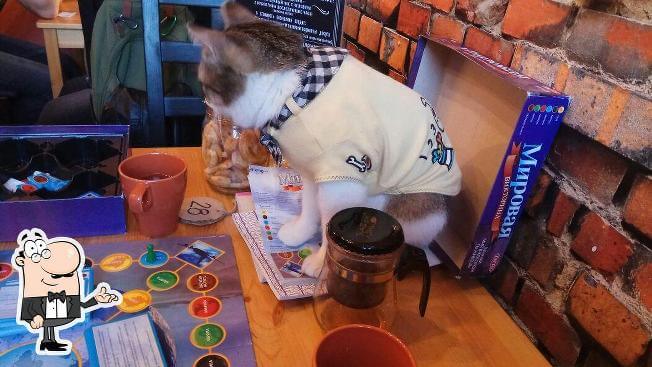 In European cities, cafes with cats are rare. But in Istanbul, every establishment can be called a "cat cafe. The pussycats feel at ease here, but they don't poke their noses into the guests' plates. They don't mind visitors scratching their ears.
The restaurant workers treat the cats with respect. The cats have their own restaurant meals.) Nobody throws them out on the street with shouts and a broom. Before the restaurant closed the waiter carefully took the cat in his arms and took it outside. And in this place the staff was probably inattentive when they closed the door.
Many kind residents of Istanbul, at their own expense, volunteer to feed whole flocks of local cats. Neighbors or employees (if it's at work) always help such people with a penny to feed the animals.
Cat ambulance
Istanbul's street animals have their own ambulance service. It is a local state support service. It is called Beyaz Masa. You can go to it with any problem related to urban amenities, including an animal ambulance. If you find a kitten or puppy in the street who has something wrong (a broken leg or other problem), you can call 153 and call an ambulance. They will come, pick up the animal, treat it for FREE and then return it to where they picked it up. If it is a dog, they return it or give it to a shelter.
This same government service also spays homeless animals. This is also a free procedure. After surgery, kittens are returned to the same neighborhood or yard where they were taken.