The subject that often comes up in your questions and that we are going to deal with today is about the souvenirs to bring back from Istanbul. Indeed, Turkey is a country where it is better to come with an empty suitcase, because you will find there the Ali Baba's barracks and it will be difficult to make a choice.
We give you here some ideas of things that it is essential to put in your suitcase before leaving Istanbul. Here is a selection that you can of course add to in the comments.
Tip: If you are in a shopping center, haggling is not allowed. However, in bazaars, do not hesitate to haggle, without being too aggressive. A smile is required to obtain a satisfactory negotiation for both parties.
1. Turkish delights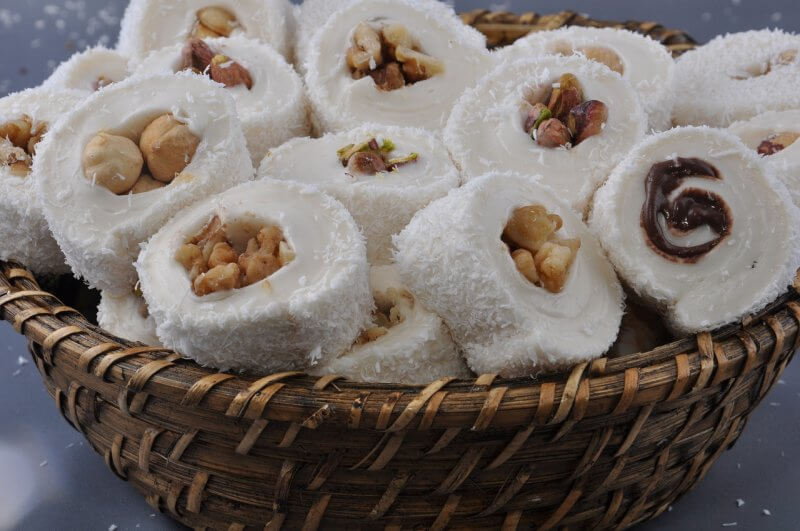 The first souvenir to buy, we give it to you in thousand! These are Turkish sweets of course.
For the baklavas: The pistachio ones are the most famous but also the best in my opinion! You can get them at Güllüoğlu in Karakoy (considered the best in the city), but also at Mado's (not MacDo), they will do just as well. Otherwise, apart from baklava, there are also plenty of other hyper caloric and delicious desserts like Sekerpare, Revani, Irmik Tatlisi, Lokma, Kadayif or even Künefe. Try some of them before you leave!
For lokums and sweets: Prefer those with rose, fruit or hazelnut. You will find them in the stores of the Grand Bazaar, the Egyptian Bazaar and Ordu Avenue, near the Beyazit Mosque. These places will be your best choice.
2. Spices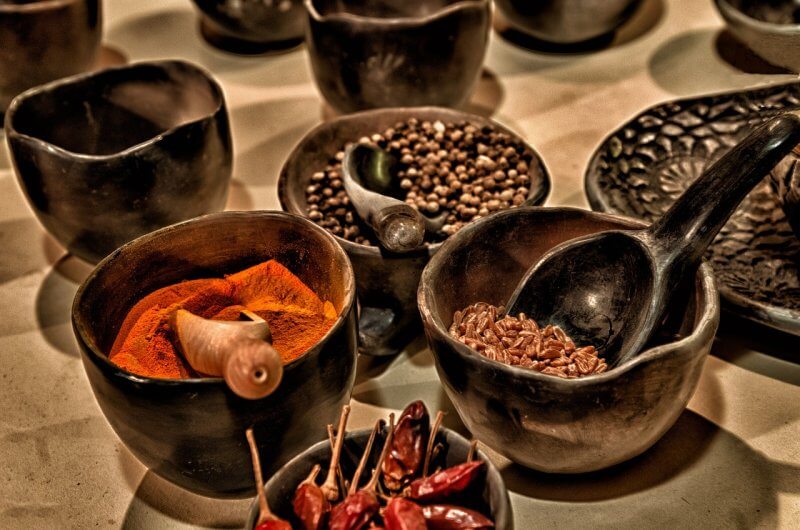 You've probably already seen these pictures of mountains of spices, and well, they can be found in any Turkish market worthy of the name. You can find them in the Eminonu area as well, in the Egyptian Bazaar for example, or in the surrounding area.
Interesting spices to buy in Turkey are in my opinion red chili powder, hisot (dark red chili powder, extremely strong), oregano, paprika, saffron (which comes from Iran), bay leaf, thin, mint, cinnamon, cumin or ginger.
Don't hesitate to ask the merchants if they have original spice mixes, for example for meat or chicken.
3. Tea and coffee
It is impossible to miss Turkish tea and coffee. They are an integral part of Turkish life. If you want to extend your trip to Turkey, take some tea or coffee home with you. For tea, we recommend the Çaykur brand and for coffee, the Mehmet Efendi brand that you can buy in any store like Migros or Carrefour.
If you want a loose tea or coffee, less industrial, from the villages of Turkey, go and buy it at the Egyptian Bazaar. It will be a little more expensive but will have a completely different aroma.
We have another idea for you. Why not buy the set of glasses that goes with your choice of drink? They are very typical and make great gifts. You can find some great ones at Pasabahce or Grand Bazaar.
4. Nazar boncuk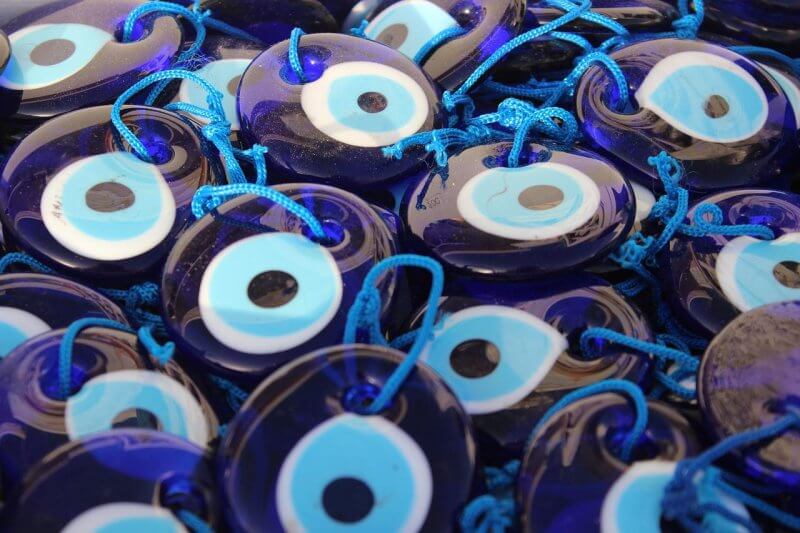 This Turkish symbol is found everywhere, and in any form. Don't hesitate to fill up with it, it can protect you in case of bad luck.
More seriously, it will also be a very nice gift for those you have to spoil when you come back from vacations. It's small, cheap, and part of the Turkish culture. The perfect formula for a beautiful 100% Turkish gift to give away at will. You'll find them everywhere (literally everywhere, even at the corner shop…).
5. Textile / Leather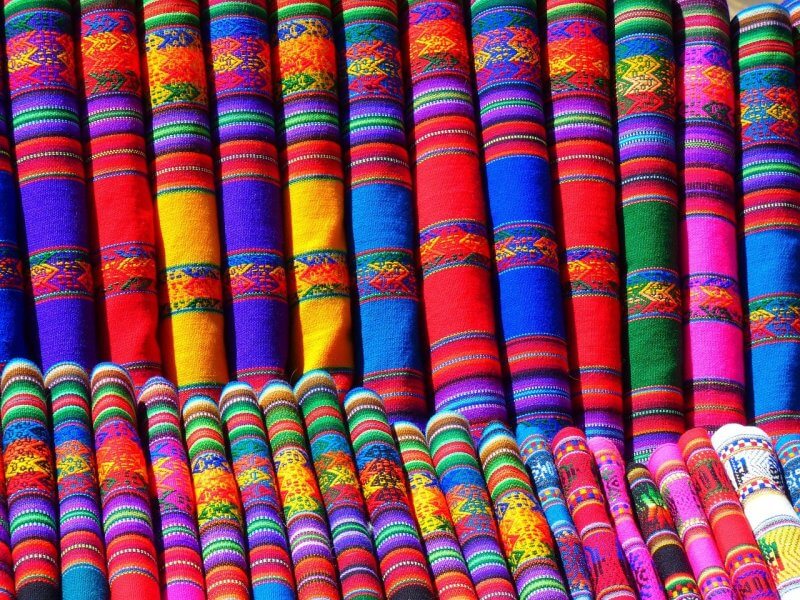 One of the biggest sectors is the textile sector. What we recommend you to buy are beautiful pashminas. Many stores in the Grand Bazaar offer pashminas of poor quality or claiming to be handmade when in fact they come from China. So you need to know a little bit about it if you don't want to be cheated.
We recommend the Cashmere House store, which offers pashminas imported from India or local. Explore the Souvenirs in Istanbul
Leather clothes: This is a question we are often asked, where to buy bags, shoes or a good leather jacket.
If you are in a shopping mall, we recommend the brands DESA and DERIMOD, which are the most reliable and have very interesting prices, especially during the sale period. If you are near the Grand Bazaar, don't hesitate to visit the leather store, PRENS LEATHER. It is the Ali Baba's cave of good quality leather. Don't expect low prices, leather is expensive everywhere, even in Turkey! Explore the Souvenirs in Istanbul
For leather shoes, you have the DESA brands or the small stores in Cihangir, Galata or Beyoglu that offer wonders.
As for leather bags, there are many alternatives. The Tergan brand offers beautiful leather bags, often on sale in their store in Fatih. Otherwise, you have a nice choice on Galip Dede street between Tünel and Galata. Explore the Souvenirs in Istanbul
6.Carpet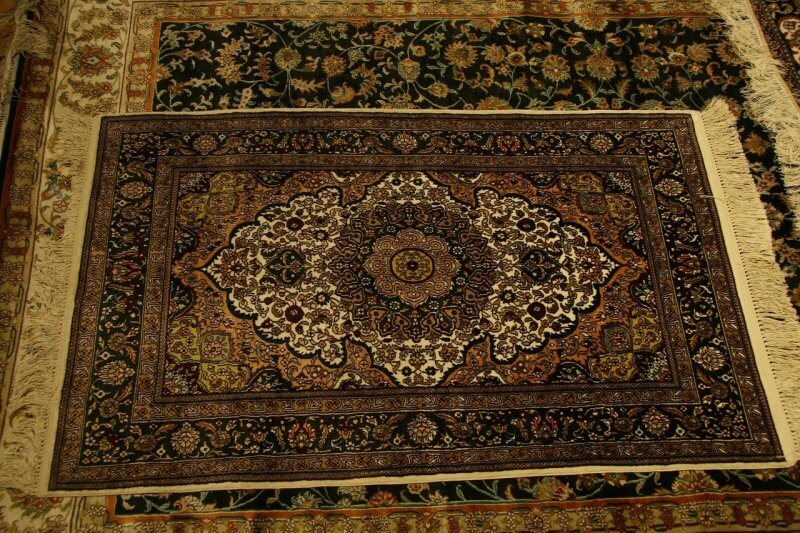 Regarding carpets in Istanbul, avoid the carpet sellers around the Sultanahmet mosque. This area is too touristy for the sellers to be honest unfortunately.
Again, we recommend the Grand Bazaar for this type of purchase. Try to find a store that will make you feel comfortable and confident. We recommend you to visit the SISKO OSMAN store of which we heard a lot of good things.
For more modern carpets and kilims, try the stores in the Mahmutpasa market (behind the Egyptian market). Explore the Souvenirs in Istanbul
7. Ceramic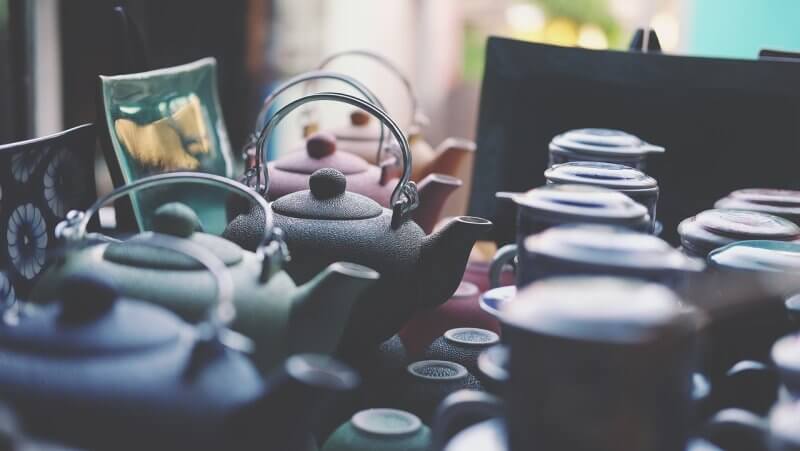 Handmade Iznik or Kutahya ceramic tableware is what you'll be looking for. It is the prettiest, one of the most expensive too, but most of all, it is authentic! You will find this of course in the Grand Bazaar but also in the Arasta market, not far from the Blue Mosque.
Don't hesitate to haggle, but be careful, if you get a really cheap dish, it might come from China. Examine the piece carefully before buying it and compare the prices with other stores. It's tiring in the long run, but that's also the fun of shopping in Turkey. Explore the Souvenirs in Istanbul
8. Various memories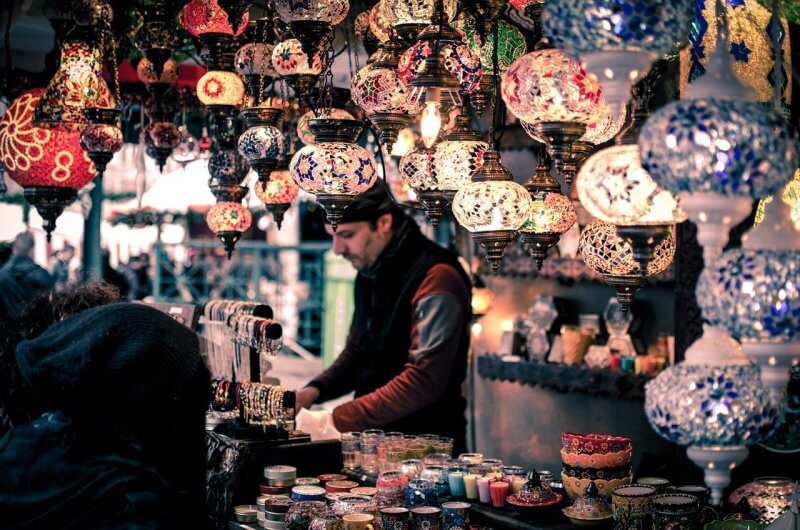 For souvenirs of all kinds, costume jewelry, small pouches, scarves, magnets, olive oil soaps, key chains, small paintings, music, books, home textiles, underwear… Istanbul offers you everything on a silver platter, but you have to know where to get it. Once again, we advise you to avoid the area around Sultanahmet. Prefer the following places:
Grand Bazaar and Egyptian Bazaar
Cukurcuma, Ortakoy or Cihangir neighborhood
Mahmutpasa Market, behind the New Eminonu Mosque