When traveling to Istanbul, it is impossible not to go through the "Bazaar". It is the

best place to find all kinds of objects

but especially wonderful souvenirs, food, clothes, jewelry, accessories and bargains!
You're probably familiar with the Grand Bazaar of Istanbul, called "Kapali Çarşı" in Turkish, but you should know that this is not the only interesting bazaar to visit in Istanbul. There are others, both specific and general, which we have listed in this list of the best bazaars in Istanbul for you below.
Bâzâr is a Persian word that refers to a market or a group of stores gathered in the same area and offering goods and services for purchase. If you have ever visited North Africa, you will be familiar with the word Souk, which is its equivalent in Arabic. In Turkish, the bazaar is called Çarşı and is pronounced "carsi".
In Turkey, bazaars are generally open every day except Sunday, between 8am and 7:30pm. However, these hours are not general. Each bazaar has its own hours, some are even open on Sundays. 
You will find the opening hours and the address of each bazaar in Istanbul in their respective description below. 
The 9 best bazaars in Istanbul
The Grand Bazaar is the most famous bazaar of Istanbul, located in the Fatih district, in the European part of Istanbul. It can be reached with the T1 streetcar, Beyazit stop.
It is a covered bazaar with 11 gates and more than 4,000 stores in an area of over 30,000 m2! It's a real labyrinth, ideal for a day's shopping.
You will find everything: food, jewelry, carpets, decoration, ceramics, spices…
Address: Beyazıt, Kalpakçılar Cd. No: 22, Fatih
Hours : Open from 8:30am to 7pm every day except Sunday.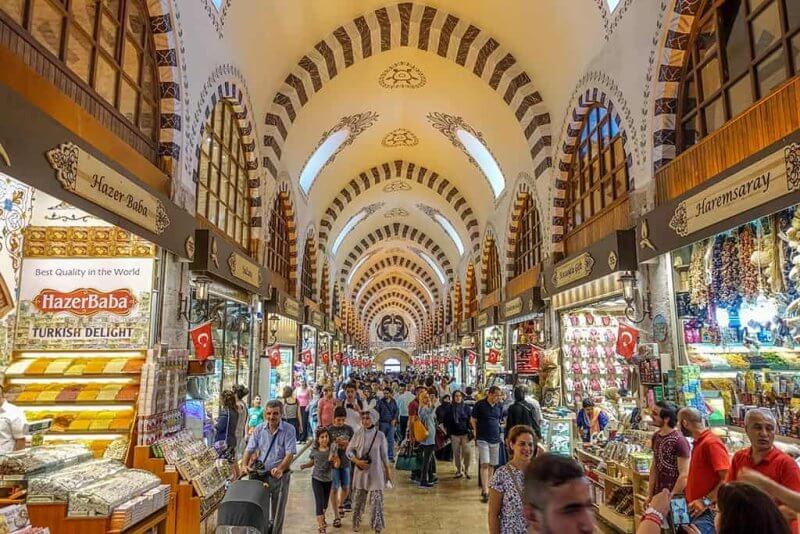 Also in the Fatih district, not far from the Grand Bazaar, you will find the Egyptian Bazaar, "Misir Carsisi" in Turkish. It is easily accessible on foot from the Eminönü pier.
It is much smaller and consists of two covered alleys, very colorful and filled with beautiful stores. The history of the market on their website here.
You will find : food, lokoums, spices, dishes, natural beauty products…
Address: Rüstem Paşa, Erzak Ambarı Sok. No: 92, Fatih
Opening hours : Open from 8am to 7:30pm every day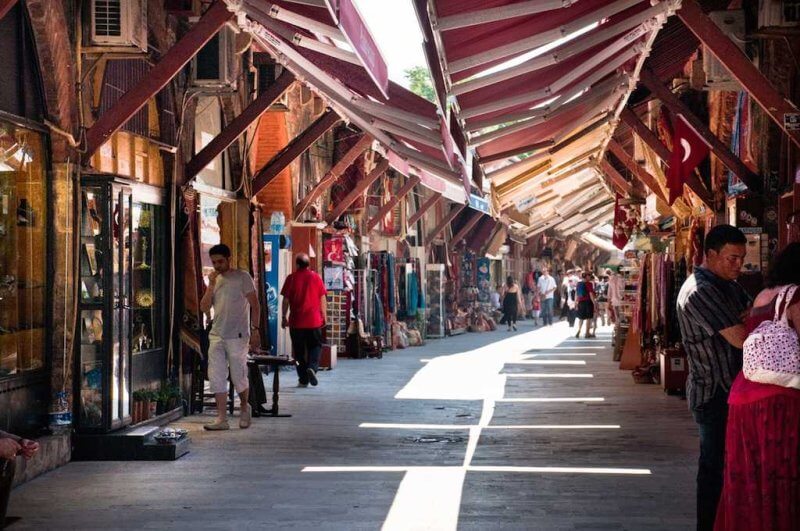 Arasta Bazaar is the 3rd most famous and visited bazaar in Istanbul. It is located in Sultanahmet, not far behind the mosque of the same name.
Unlike the two previous ones, this one is open air and offers more than a hundred stores. Arasta is rather intended for tourists but some locals from other cities also go there to buy souvenirs.
You can find there: carpets, souvenirs, accessories, art pieces, decorative objects, Turkish sweets (turkish delight).
Address: Sultan Ahmet, Kabasakal Cd. No: 59, Fatih
Hours: Open every day from 9am to 7pm.
4. The Historical Copper Bazaar
Called Tarihi Bakircilar Carsisi in Turkish, this authentic bazaar is the copper bazaar. Located in Beyazit, near the Grand Bazaar, the Copper Bazaar is a wonderful place where you will discover all kinds of handmade copper objects and utensils. Most of the craftsmen have been there for generations and make wonders of this material before your eyes.
Address : Beyazıt, Bakırcılar Caddesi No: 4, Fatih
Hours : Open from 8am to 8:30pm every day except Sunday.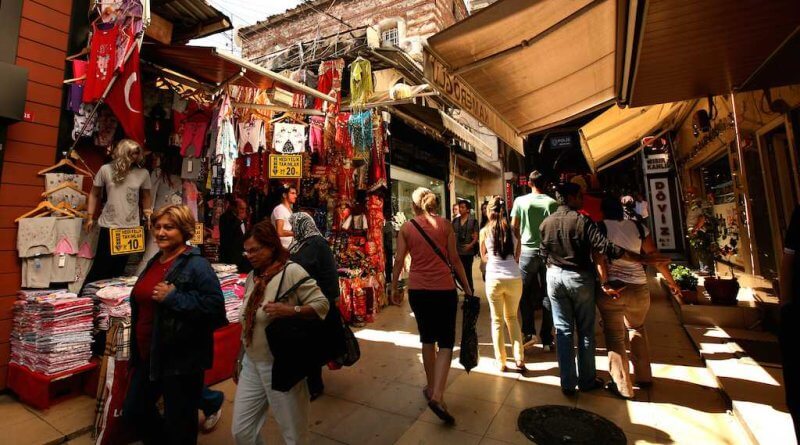 The Mahmutpasa market is not often mentioned in guidebooks, yet it is the most interesting in terms of bargains. Indeed, hidden behind the new mosque, between Eminonu and the Grand Bazaar, the Mahmutpasa bazaar is a bit of an open-air Ali Baba's cave, very popular with the Turks.
You will find stores that sell absolutely everything (from curtains to evening dresses, EVERYTHING). The prices are very attractive. Some stores may be of poor quality but overall, the offer is interesting.
Be careful, you might get lost. The market/bazaar is very extensive.
Address : Mahmutpaşa Yokuşu, Fatih
Hours : Open from 9am to 7pm every day. A large part of the market is closed on Sundays.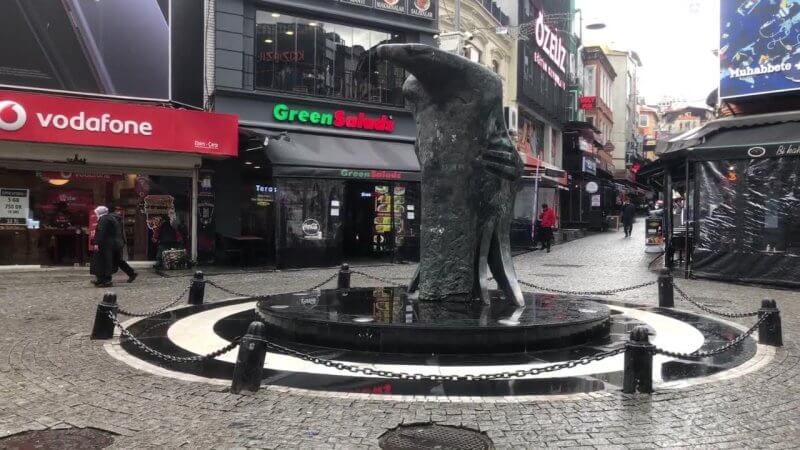 Besiktas Bazaar is a famous meeting point for the city's residents, young students and fans of the black and white soccer team.
This bazaar offers more than a hundred stores as well as dozens of restaurants and cafes in an open-air setting. Its most important symbol is the status of an eagle, the emblematic sign of the Besiktas soccer team.
You will also find shopping galleries, including a very famous one that I have already mentioned here.
You can find clothes stores, electronic products, a fish market, beauty centers, cheap breakfast restaurants, opticians, chichas, evening dresses, Turkish brand stores…
Address: Sinanpaşa, Barbaros Blv. No:12, Beşiktaş
Hours: Open daily on average between 9am and 9pm. Branded stores open at 10am and close at 8pm. Restaurants, bars and cafes stay open until noon.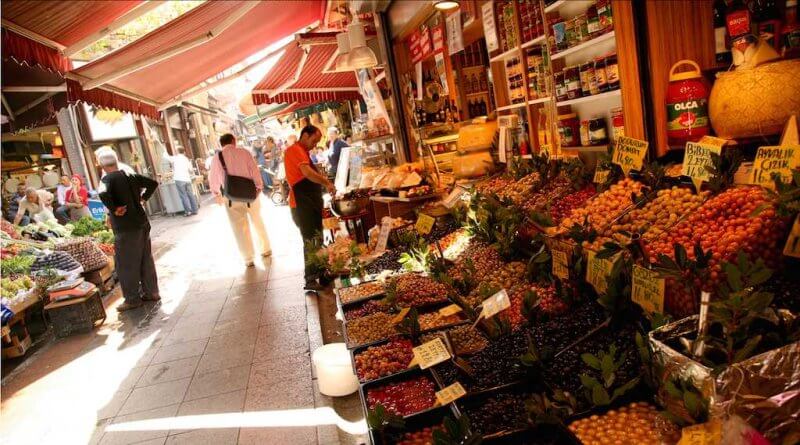 The Kadikoy bazaar a favorite place in the whole city. Very similar to the Besiktas bazaar, the Kadikoy bazaar is a large open-air space with more than 100 stores, restaurants, bars and cafes. One goes there to relax, to eat but also to listen to music in the evening or to drink a beer while watching the sunset from a terrace.
You can drink very good coffee, you can eat very well, you can smoke chicha while watching a game, you can shop for cheap and you can buy books, decorative objects, antiques or accessories and clothes.
The place is very relaxed. When you arrive, you think it's small but in fact there is a whole back part less frequented by visitors (Yeldegirmeni, Moda, Rasimpasa or Hasanpasa districts). You have to walk around, get lost, enter all the stores and enjoy the relaxed Turkish atmosphere.
Address: Caferağa, Yasa Cd. No:48, Kadıköy
Schedule: Open every day on average between 9am and 9pm. Branded stores open at 10am and close at 8pm. Restaurants, bars and cafes stay open until noon.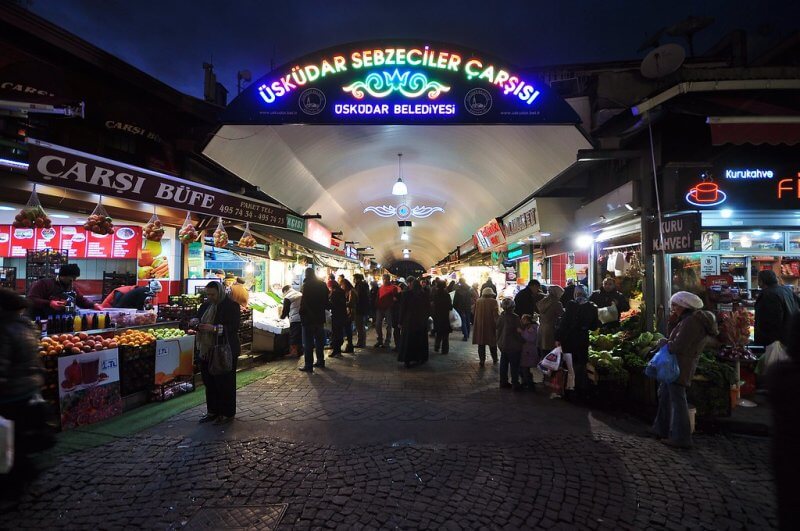 The Uskudar bazaar is a similar place to the two previous ones, in the heart of the popular district of Uskudar. There is a real Turkish atmosphere and many cafes, food stores and stores of spices, dried fruits or lokoums but especially a historical fish market.
At night, the Uskudar bazaar is quieter than in Besiktas or Kadikoy where the night is in full swing.
Prices are more attractive here than in other bazaars of the same style. Accessible on foot from Uskudar pier or with the Marmaray (the subway under the Bosphorus).
Address : Mimar Sinan, Selam-ı Ali Efendi Cd, Üsküdar
Opening hours : Every day except Sunday between 8:30 am and 9 pm.