Breakfasts in Istanbul – Kahvaltı" is the Turkish word for breakfast. A typical Turkish breakfast typically includes a selection of breads, pastries, cheeses, olives, eggs, tomatoes, cucumbers, and sometimes cold cuts and jam or honey. It is often served with Turkish tea or coffee. Some popular dishes that may be included in a Turkish breakfast are simit (a type of sesame seed-covered bread), borek (a savory pastry filled with cheese or meat), menemen (scrambled eggs with tomatoes and peppers), and kaymak (a type of clotted cream).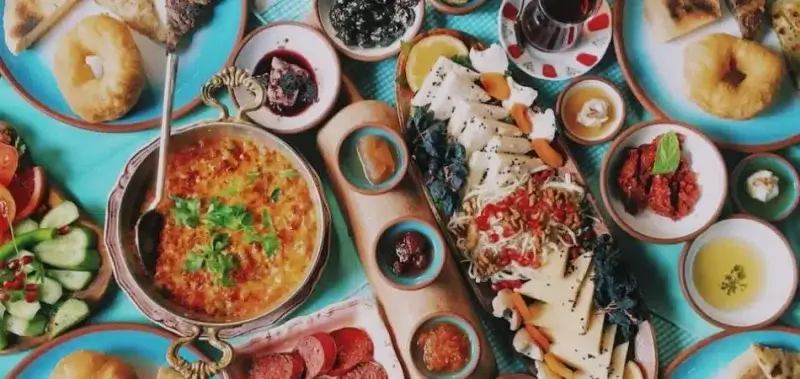 A Turkish breakfast is a meal in and of itself, and it is typically served with both salty and sweet items. The word "kahvaltı" comes from the phrase "kahve altı," which means "before coffee." A traditional Turkish breakfast is served with tea and is typically followed by coffee. The breakfast can be divided into two parts: a selection of starters that are typically shared among the guests, and individual main dishes. The starters often include:
A plate of sliced tomatoes and cucumbers (domates and salatalık), a plate of various cheeses (peynir), including beyaz peynir (white cheese) which is similar to Greek feta but creamier and softer.
A jar of honey with cream (bal kaymak) and grilled sucuk (Turkish chorizo, which is pork-free).
A plate of olives (zeytin) and jams (reçel) to spread on toasted bread, simit, or poğaca (traditional Turkish breads). Everything is served with fresh, toasted bread or these traditional Turkish breads.
After the starters, the main egg dishes are served in individual casseroles. These dishes include:
Tavada yumurta (fried eggs), which can be enjoyed on their own or with added sucuk (Turkish chorizo) or kavurma (lamb meat) and cheese.
Menemen, a dish of scrambled eggs with tomatoes, onions, peppers, and optional cheese.
Turkish breakfast is a must-try for anyone looking to start their day off on the right foot!
We recommend not having breakfast at your hotel every day, as you may miss out on the opportunity to experience a true Turkish tradition. When visiting a breakfast establishment, it is generally a better idea to order items "à la carte" rather than opting for the "kahvaltı tabağı" (breakfast plate). This way, you can choose exactly what you want to eat and try a wider range of dishes.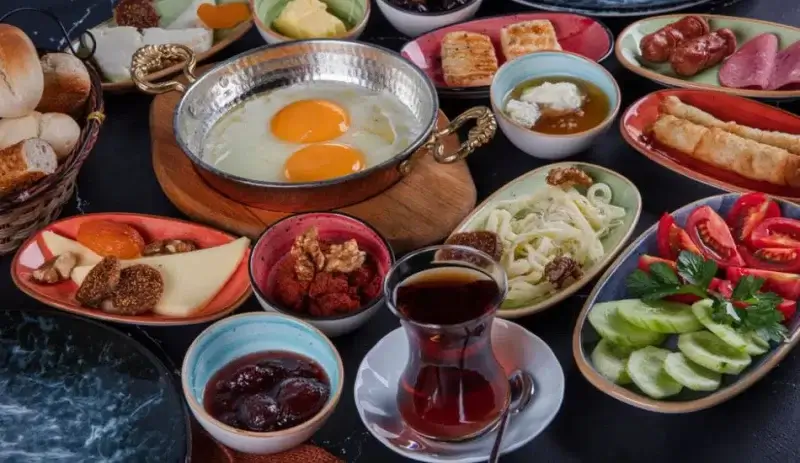 Here's our selection of the best breakfast places in Istanbul:
It is not uncommon to have to wait up to 15-20 minutes to be seated at popular breakfast spots, especially on sunny weekends. This is especially true at restaurants located along the Bosphorus, which tend to be very crowded. It may be helpful to plan ahead and make a reservation to avoid having to wait.
SÜTİŞ EMİRGAN
This is a highly recommended spot for breakfast in Istanbul. It is located on the banks of the Bosphorus in the Emirgan district, near the Sakip Sabancı Museum. The food is excellent, and the service is quick even though the restaurant is often very crowded. To get there, you can take a taxi in the morning or take the Hop-on & Hop-off boat in the afternoon.
Address: Emirgan Mah. Sakıp Sabancı Cad. No:1/3 Emirgan Sarıyer, İstanbul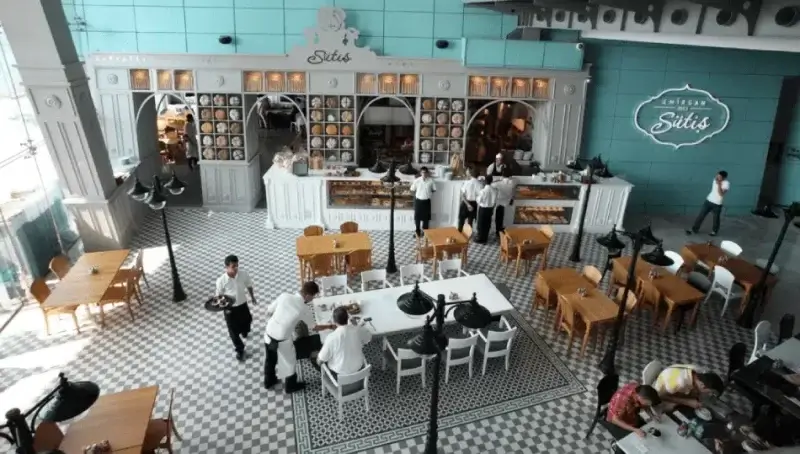 BEBEK KAHVE
This restaurant is a hidden gem located in the upscale Bebek neighborhood on the Bosphorus. It is a perfect spot for enjoying a breakfast in the sun. The Menemen (scrambled eggs with tomatoes, onions, and peppers) is particularly recommended.
Address: Bebek Mh., Beşiktaş, İstanbul
VAN KAHVALTI CİHANGİR
This restaurant is one of the most popular places for breakfast in Istanbul. It is located in the trendy bohemian neighborhood of Cihangir in the Beyoğlu district. The owner of the restaurant is from the city of Van, which is located in Eastern Turkey and is known for its delicious breakfasts. The atmosphere at the restaurant is very nice, and the food is excellent. The restaurant tends to be very crowded on weekends, so it is best to visit during the week.
Address: Kılıçali Paşa Mh., Defterdar Yokuşu No:52, Beyoğlu, İstanbul
MANGERIE BEBEK
This is a small, charming restaurant located in the Bebek neighborhood with a view of the sea. It is a popular spot with Turkish celebrities and has a laid-back atmosphere. In addition to local specialties, the menu also includes international options. It is a good place for a relaxing brunch with a selection of detox juices and various types of tea.
Address: Bebek, Cevdet Paşa Cd. No:69, İstanbul
EMEK CAFÉ YENİKÖY
Located further north of Istanbul in the affluent Yenikoy neighborhood, this restaurant is one of the oldest in the city. Its location on the banks of the Bosphorus is exceptional, and the views are beautiful. The Menemen (scrambled eggs with tomatoes, onions, and peppers) is a must-try. As you walk around the area, you will also have the opportunity to see beautiful Yalis (villas built on the Bosphorus).
Address: Yeniköy Mh., İstanbul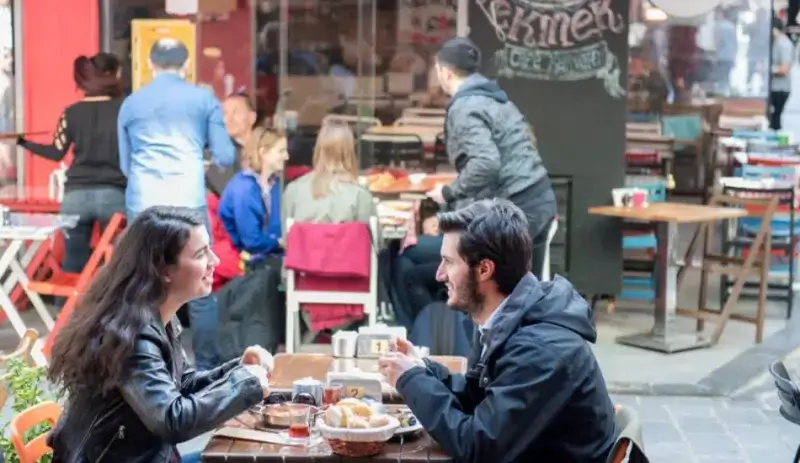 KALE
We recommend starting your breakfast journey at this restaurant, which specializes in breakfast (called "kahvaltıcı" in Turkish). It is located on the Bosphorus on the European side between the two bridges. The decor is minimal, but the food is excellent. We suggest ordering a "serpme kahvaltısı," which is a mix of various specialties. After breakfast, take a walk along the Bosphorus and visit the Rumeli Hisari fortress, which was built by Ottoman sultan Mehmed the Conqueror between 1451 and 1452 before he conquered Constantinople.
Address: Yahya Kemal Caddesi No: 16, Rumelihisari, İstanbul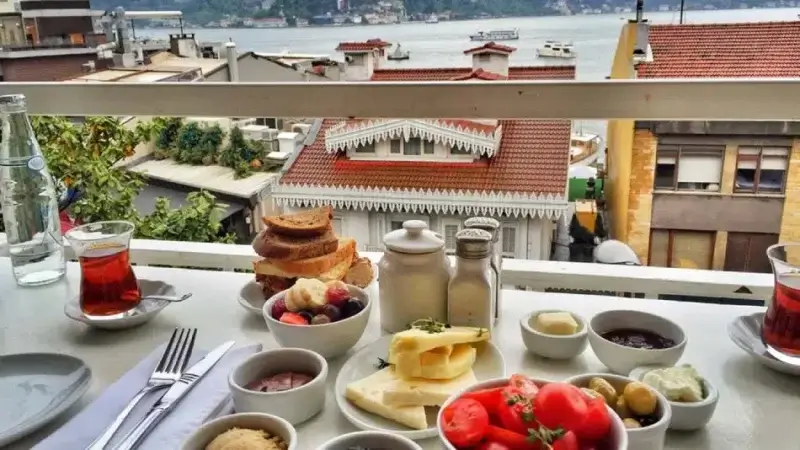 KONAK CAFÉ GALATA
Konak Coffee is a terrace cafe located in the Galata neighborhood, which is likely to be close to your hotel if you are staying in the area popular with tourists. While the food is good, the main attractions of this cafe are the stunning views of the old city and its relaxed atmosphere. If you are in the neighborhood, it is definitely worth a visit.