Pierre Loti Hill in Istanbul is, above all, a place where there is a simply stunning view of the Golden Horn. Because of its good location, the Golden Horn looks most majestic and beautiful from this point.
When you visit Istanbul, especially for the first time, there is usually a list of major attractions in the city. The well-known locations of Istanbul such as the Blue Mosque, Hagia Sophia Cathedral, Dolmabahce Palace, Topkapi and so on are a must-see.
But there are many other attractions, no less interesting and rich in history, but they are as if "in the shadows". We consider this fact to be a great omission and we strongly recommend to look at such places if you want to know the real Istanbul. One such place is the Pierre Loti Hill in Istanbul.
This place is quite popular not only among tourists, although compared to Sultanahmet Square it may seem rather quiet and peaceful. However, it is also loved by locals, especially on weekends it can be difficult to find a free corner.
It is the perfect place to have a meeting and just sit down for a cup of fragrant Turkish coffee or apple tea with a beautiful panoramic view of the Golden Horn, to get away from the hustle and bustle of the big city.
Of course, there will still be people around you. In Istanbul it is difficult to find a place where there are almost no people, unless you go for a walk on the streets at 6 in the morning, but somehow being on Pierre Loti Hill and looking at the majestic Istanbul from above, all this becomes so unimportant.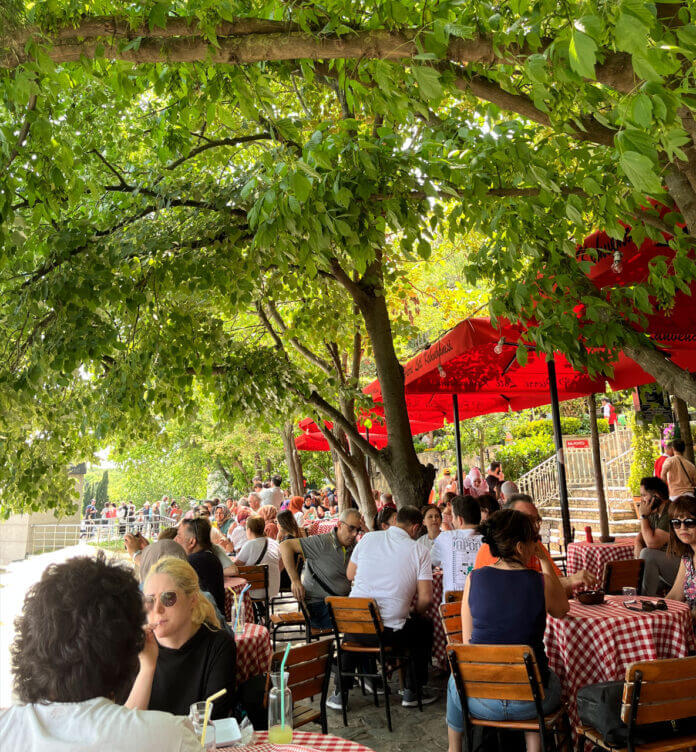 Who is Pierre Loti? – Pierre Loti Hill in Istanbul
Pierre Loti was a real man. He was a writer, but his real name was Julien Vio. Although Julien was French by birth, he considered Turkey his second homeland. He loved to visit the hill in Istanbul. By the way, not only he, but many other foreigners who came to Istanbul at the time, loved to go there, and it was one of the favorite places of the local nobility.
Pierre Loti's most famous book is called Asiade. It is said that when he was in Istanbul in 1876, it was this café (then called Rabia Kadın Cafe) that inspired him to write it with its views. He often visited it while admiring Istanbul over a cup of coffee. The semi-autobiographical book recounts his affair with Aziyade, an 18-year-old harem girl, when he was a 27-year-old naval officer stationed in Istanbul.
There are also many historic buildings on Pierre Loti Hill. The Kasgari Wooden Lodge, the Cholak Hasan Lodge, the Sibyan School, the famous Well of Wishes or the Well of Intent are just some of them. There is also a cistern believed to have been built in the Byzantine period and used in the Ottoman period.
There are mansions Ayvansaray, Siutluce, Eyüp, Balat, Hasköy and Fener, bearing the names of the surrounding neighborhoods. By the way, Balat is also quite a popular place these days.
Pierre Loti Coffee House in Istanbul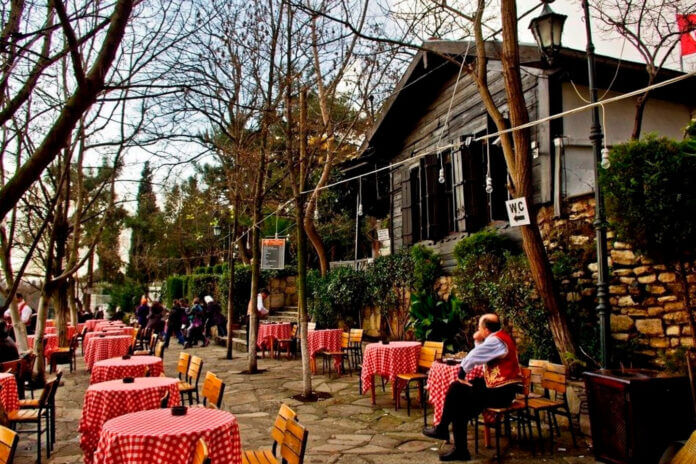 Pierre Loti Hill in Istanbul wouldn't be so famous without the lovely coffee house that awaits travelers at the top. This lovely spot under the dense foliage of trees is perfect for relaxing and hiding from the scorching summer sun. The views of the Golden Horn, the atmosphere of the coffee house are worth a visit to the cafe Pierre Loti in Istanbul at least once.
If there are no empty seats in the coffee house, which of course happens, do not hurry to get upset. There is a magnificent viewing platform, which also offers breathtaking views. There you can admire the panoramic views and take great pictures.
How to Climb Pierre Loti Hill in Istanbul
You can go up the hill to Café Pierre Loti on foot or by cable car (Teleferik). For this you need to buy a token on the spot or pay with the single transport card Istanbulkart (recommended). The cable car takes you up the hill above the Eyüp Cemetery and takes you directly to the observation deck and Pierre Loti Café. The best way back down the hill is on foot. You will have the opportunity to see many tombstones in the Ottoman style.
Eyüp Cemetery, is one of the oldest and largest Muslim cemeteries in Istanbul. It holds the tombstones of a wide variety of people, including Ottoman sultans. The cemetery's popularity as a final resting place is linked to the nearby Eyüp Mosque, which contains the tomb of Abu Ayyub al-Ansari, a former companion of the Prophet Muhammad. But even if the historical tombstones are not of interest to you, you can simply walk around the quiet, peaceful place and meditate on the meaning of life. It may seem strange to some, but many people love old cemeteries.
How to get to Pierre Loti Coffee House
Pierre Loti Café and Hill in Istanbul is located in the Eyüp neighborhood, so you have to get to this area first.
You can get to Eyüp Mosque, next to which is Pierre Loti Café, by cab, bus or ferry to the Teleferik stop.
By ferry across the Golden Horn Bay
by bus
by cab
There are currently no ferries from Eminönü to Eyüp. You can get there by ferry through Golden Horn Bay from Uskudar and Karaköy quays.
Operating hours: from 8 am to 11 pm