Positioned at the juncture of Europe and Asia, the splendid realm of Istanbul travel entices explorers with its alluring fusion of historical significance, cultural diversity, and incomparable splendor. Embarking on a three-day expedition across this mesmerizing urban expanse holds the pledge of an indelible odyssey, granting you the privilege of discovering the preeminent landmarks and concealed marvels that define the essence of Istanbul. Within these lines, an intricately devised itinerary awaits your forthcoming 3-day sojourn through Istanbul, meticulously crafted to ensure you seize every quintessential facet of this extraordinary metropolis.
Istanbul Travel Day 1: Sultanahmet District – Exploring Istanbul's Rich Heritage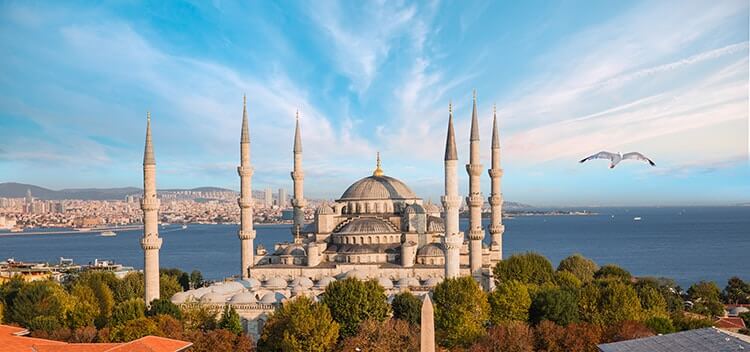 Morning:
The Blue Mosque (Sultan Ahmed Mosque): Embark on your Istanbul travel journey by setting foot in Sultanahmet Square, the gateway to your immersive experience. Here, the resplendent Blue Mosque, also known as Sultan Ahmed Mosque, eagerly anticipates your exploration. A paragon of Ottoman architectural brilliance, meticulously erected from 1609 to 1616, it transcends mere religious significance to embody the magnificence that defines Istanbul. Named for the exquisite array of hand-painted blue tiles gracing its inner sanctum, the mosque beckons you to shed your shoes at its threshold. For female visitors, a provided head covering and flowing skirt are essential attire, a respectful gesture in this sole mosque accessible to visitors beyond prayer moments.
Hagia Sophia: Just across from the Blue Mosque stands the awe-inspiring Hagia Sophia. This architectural marvel started life as the largest Christian Cathedral in the world, commissioned by Emperor Justinian the Great in the sixth century. Its rich history includes a transformation into a mosque during the fifteenth century, with minarets added and Christian icons removed. Today, it stands as a UNESCO World Heritage Site, displaying both its Christian and Islamic heritage.
Basilica Cistern: Descend 52 stone steps to enter the mystical Basilica Cistern, located just meters from Hagia Sophia and the Blue Mosque. This ancient underground complex, dating back to the sixth century, once stored water for the city's palaces. Its most iconic features include more than 300 marble columns, some with mysterious engravings, and the famous Medusa-head column bases, turned sideways to avert the creature's gaze. After exploring these wonders, it's time for a well-deserved lunch break.
Lunch:
Delight in a swift and delectable Turkish feast at any of the nearby street food vendors or cozy eateries adjacent to Sultanahmet Square during your Istanbul travel. Tantalize your taste buds with offerings such as char-grilled corn, toasted chestnuts, piping-hot mussels, or the savory delight of lahmacun. Immerse yourself in the genuine tastes of Istanbul as you relish these culinary gems.
Afternoon:
Topkapı Palace: After a satisfying lunch, make your way to the iconic Topkapı Palace, less than a ten-minute walk from Hagia Sophia. This historic palace served as the administrative center of the Ottoman Empire from the mid-1400s until the completion of the Dolmabahçe Palace in 1856. With its four courtyards, harem, and numerous exhibitions, including Ottoman clothing, weaponry, miniatures, and religious artifacts, Topkapı Palace offers a captivating glimpse into Turkey's imperial past.
Sultan Süleyman Hamam – Suleyman Palace: To unwind after a day of exploration, treat yourself to a traditional Turkish bath experience at Sultan Süleyman Hamam. This bath complex offers a range of rejuvenating treatments, from therapeutic massages to hot baths, salt rooms, and scrub foam massages. It's the perfect way to relax and prepare for an evening of enchantment.
Evening:
Dinner Cruise on the Bosphorus: Conclude your first day in Istanbul with a romantic dinner cruise along the Bosphorus. As you sail under the Bosphorus Bridge and admire the city's illuminated skyline, you'll be treated to a 3-course dinner, local drinks, and traditional entertainment. It's a magical way to soak in the beauty of Istanbul at night.
Istanbul Travel Day 2: Bazaars, Karaköy, and Iconic Istanbul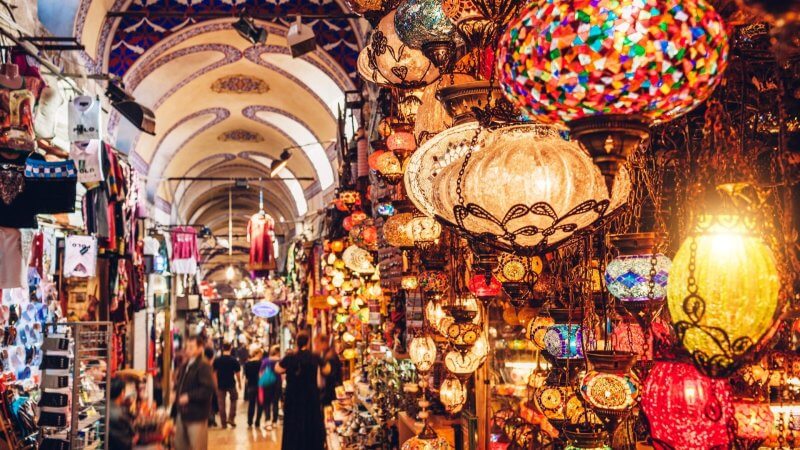 Morning:
Grand Bazaar (Kapalı Çarşı): Dive into the vibrant heart of Istanbul's commerce at the Grand Bazaar. With over 3,600 shops lining its intricate network of narrow streets, this historic covered market offers a dazzling array of goods, from fresh produce and spices to jewelry, lamps, and textiles. Be prepared to haggle for the best deals and uncover the perfect souvenir to take home.
Arasta Bazaar (Arasta Çarşısı): Explore the quieter, more local Arasta Bazaar, located just behind the Blue Mosque. This charming market offers a range of authentic Turkish souvenirs, handicrafts, and gastronomic delights at affordable prices.
Beyazit Book Market (Beyazıt Sahaflar Çarşısı): Book lovers will find paradise in this market near Sultanahmet Square. While many books are of a religious nature, you'll also discover second-hand cookbooks, ancient titles, and modern Turkish bestsellers. The market's stalls brim with leather-covered notebooks, prayer beads, wood carvings, paintings, and more.
The Egyptian Bazaar (Mısır Çarşısı): Also known as the Spice Bazaar, this market was constructed after the Great Fire of Istanbul in 1660 and is famed for its aromatic spices and colorful displays. Delve into a world of exotic condiments, fruit teas, Turkish delight, and natural cosmetics. The market also houses a lesser-known fish market and shops offering home and garden supplies.
Lunch:
Balık ekmek by the Galata Bridge: Savor a mouthwatering fish lunch by the Golden Horn at the small floating kitchens beneath the Galata Bridge. Balık ekmek, made with grilled whiting or mackerel, fresh lettuce, onions, spices, and lemon juice, is a must-try Istanbul delicacy. Don't be deterred if you have to enjoy it standing—it's an authentic experience.
Afternoon:
Karaköy: After crossing the Galata Bridge, immerse yourself in the historic Karaköy district. Formerly known as Galata, this area boasts a rich history as a Genoese colony in the late 1200s. Today, it's a bustling commercial hub within the Beyoğlu district, teeming with intriguing boutiques, vintage stores, and vibrant streets.
Galata Tower: Dominating the Karaköy skyline is the medieval Galata Tower, an architectural gem built by the Genoese community during medieval times. Once the tallest building in Constantinople, the tower served various purposes throughout history, including as a prison and an observation tower. Today, it stands as a city museum, offering stunning panoramic views of Istanbul.
Dinner:
Beşiktaş District: Venture to Beşiktaş, known not only for its soccer team but also for its picturesque neighborhoods and delectable cuisine. Enjoy an authentic Turkish meal, featuring dishes like Iskender kebab, in a local restaurant along Barbaros Boulevard.
Istanbul Travel Day 3: Lesser-Known Istanbul – Crossing Continents
Morning:
Kadıköy: Begin your day with a journey to the Asian side of Istanbul, Kadıköy. Easily accessible via the Marmaray metro or a scenic ferry ride, this district offers a more relaxed and authentic atmosphere. Stroll through the bustling Kadıköy Market (Sali Pazari) and relish the vibrant array of produce, spices, seafood, and more.
Moda: A short walk from Kadıköy leads you to Moda, a trendy neighborhood known for its bohemian charm and picturesque streets. The Moda coastline offers a perfect spot for a leisurely walk with stunning views of the sea and the European side of the city.
Lunch:
Çiya Sofrası: Delight in an exquisite lunch at Çiya Sofrası, an award-winning restaurant in Kadıköy that specializes in Anatolian cuisine. With a menu inspired by historical recipes from different regions of Turkey, this restaurant promises an unforgettable culinary experience.
Afternoon:
Uskudar: After lunch, take a ferry back to the European side and explore Üsküdar, another historic district with a distinct local character. Visit the Maiden's Tower (Kız Kulesi), a small islet in the Bosphorus, and learn about its fascinating legends.
Ortaköy: Continue your journey to the charming Ortaköy district, famous for its waterfront mosque and vibrant market. Indulge in a classic Istanbul treat—kumpir, a loaded baked potato with various toppings—before continuing your exploration.
Evening:
Sunset at Çamlıca Hill: As the day draws to a close, ascend Çamlıca Hill, one of the highest points in Istanbul, offering breathtaking panoramic views of the cityscape. Capture the stunning sunset over the Bosphorus Strait and relish your final moments in this enchanting city.
Farewell Dinner: Return to Sultanahmet Square for a farewell dinner at one of the cozy restaurants. Reflect on your mesmerizing journey through Istanbul and savor your last tastes of Turkish cuisine.
Embark on an Istanbul travel journey guided by this meticulously crafted three-day itinerary, guiding you through the tapestry of the city's history, its varied neighborhoods, and its captivating culture. Brace yourself to be entranced by the magnetic charm that Istanbul exudes, as you unveil not only its renowned monuments but also its hidden gems. As your time in Istanbul draws to a close, you'll depart with indelible memories of an absolutely remarkable adventure, etched within the core of Turkey.