Istanbul in January – January and February are the coldest months in Istanbul, with an average temperature of 8°C and precipitation of 105 mm. While you can expect low temperatures during these months, it is rare for temperatures to drop below freezing in Istanbul and there is usually not a lot of snow. Precipitation during these months is typically low to medium.
City Life & Weather
In January, you can expect to see sunshine for about half the month. As it is cold winter in Istanbul during this time, it's a good idea to explore indoor attractions such as museums, palaces, and art centers. We recommend bringing a winter coat and portable umbrella when traveling to Istanbul in January. The days are shorter than in the summer, with the sun setting around 5:30 PM. (Average max temperature: 8°C; Average min temperature: 3°C)
Public holidays, Festivals & Events
New Year's Day (National holiday, 01 January 2020)
Top Venues
Below is a list of some of the top venues in Istanbul where you can check out exhibitions and events.
Istanbul's January Top 10 Attractions
There are countless things to do in Istanbul, and it is impossible to list all the best attractions here. Below are some of the most fascinating options that are well-suited for a visit in January. We also recommend checking out the opening hours and admissions for Istanbul attractions, as well as our one-day and three-day itineraries for Istanbul, to help you plan your days in the city.
Visit Hagia Sophia, Topkapi Palace & Basilica Cistern Trio
The Hagia Sophia Museum is a must-see for any Istanbul itinerary. This former church and mosque, dating back to 325, is considered one of the greatest architectural works in the world and has been recognized as the 8th wonder.
When visiting the Hagia Sophia, you'll feel as though you've stepped into the holy worlds of Christianity and Islam, with the fusion of these religions on display in the shell-like apse and under an impressive dome. The museum is filled with a range of architectural and artistic works from thousands of years, including golden Christian mosaics and colorful frescoes from the Byzantine era.
We recommend the following ticket options for great value:
Wanna learn more about Hagia Sophia?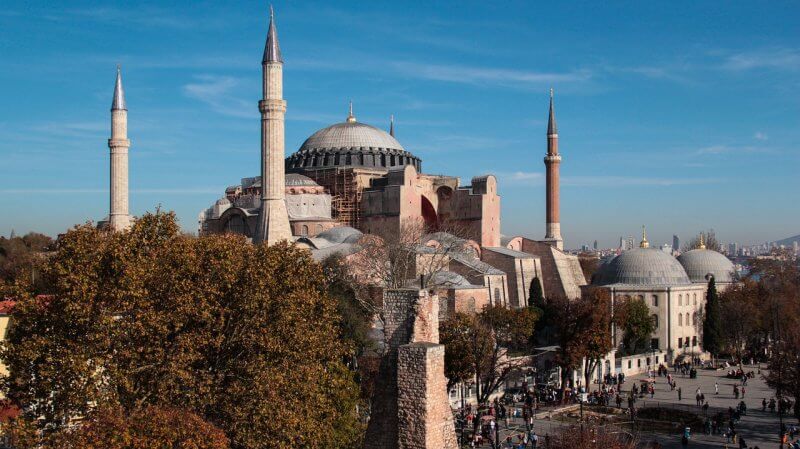 Topkapi Palace Museum
Topkapi Palace Museum is a must-see attraction in Istanbul. The palace is a magnificent Oriental structure and one of the world's greatest architectural works.
It was once the residence of the Ottoman Sultans and is now one of the world's wealthiest museums. In the museum, you'll have the chance to admire the famous Harem section and take a detailed look at the rooms, gardens, galleries, collections, and decorations from the past and present. The museum is home to some of the finest examples of seal, bookbinding, jewelry, and box craftsmanship, as well as inscriptions, and the finest collection of Chinese porcelain in the world.
We recommend the following ticket options for great value:
Wanna learn more about Topkapi Palace?
Basilica Cistern
The Basilica Cistern Museum is a must-see attraction in Istanbul. It is one of the city's most impressive and mystical buildings. Visitors are often drawn to the two Medusa Heads, which are used as supports under two columns at the northwest edge of the cistern. The heads are a popular feature of the museum and attract many visitors.
Mystical night out with Whirling Dervishes Show
The Whirling Dervishes Show is a popular attraction for tourists visiting Istanbul. Many people are intrigued by this unusual event and want to see the miracle of the whirling dervishes for themselves. There are two popular venues where you can watch the show, and we recommend booking your tickets online in advance as they tend to sell out quickly. This one-hour show is a unique and memorable experience for visitors to Istanbul.
Istanbul's Shopping Malls
Istanbul is home to more than 200 modern shopping malls, some of which are among the best in Europe. With winter sales happening in the city, it is a great time to visit some of the popular shopping malls and do some shopping.
There are a wide variety of stores to choose from, offering everything from clothing and accessories to home goods and electronics. Whether you're looking for a new outfit or just want to browse the latest trends, Istanbul's shopping malls have something for everyone.
Historical Turkish Bath (Hammam)
Visiting a Turkish bath, or hammam, during your trip to Istanbul is a unique and memorable experience. You'll have the chance to relax your muscles and rest in a steam bath, refreshing your body and leaving you feeling rejuvenated. This is a once-in-a-lifetime opportunity to try an authentic Turkish bath, and it's a great way to relax and unwind during your trip to Istanbul.
Istanbul Aquarium and Aqua Florya Shopping Mall
Istanbul Aquarium is a popular theme park located in the Florya district of Bakirkoy. With a special-themed and 1.2 km long travel route that starts in the Black Sea and leads to the Pacific, as well as a 6,000 square meter area, rainforest, and over 15,000 fish species, it is one of the best aquariums and theme parks in Europe.
The park also features a gift shop with an area of 470 square meters, a restaurant with views of the Panama Canal and the sea, and a leisure area in the Aqua Florya Mall. Visitors can enjoy a fun and educational day out at Istanbul Aquarium.