From the Historical Peninsula to the Bosphorus, from Karaköy to the Islands, Istanbul is a treasure in every way. There is definitely a corner of this city where everyone feels good and likes to be. There are also colorful back streets, which are among the most beautiful treasures you have ever seen and discovered.
Grab your backpack and hit the road. Especially if you are doing tours where you prefer to be alone and explore, when it comes to back streets, Cihangir, Üsküdar, Balat, Galata, and Moda come first. If you like to go out of the routine from time to time and be on different city routes, you should take a look at the back streets of Istanbul in this article we prepared.
BREAKFAST
People who come to Cafe Firuz generally love it. You can have a wonderful experience with your closest friends or even alone. It is a charming place located in the very center of Cihangir. Generally, the garden is preferred, it is so peaceful that you will enjoy being there even in winter.
Breakfast with traditional hot bagels, cheese, and tea will make you feel perfect. Omelette made with potatoes and cumin are among the alternatives we recommend to be preferred.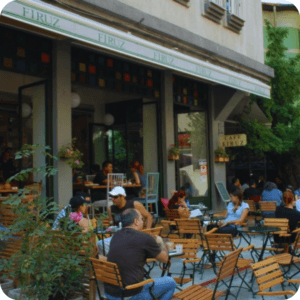 Van Breakfast House (Cihangir)
Our Van Breakfast House recommendation is also from the Cihangir district. This is a place worthy of the very famous Van Breakfast. It will be a situation that you will frequently experience days you go to Van Breakfast House; you enter as breakfast and cannot leave until noon, or you end the day with a single meal.
You should definitely stop by the Van Breakfast House in Cihangir to taste the fresh and varied breakfast dishes, Van's famous herbed cheese, and murtuga.
Limonlu Bahce is a peaceful and quiet place for those who want to get away from the crowded streets of Beyoğlu. It is almost a secret garden designed for green, calm, and long-term conversations. It is beautiful at any time of the day.
The cheese selection, consisting of different types of aged cheddar, surpasses the usual breakfast spots. Olives are served fresh, and walnuts and jams add a different atmosphere to the breakfast.
It is one of the most hidden treasures of Galata. You will feel happy to be here. It has a magical atmosphere. Once you enter, you cannot leave for a long time. This cafe, which is a candidate to offer one of the best breakfasts in Istanbul, gives peace with the sincerity and kindness of its employees.
Since you will fall in love with the spirit of Galata, you should try the pancakes of this place, which must be visited.
---
DINNER
Inciralti Restaurant (Uskudar)
Inciralti, which opened its doors after restoring an old Greek house with a history of 100 years, takes its name from the fig tree in its garden.
The venue has the famous Armenian appetizer, date kebab wrapped in a lamb's shirt, mackerel tartar, and an extensive appetizer menu. Playing Turkish classical music and old pop songs, Inciralti the favorite of those who want to taste delicious food while sipping their drinks.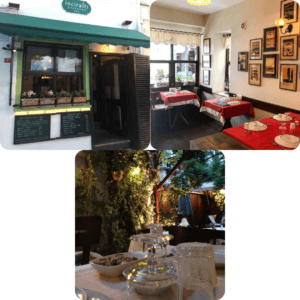 Aida Vino E Cucina (Kadikoy)
An old Istanbul mansion, no-frills atmosphere, nice music, and delicious food… This is a delicious Italian restaurant. You won't be able to leave Aida Vino E Cucina with its cheese plate, tiramisu, and handmade pasta.
Footnote: The place is quite small. Therefore, we recommend that you do not go without making a reservation.
You may not have met Akali, one of the most ambitious hamburger restaurants in Istanbul, because it is not located on the main street.
Here, meals are prepared in the kitchen right next to you. The hamburger buns and fries are also delicious enough to play a role from the hamburger. If you want, you can create your own flavor by choosing the ingredients you want for your hamburger.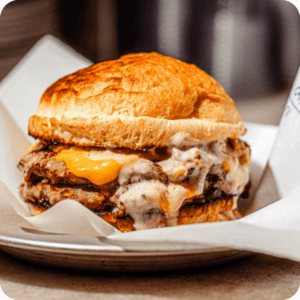 Markus Prime Ribs Society (Sariyer)
Markus, one of the new venues in Maslak, where gastronomy enthusiasts have been regulars in recent years, has formed a group of friends from Sabancı University. At Markus, which appeals to both the eyes, the soul, and the stomach, all main dishes are made from ribs.
Besides meat, you can also find flavors such as french fries, hummus, soup, and fava. The place, which serves its meals with folk, lounge or jazz music, deserves to be tried with its ambiance and menu.
---
COFFEE
Cukurcuma Antiques & Cafe (Beyoglu)
Cukurcuma Cafe is the kind that will make you feel like you have come to your friend's house or as a guest when you enter.
It stands out with its wooden decoration, vintage accessories, and organic menu. You can sip your coffee in the comfort of your home in Cukurcuma, which changes the menu according to the season.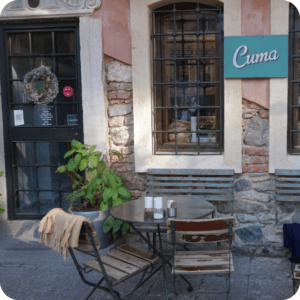 Hidden House, which is one of the addresses where you can get away from the crowd in Bebek, draws attention with its antique details in the decoration.
The place, which also has a pleasant garden, relaxes with its atmosphere. The place, which is popular with its dessert, breakfast, coffee, and tea menu, also has vegan and gluten-free options.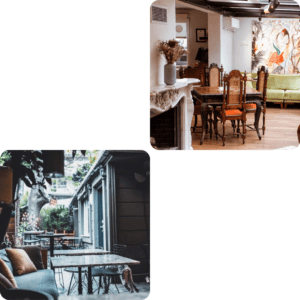 Petra Roasting Co. (Besiktas)
Opened in 2013, Petra Roasting stands out with its rich flavored coffee menu. Of course, the croissants and cakes you can eat with your coffee are also quite fresh.
We recommend you stop by Petra Roasting to taste delicious coffees waiting to be discovered in not very busy side streets.
The hidden paradise of Zekeriyaköy, Ahali 279, is a lovely chill-out place with its garden covered with comfortable cushions and its tables shaded by flower trees. For a delightful day, be sure to enjoy a delicious coffee here.