Istanbul Street Food – During your time in Turkey, and particularly in Istanbul, you will notice that meal times are not as structured as they may be in other countries. Restaurants are open at all hours and street food is readily available throughout the city. Turks are known to eat at any time of day, and you will likely find yourself doing the same as there is a wide variety of food options to suit all tastes. Whether you are in the mood for a quick snack or a sit-down meal, you will have plenty of choices available to you.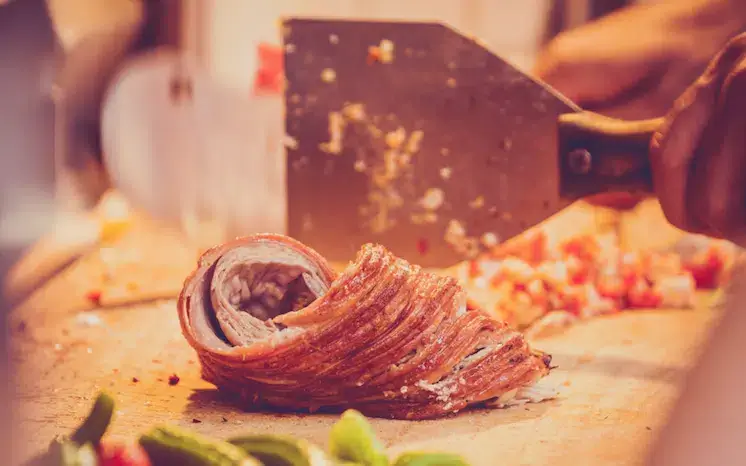 As you walk around Istanbul, you will notice that there are numerous restaurants and street vendors offering a variety of food and drink options.
You will find them almost everywhere, with many options available within just a few blocks. Some of the most common street foods you may encounter include simit (a round bread covered in sesame seeds), kestane (roasted chestnuts), boiled or grilled corn on the cob, and midye dolma (mussels stuffed with rice, onion, and spices). It is worth noting that smaller mussels tend to be more flavorful than larger ones. You will also find many vendors selling fresh fruit juice, which is a refreshing and healthy option. Overall, Istanbul offers a wide range of food and drink choices to suit all tastes.
We particularly recommend the nar suyu (pomegranate juice) to start the day.
If you enjoy meat, be sure to try the döner kebap, a popular sandwich that is known for its delicious flavor. The meat is roasted on a vertical skewer and can be found almost anywhere in the city. You will likely smell and see it cooking as you walk around Istanbul, and it can be difficult to resist the temptation to try it. While you can find döner kebap almost anywhere in the city, the best versions tend to be found in the less touristy areas. For example, the Karadeniz Döner shop in the center of Beşiktaş is known for serving particularly delicious döner kebap and can get quite busy, often selling out by the evening.
Istanbul Street Food – Karadeniz Döner Beşiktaş' address: Mumcu Bakka Sk, Sinanpaşa Mh., Beşiktas, İstanbul
Another popular meat-based dish to try in Istanbul is the dürüm, which consists of meat skewers rolled in a wrap with tomatoes, onions, and salad. The quality of the wrap is just as important as the quality of the meat, and many establishments make their own. There are many places that serve good dürüm, but for a particularly delicious version, we recommend visiting Dürümzade, a specialist in this dish.
Istanbul Street Food – Dürümzade's address: Hüseyinağa, Kamer Hatun Cd. 26/A, Beyoğlu, İstanbul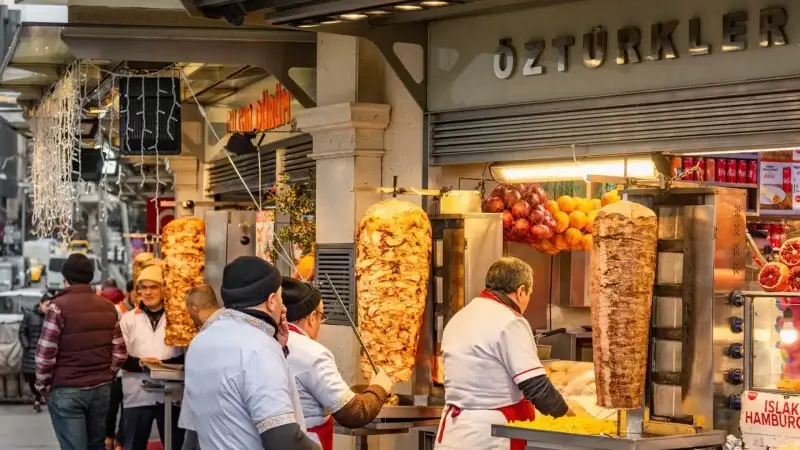 If you are feeling adventurous, you may want to try Kokoreç, a Turkish specialty that consists of sheep intestines cooked on a barbecue. While this may not sound particularly appealing to some, it is actually quite tasty and is a popular snack in Turkey. It is served in a sandwich, with the intestines chopped into small pieces and mixed with spices. Kokoreç is often eaten before or after a soccer game or a night out drinking. While it may not be for everyone, it is definitely worth a try if you want to experience a unique aspect of Turkish cuisine.
You will find many places in Istanbul that serve Kokoreç, particularly at night, when some vendors set up large barbecues on the sidewalks. While there are many options to choose from, the best ones are generally considered to be:
If you are a fan of Istanbul Street Food, you may want to try balık ekmek, a popular Turkish sandwich that consists of bread filled with grilled or fried fish. It is a simple but delicious sandwich that can be found at many locations around the city, including the dock at Eminönü. Whether you prefer grilled or fried fish, you are sure to enjoy this tasty and satisfying snack.