When the sky of Istanbul is gray, or when you are tired of climbing through the city of 7 hills, what can you do in Istanbul? Well, we have a little idea… How about taking time to get pampered in Istanbul? Take care of yourself, relax, make yourself beautiful. Because visiting Istanbul is also an excellent opportunity for beauty treatments at an ultra competitive rate!
1- Makeover in a hammam in Istanbul
The hammam is a classic in Istanbul! You can't come to Turkey without experiencing the Turkish bath. An ancestral custom that dates back to the Romans, when the people of Constantinople used to go to the baths. Even today, when bathrooms are in every home, the ritual of the hammam continues. We go there with girls or friends most of the time. But you can also go as a couple in some mixed hammams in Istanbul.
As far as prices are concerned, you can find hammams of different standards and therefore for all budgets: from the historical hammam which welcomes tourists, to the more popular neighborhood hammam.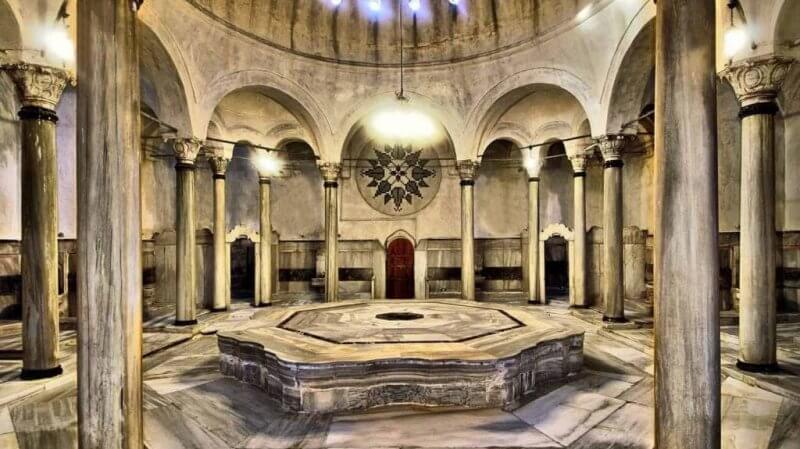 2- Get a manicure and pedicure in Istanbul
First of all, the hands. we discovered an incredible thing. It's that we have cuticles!!! And for your information, cuticle is pronounced the same in Turkish (kütikül, just like manikür and pedikür by the way!). So the girl applies a cream on my nails and covers my hands under a kind of hot water bottle for a few minutes. Then she cuts me these famous kütikül, before proceeding to the scrubbing of the hands… Then comes the nail file (you can ask her to file your nails in the shape of badem, in other words in almond). The manicure ends with the application of the nail polish of my choice, without forgetting to apply a base and a top coat for impeccable and well protected nails!
But there, it was only the manicure, because for the price we do not stop there. And now we attack the pedicure! The steps are pretty much the same, except that the girl is now at your feet… soaking in hot water with salts. We have to say, it's a little embarrassing to have your feet washed by a stranger. Almost a biblical image, isn't it! Except that when she starts massaging the arch of the foot… that's a kick! Less nice, however, is the rasp to remove dead skin before applying the polish. It is a great option for being Pampered in Istanbul
3- Getting a haircut and/or a beard in Istanbul
Well yes, it's not only girls who can be pampered in Istanbul. And Turkish men have understood this, because they are not the last to take advantage of the treatments offered by the many hammams, barbers and beauty salons in Istanbul.
However, the issue of hair can be tricky in Istanbul if you are a woman with short hair. Let's face it, Turks have a preference for long hair! And hairdressers are more skilled at making buns than plunging squares. As for the highlights and colors, we are not safe from coming out with green hair instead of the Venetian blond seen in the catalog (we exaggerate a little). So for the girls, it's better to know the good addresses or to trust your friends. Personally, we have never had a bad surprise, except for that one time when we asked for a natural mini-vague and we came out with a lacquered sauerkraut!
For men, on the other hand, it's super easy to get through the doors of a barber. In Istanbul, there are barbers on every street corner. Some men even go there every day. For those who have never dared, here's how it goes:
Application of shaving foam with the good old shaving brush. Then shave with a knife. And after shaving with a squirt of good smelling cologne! So far, so simple. But for an impeccable finish, you'll also be entitled to a little "burning" of the nose and ear hairs with the flame of the lighter. For the lucky ones… it will be a waxing of the nostrils! Believe me ladies, this is a moment you will love! When your man finds himself with two cotton swabs stuck in his nose holes. Come on, be brave gentlemen, you have to suffer to be beautiful to get Pampered in Istanbul.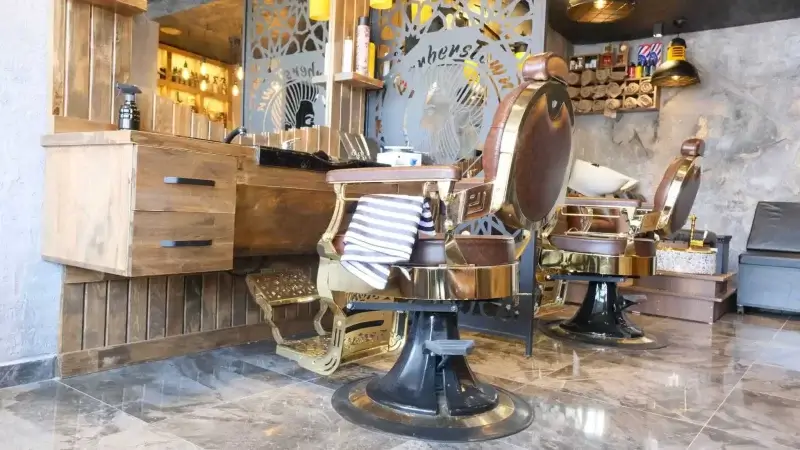 4 – Laser hair removal in Istanbul
Do you want to be Pampered in Istanbul? We have to admit that laser hair removal works well. You know those hairs on our men's backs and shoulders that are not very graceful?
Istanbul has established itself in the last few years as a leading destination for cosmetic surgery. We might write an article about it one day, because many men come to Istanbul to have their hair transplanted (you will see many of them walking on Istikklal Avenue with their black bandages and headbands!) . We can say that hair transplantation is an another option to get pampered in Istanbul
5 – Getting a massage in Istanbul
Do you want to be Pampered in Istanbul? There are several ways to get a massage in Istanbul. The first is in the hammam. Especially in the high-end hammams. But personally we don't think that a massage is necessary just after a session in the Turkish bath. Especially since you are already well massaged at the time of the foam. We prefer to take advantage of having a brand new skin, and not to add massage oils to it. (and then the price is usually quite high, well everything is relative… count 35€ for a complete body massage in a hammam)
On the other hand, during a shopping day you may need a little massage break in emergency. For that, you will find in almost every shopping mall these vibrating chairs that for a few TL are supposed to bring you some happiness..Otherwise, there are also these little chair massage parlors. You know the kind? Sitting astride a chair with your head tilted forward in a headrest with holes in it. Directly in the aisles of the mall or just behind a window for more privacy.A chair back massage lasts about 30 minutes and the price varies greatly depending on the location. In the Demiroren shopping center on Istiklal for example it costs 3 times as much as in the side streets where you will spend about 8€ for a chair back massage.