Do you want to learn about some of the Turkish mezes to try? On this post you can find many tasty suggestions for this. One of the types of food in Turkish cuisine are mezes. Mezes are basically appetizers and they can be an awesome choice before the main course.
Also, with the right combination of mezes, they can constitute a meal on their own. In addition, mezes are often preferred when enjoying alcoholic drinks. Now if you are ready to learn about some of the amazing Turkish meze options to check out, you can keep reading!
What are Some of the Turkish Mezes to Try?
In Turkish cuisine there are lots of different food options to try. From kebabs to delicious Turkish soups to try, Turkish cuisine can have a lot to offer. Moreover, there are many Turkish mezes to try, too. On this post we are going to mention some of them.
Among the mezes that we will talk about, there are examples such as carrot salad with yogurt, çiğ köfte, stuffed mussels, cacik and many others… With these mezes you can prepare a tasty appetizer course for your friends and family. So, are you ready to learn about some Turkish mezes that can be worth tasting? Let's begin talking about some delicious choices.
For Those Looking for a Tasty Meze, Carrot Salad with Yogurt Can Be Excellent
If you want to try out a delicious Turkish meze, carrot salad with yogurt can be a nice choice. Ingredients for this meze include carrot, olive oil, yogurt and salt, as well as some optional garlic and/or dill.
Çiğ Köfte is a Delicious Meze Option
One of the popular mezes in Turkey is çiğ köfte. Originally this meze would include raw meat but it usually doesn't contain raw meat, instead bulgur is used for making this delicious meze.
An Amazing Meze to Consider Trying Can Be Stuffed Mussels
Whether you are looking for a quick snack or an appetizer before a nice meal, Turkish style stuffed mussels can be one of the amazing Turkish mezes to try. Along with being savory and delicious, this meze can be quite nutritious as well.
Trying to Find Turkish Mezes to Try? Consider Turkish Style Kidney Beans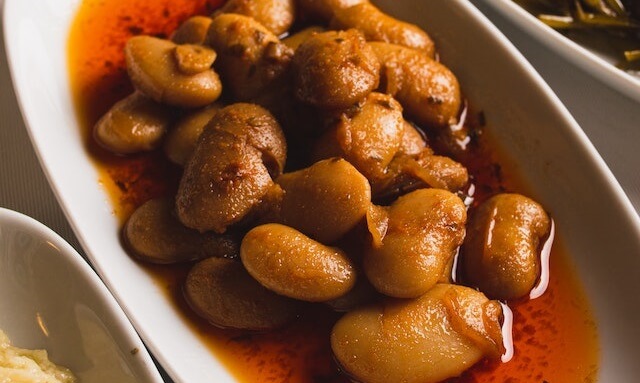 Kidney beans as a meze can be prepared in a variety of ways. Regardless of which type you choose, this meze option can be an excellent choice.
Turkish Shakshuka Can Be Worth Trying
Shakshouka dish from the North African region is different from this Turkish meze. Turkish style shakshuka is a meze that contains ingredients like eggplant, pepper, onion and garlic.
How About Checking out Fried Black Sea Anchovy?
In the Black Sea region of Turkey, there are many dishes that are prepared using Black Sea anchovy and this one is among them. Traditional fried Black Sea anchovy can be a delicious appetizer option.
One of the Nice Turkish Mezes to Try is Cacik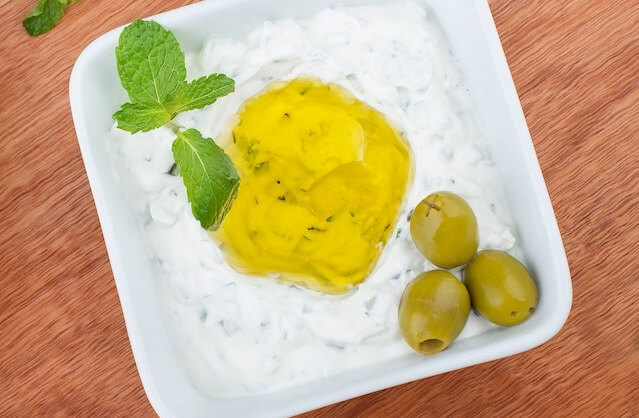 If you are looking for a simple, fresh and light meze option, cacik can be a wonderful choice. Simply mix Turkish yogurt with shredded cucumbers, some garlic, olive oil, mint and a little bit of salt for preparing this meze.
Tarator is One of the Popular Mezes in Turkey
Another one of the popular Turkish mezes to try can be tarator. This is a meze that contains ingredients like yogurt, walnuts, bread, garlic, olive oil and so on…
Another Delicious Meze Choice Can Be Baba Ganoush
If you are looking for a tasty meze prepared using eggplant, baba ganoush can certainly be a great choice to try out.
Turkish Mezes to Try Final Words
For people who are visiting Turkey, one of the things to do in this country can be exploring Turkish cuisine. There are many amazing foods in Turkish cuisine and there are numerous Turkish mezes to try. Mezes can be awesome before a meal or when enjoying alcoholic drinks.
On this post we have talked about a variety of Turkish mezes that can be worth trying. For example, we have mentioned mezes such as tarator, baba ganoush, fried black sea anchovy and many others. If you are considering tasting some Turkish mezes, you may want to consider checking out these options.