In all families without exception the Turkish breakfast is essential. On the table there is: coffee or tea, fresh bread, pağaca (bread rolls filled with olive cheese or plain), several specialties; ham, olives, tomatoes, cucumbers, honey, jam, omelet or hard-boiled egg, orange juice, cheese, the morning feast. Discover Turkish Breakfast in Istanbul
Turkish
breakfasts, a real philosophy! Family breakfast
For those who don't want to have breakfast at home, there are places on every street corner that specialize in breakfasts or superb bakeries where it is also possible to have a tea or coffee.
Breakfast is Sacred
Enjoying a breakfast and reading the newspaper and commenting on it aloud with the neighbor in a good-natured atmosphere in Istanbul, no one would miss this for anything in the world. For this important weekend event in Istanbul, we add in addition to everything we usually eat in the morning, böreks, lavaş bread (puffy sesame bread) vine leaves, French fries (this is not a joke) and many other specialties.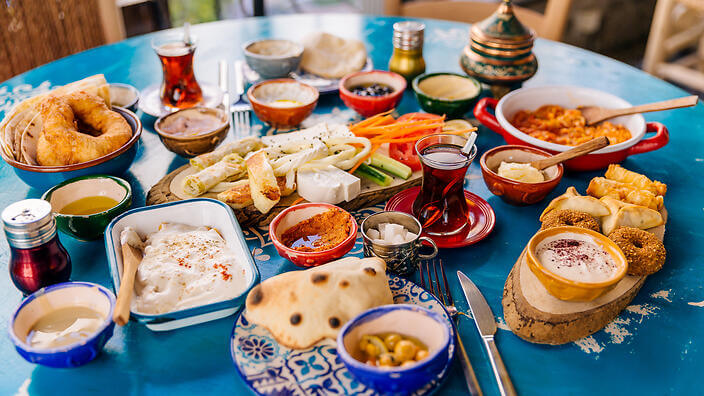 You will see all the terraces in Istanbul "KAVALTI" full of people on Sunday morning. It is the day of the "lord breakfast" for the Turks. For those who want to get away from the hustle and bustle of the city, some of them go to out-of-the-way places, restaurants in the countryside, in parks, along the Bosphorus; in the vicinity they can also find games for children and breathe the fresh air, the Stambouliotes stay there all day.
If you order breakfast in Istanbul, ask beforehand what is in it and if tea is available (every restaurant in Istanbul has different offers). Because the waiter will offer you extra things, thinking that it is included you will say yes, while it may be optional and the bill is high for you in the end. In general the prices in restaurants in Istanbul vary between 150 Tl and 350 Tl. Depending on the place, it can be more expensive because it is more varied or of higher quality.
If you say the magic word: "SERPME KAHVALTI" (the most expensive breakfast in Istanbul), you will be served between 15 and 20 different varieties of products (it can be several varieties of olives, cheeses and other ingredients).
The breakfast in the hotels in Istanbul for travelers, is inspired by the Turkish breakfast, with European sauce anyway with extra pig for example, hot chocolate, cornflakes, croissants etc …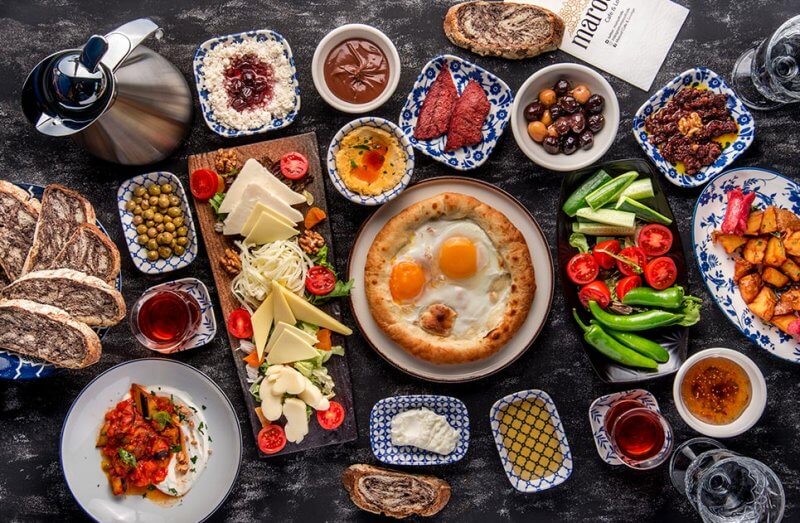 So that the customer is not too disoriented and that he is above all the king's choice.
Because of the cucumber in the morning, one day it goes two days hello the damage so there is really for all the tastes.
In TURKEY breakfast can be served in restaurants all day, there is no time to eat it. Often followed by a mangal – grilled barbecues especially on Sundays that we make ourselves at the end of the table is great, very friendly.
Don't say that the Turkish people eat all the time, a lot, at all hours, that would be lying 🙂
The 10 best Turkish breakfast restaurants in Istanbul.
1 – Kosuyolu Cevizagaci : Koşuyolu, Muhittin Üstündağ Sk. No:85, 34718 Kadıköy/İstanbul (Asia)
All Istanbul recommends Cevizagaci for the quality of its products, the service and the district to discover which remains far from the tourist circuits).
2 – Kuleli Yakamoz restaurant : Çengelköy Mh, Kuleli Cd. No:69, 34684 Üsküdar/İstanbul (Asia)
All Istanbul recommends Kuleli Yakamoz for its extraordinary view, service and quality.
3 – Fenerbahçe Happy Moons : Fenerbahçe, Fener Kalamış Cd. No:89, 34726 Kadıköy/Istanbul (Asia)
All Istanbul advises you Fenebahce Happy Moon so that you discover the stambouliotes of the Asian side of the city and spend a very beautiful day in the residential district of Fenerbahçe.
4 – Namli Karakoy : Karakoy iskele (Europe)
All Istanbul recommends Namli restaurant for the richness of its products, the wide choice and to be able to find a lot of breakfast products to buy and bring back home (Namli is a famous deli in Istanbul) but if you want to spend a quiet moment with the family and have a nice view, Namli is not an ideal restaurant for you.
5 – Big Chef's Tarabya : Tarabya, Yeniköy Tarabya Cd. No:3, 34457 Sarıyer/İstanbul (Europe).
You have understood from the picture, a beautiful place to have a very nice view on the Bosphorus and a very good value for money. Tarabya is a great neighborhood to stroll along the Bosphorus.
6 – Mangerie Bebek : Bebek, Cevdet Paşa Cd. No:69, 34342 Beşiktaş/İstanbul (Europe).
Bebek is a posh district of Istanbul and it's worth the detour. It's a bit expensive but the setting is nice and the products are of good quality.
7 – Emirgan Sutis : Sakıp Sabancı Cad. No46 Emirgan-Sarıyer-İstanbul (Europe).
Sutis is a very old and well known dairy products artisan in Istanbul. The Turkish breakfast is a good opportunity to discover Sutis and the Emirgan district.
8 – Oba Restaurant : Baltalimanı Caddesi No: 54 Rumeli Hisarı / İstanbul (Europe).
Great quality and beautiful view
9 – 5. Kat Cihangir : Cihangir, Soğancı Sk. No:3, 34427, 34433 Beyoğlu/İstanbul (Europe)
If you don't want to go too far from the city center 5. kat is the best address for you. The view of the old town is magnificent. One of the best place for Turkish Breakfast.
10-Cesme Bazlama Nisantasi : Teşvikiye, Ahmet Fetgari Sk. No:40 D:No:40, 34365 Şişli/İstanbul (Europe).
Bazlama is very well known by tourists and Turks so I put it on the list. The breakfast is very good (organic products and very good quality) but no view, too many people (often you have to queue). If you are passing through Nisantasi and it's free, try your luck.