If you are a history buff and considering visiting Turkey, there can be lots of places that you may want to see. As a place with a very long history, there are numerous historical places in Turkey. On this post we are going to talk about some Turkey historical places that can be worth knowing about.
Hagia Sophia is a Popular Option Among Turkey Historical Places (Istanbul)
Istanbul is one of the popular cities in Turkey for tourists. There are lots of historical places in Istanbul and Hagia Sophia is certainly a very well known option. If you are planning to visit Istanbul, checking out this place can be worth considering.
Anıtkabir (Ankara)
Ankara is the capital city of Turkey and it is the second largest city by population in the country. Anıtkabir is an important place in Turkey and it has a special importance for many Turkish people as it is the final resting place of Atatürk, the founding father of Turkey.
Ephesus (Izmir)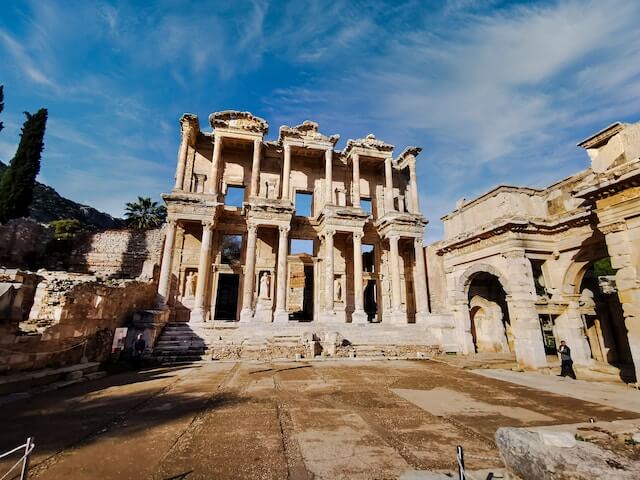 If you are interested in ancient structures and ruins, Ephesus can be a place to check out. This place is located in Izmir and there are various structures from the ancient times in the area.
Koza Han (Bursa)
Bursa is another city in Turkey that is quite popular among tourists. Koza Han is one of the Turkey historical places located in this city and this structure was built during the 15th century. For those who are interested in structures from the Ottoman period, Koza Han can be a nice place to see.
Another One of the Turkey Historical Places is Hadrian's Gate (Antalya)
There are numerous structures from the ancient times in Turkey and Hadrian's Gate is one of them. This structure is located in Antalya.
Gaziantep Castle (Gaziantep)
A castle built by the Romans over an area used by the Hittites, this place surely has some historical importance. For those visiting Gaziantep, this castle can be a place of interest.
The Tomb of Amyntas (Muğla)
Built during the 4th century BC by the Lycians, the Tomb of Amyntas can be one of the interesting Turkey historical places for those who like ancient structures.
Güvercinada Castle (Aydın)
It is a castle that is built on a quite unique place in Kuşadası, Aydın. Güvercinada is an island that is connected to the mainland. The castle there and the surrounding area can be worth seeing.
Sumela Monastery is Another One of Turkey Historical Places (Trabzon)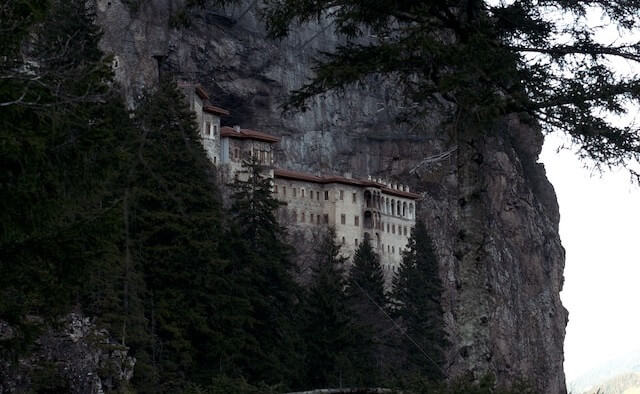 Located in Trabzon, this place is a monastery that is built on a cliff during the 4th century AD. While getting there can require some physical effort, this place can be worth visiting.
Bandirma Ship Museum (Samsun)
If you visit Samsun in Turkey, a nice place to see can be this museum. SS Bandirma was the ship that Atatürk used for going to Samsun from Istanbul in 1919. The museum is inside of a replica of SS Bandirma and for those who are interested in the history of the Republic of Turkey, it may be a nice place to visit.
Harran Ruins (Urfa)
This place is located in Şanlıurfa and it is a very old historical place in Turkey. Harran is an area with thousands of years of history. Aside from the ruins, there is also the Harran Castle in the area.
Pontic Kings' Rock Tombs (Amasya)
Another one of Turkey historical places that may be worth checking out can be this one. Pontic Kings' Rock Tombs are located in Amasya and they were carved around 3rd century BC.
If You are Interested in Turkey Historical Places, You May Want to Check out the Cathedral of the Holy Cross (Van)
It is a cathedral located in Van and it is also known as Akdamar Church. This cathedral was built during the 10th century AD.
Alaeddin Mosque (Konya)
There are many Turkey historical places that are from Seljuq and Ottoman times and this one is one of them. Alaeddin Mosque in Konya was built during the 13th century and it can be a wonderful place to see.
Safranbolu (Karabük)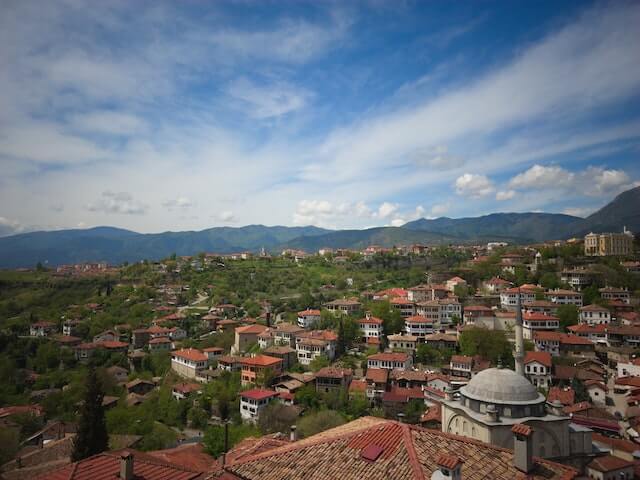 Safranbolu is a town in Turkey that is famous for its houses. It is a place that lots of tourists visit and if you are interested in seeing an old town in Turkey, this place may be worth checking out.