The Istanbul E-Pass takes its place among the quartet of popular city passes in Istanbul, standing alongside the Istanbul Welcome Card, Istanbul Tourist Pass, and Istanbul Museum Pass. This digital pass, your key to the city's treasures, is your one-stop solution for an enriched travel experience.
Here, we've curated an indispensable guide to navigating this pass, uncovering its worth, perks, purchasing process, usage intricacies, and how it measures up against other renowned tourist passes in the city.
What is Istanbul E-Pass?
The Istanbul E-Pass, the brainchild of ARVA DMC Travel Agency, stands as a digital beacon for city sightseeing. It offers complimentary access to Istanbul's top-tier tourist attractions, all while delivering substantial savings on admission costs. With the added bonus of an Istanbul digital guidebook, this pass emerges as the epitome of convenience and affordability, making it your best bet for exploring Istanbul's wonders.
Insider Tip: Set your Istanbul journey ablaze with a power trio of passes – the Istanbul E-Pass, Istanbul Tourist Pass, or Istanbul Welcome Card. These passes grant you unrestricted entry to over 70 premier attractions, tours, and essential local services, all with jaw-dropping savings of up to 70%.
When it comes to payments, the Istanbul E-Pass emerges as your financial guardian. Each attraction becomes a playground for savings, with discounts of up to 70% or even more. As soon as you snag the pass, it materializes in your email inbox, standing ready for your Istanbul adventure.
Types of Istanbul E-Pass:
The Istanbul E-Pass comes in four flavors, each catering to different durations:
2-Day Pass: €95 for adults • €55 for children
3-Day Pass: €115 for adults • €65 for children
5-Day Pass: €135 for adults • €75 for children
7-Day Pass: €145 for adults • €90 for children
What's Included?
Brace yourself for access to over 35 attractions and services, all decked with remarkable discounts of around 70%. The combined regular prices for these attractions and tours amount to a staggering €412. However, with the Istanbul E-Pass in your corner, starting from as low as €95, your savings soar to an incredible €250!
Guided Museum/Attraction Tours:
Hagia Sophia (Guided Tour)
Basilica Cistern (Guided Tour)
Museum of Illusions Istanbul Istiklal
Dolmabahce Palace (Guided Tour)
Madame Tussauds Wax Museum Istanbul
Blue Mosque (Guided Tour)
Grand Bazaar (Guided Tour)
And more…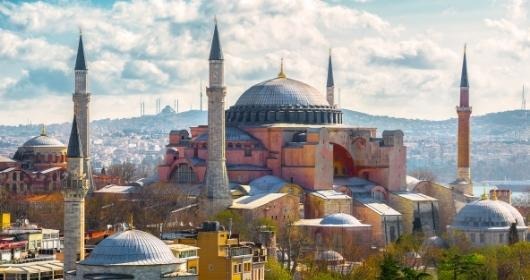 Experiences:
Sea Life Aquarium Istanbul
Bursa Day Trip
Bosphorus Cruise Tour with Dinner and Turkish Shows
Sapanca Lake & Masukiye Day Tour
Whirling Dervishes Show
And more…
Services:
Istanbul Airport Shuttle
Private Istanbul Airport Transfer
And more…
How Much Will I Save?
3-Day Pass: Save €101
5-Day Pass: Save €170
7-Day Pass: Save €267
Things to Know Before You Buy:
Istanbul E-Pass is entirely digital.
Digital passes grant admission to included attractions.
English support is available.
Valid for 2, 3, 5, or 7 consecutive days.
How to Use the Istanbul E-Pass?
Purchasing Process:
Visit the Istanbul E-Pass website and choose your desired duration.
Purchase online using your credit card, instantly receiving the pass in your email.
Access your account and manage reservations, or simply show your pass for walk-in attractions.
Note that reservations are essential for specific attractions, easily managed via your E-Pass account.
How to Buy Istanbul E-Pass?
Purchasing the Istanbul E-Pass is a breeze, offering you a seamless gateway to a treasure trove of Istanbul's attractions.
For a seamless experience, opt to purchase the Istanbul E-Pass from their official website. With a FULL REFUND for all reservations up to 24 hours in advance, it's the ultimate risk-free adventure enhancer.
Remember, the Istanbul E-Pass simplifies your journey by digitizing the process, ensuring that you have your key to Istanbul's treasures at your fingertips. It's your invitation to explore, experience, and embrace the vibrant tapestry of this captivating city.