Time to turn back the clock and delve into the rich tapestry of Heybeliada's past. This verdant haven, renowned for its historical grandeur, traces its lineage to the Byzantine epoch. Heybeliada, once named "Halki" in homage to its antique copper mines, dances through history with a Turkish moniker that fittingly translates to "saddlebag," mirroring its geographical contours.
Transport yourself to the 19th century, a period that heralded the advent of steam-powered ferry service to this island haven. Today, its tranquil year-round population of around seven thousand swells during the summer, as seekers of serenity flock to its shores. Just as its sister Princes' Islands, the motor vehicles are hushed, yielding to the gentle hum of electric vehicles. Picture yourself along the "Big Tour" or the poetic "Small Tour," also known as the "Lovers Tour," which caresses the very essence of Heybeliada.
Amid this island's embrace, four hills rise like guardians of its charm. At 136 meters, Değirmentepe reigns as Heybeliada's pinnacle. Ümit Hill, soaring at 85 meters, cradles the Halki Seminary, bestowing it the moniker "Priest Hill" in ages past. Taşocağı and Makarios stand proud as the remaining lofty sentinels.
Now, let us whisk you away to Heybeliada's embrace, revealing the pathways to reach this enchanting island haven.
Navigating to Heybeliada
To set foot on Heybeliada's shores, you have two pathways: Cityline ferries and passenger ferries.
Cityline Ferries: Embark from Eminönü, Beşiktaş, Kabataş, Kadıköy, or Bostancı. The journey unfurls like a captivating tale, spanning approximately 90 minutes from European piers and merely 30 minutes from Bostancı.
Passenger Ferries: Mavi Marmara Ferries weave a web of connectivity from Bostancı, Eminönü, Beşiktaş/Kabataş, Yeşilköy, and Çınarcık. Spring and summer breathe life into the Yeşilköy and Çınarcık routes. Consult Mavi Marmara's website for the latest schedule. Dentur Avrasya Ferries cradle journeys from Kabataş, Beşiktaş, Eminönü, Avcılar, and Yalova, with Heybeliada as a pivotal stop. Prenstur Ferries embark on daily ring trips, linking Kartal, Büyükada, and Heybeliada.
Sights and Wonders of Heybeliada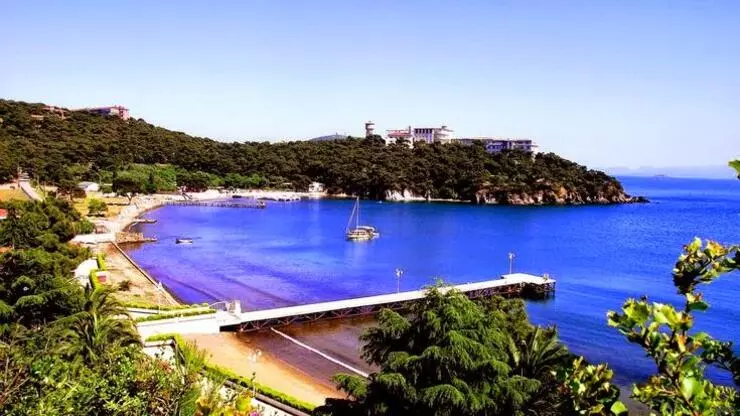 Unveil the heart of Heybeliada as you journey through its captivating sites:
Halki Seminary: Crowned upon Ümit Hill, this treasure traces its roots back to the Byzantine era. Once the Ata Triada Church, it evolved into a seminary before being renamed "Halki Seminary."
Heybeliada Sanatorium: Witness history at the Heybeliada Sanatorium, an emblem of health and healing, its significance intertwining with figures like İsmet İnönü and poet Ece Ayhan.
Heybeliada Naval High School: Greet the iconic Heybeliada Naval High School, affectionately known as "Bahriye," perched majestically by the sea, steeped in a legacy spanning centuries.
Hüseyin Rahmi Gürpınar Museum: Step into the world of Turkish literature luminary Hüseyin Rahmi Gürpınar through his home-turned-museum, an homage to his literary prowess.
Aya Yorgi Cliff Church: Ascend to the pink-hued Aya Yorgi Cliff Monastery, an ethereal structure gazing out over Büyükada, revealing panoramic splendors.
Bet Yaakov Synagogue: Delve into Heybeliada's diverse tapestry with a visit to the Bet Yaakov Synagogue, echoing the island's multicultural essence.
Hagios Nikolaos Church: Relive history within the walls of the Hagios Nikolaos Church, an enduring testament to faith and architectural splendor.
Culinary Escapades and Serene Shores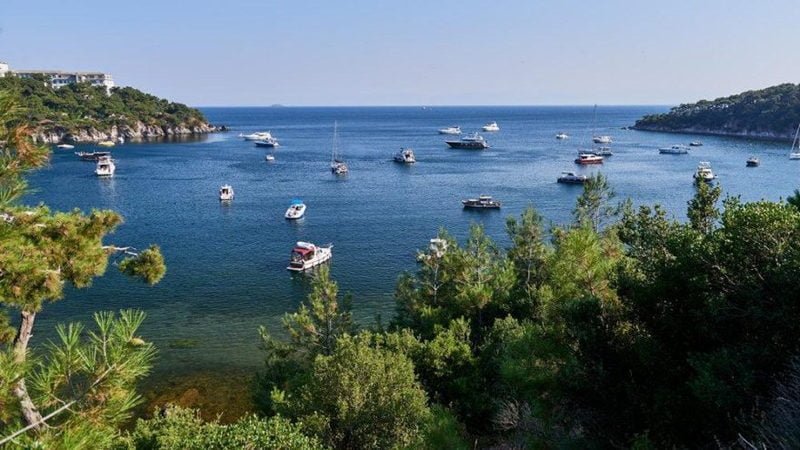 Heybeliada beckons with culinary delights and tranquil beaches:
Dining Delights: Savor Turkish mezes and seafood marvels at waterfront eateries. Quaint cafes offer herbal elixirs while the renowned Nazlıgül Pudding Shop tempts with delectable pastries.
Ada Beach Club: Relax at the Ada Beach Club, where sandy stretches, pine-framed vistas, mini golf, and beach volleyball weave a leisurely tapestry.
Değirmenburnu Beach: Just a stone's throw from the pier, Değirmenburnu Beach, cozy and accessible, awaits with open arms.
Aqua Green Beach: Heybeliada Aqua Green Beach marries aquapark thrills with shoreline serenity, accessible via free transportation from the pier.
Akvaryum Bay: Embark on a journey to the hidden paradise of Akvaryum Bay, famed for its mussels and the tranquility of its shores.
German Bay: Venture to the pebble-strewn German Bay, a clean haven facing the open sea, a testament to the island's unspoiled beauty.
A Timeless Escape
Heybeliada whispers tales of yore as it cradles you in its serene embrace. As you tread its pathways and partake in its offerings, you'll weave your own chapter into the island's enchanting history.